Canadian Citizenship May Be Granted To Fraudsters Without Checks: Auditor General
OTTAWA — Immigration officials are looking at revoking the Canadian citizenship of about a dozen people after the auditor general found the government isn't doing enough to root out fraud in the citizenship system.
Michael Ferguson's report uncovered instances of people with serious criminal records and others using potentially phoney addresses among those who managed to secure Canadian citizenship thanks to holes throughout not just the Immigration Department but the RCMP and Canada Border Services Agency as well.
The cases flagged represent just a fraction of the nearly half a million people who've become Canadian citizens in the last two years, but that doesn't mean improvements aren't necessary, Immigration Minister John McCallum said Tuesday.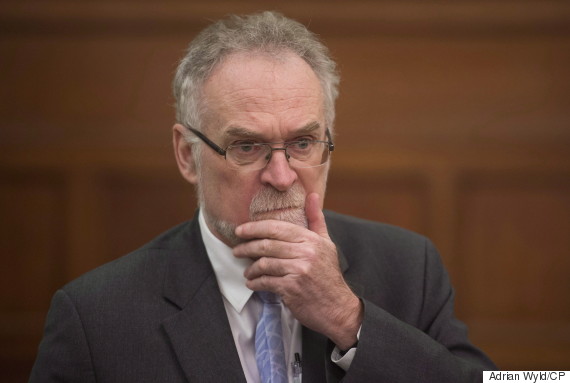 Auditor General Michael Ferguson waits to appear before the Commons public accounts committee on Parliament Hill in Ottawa, Thursday February 18, 2016. (Photo: Adrian Wyld/CP)
"The vast majority of the cases are clear but we are not happy if even one case is fraudulently obtained and that is why we are vigorously implementing the recommendations of the auditor general," McCallum said.
Recommendations related to improving information sharing between departments will be implemented by the end of the year, McCallum said. Another suggestion — that officers be given more power to seize fraudulent documents — is currently in a bill being debated in the House of Commons.
Among the cases caught by Michael Ferguson's team: four people who were granted citizenship despite having criminal records that would render them ineligible, and two who were approved despite having committed crimes after passing a criminal background check.
Single address used 50 times

The audit also revealed it took seven years for officials to cotton on to the fact a single address had been used by at least 50 different applicants during overlapping time periods. Of the 50, seven became Canadian citizens.
A review of 49 cases where an individual's address had been flagged as problematic concluded that in 18 instances, citizenship officials didn't follow up to see if the applicant actually met residency requirements.
The issues Ferguson included everything from officers seeming to ignore existing information about applicants, data entry errors that meant problems were missed, a failure on the part of security agencies to share information with the Immigration Department and officers not following their own procedures, like checking an applicant's paperwork against a database of known fake documents.
"This finding matters because ineligible individuals may obtain Canadian citizenship and receive benefits to which they are not entitled," Ferguson wrote in his spring report, tabled Tuesday in the House of Commons.
"Revoking citizenship that should not have been granted takes significant time and money."
"This finding matters because ineligible individuals may obtain Canadian citizenship and receive benefits to which they are not entitled."
The auditor general's office reviewed files from July 2014 to October 2015 — three years after the previous Conservative government launched a public crackdown on citizenship fraud by announcing it was going after 1,800 people it believed lied to lay claim to the Maple Leaf.
In 2012, the government expanded that number, saying nearly 11,000 individuals had been linked to residency fraud investigations.
While the issue of revoking citizenships from dual citizens convicted of terrorism has been a political hot potato in recent years, that's only happened to one person — a man convicted in connection with a plot to launch a terrorist attack in Toronto.
It's far more common for people to lose their citizenship because of fraud related to residency, identity or not declaring criminal proceedings and there were about 700 revocation cases pending as of January.
ALSO ON HUFFPOST:
Auditor General Spring 2016 Report Highlights
Here are the key findings from the spring 2016 report of federal Auditor General Michael Ferguson, courtesy of The Canadian Press.

Veterans Affairs Canada lacks adequate limits on the soaring cost and usage levels of marijuana among ex-soldiers who are using it for medical purposes, authorizing in some 340 cases the consumption of 10 grams a day — twice Health Canada's recommended threshold.

The number of veterans receiving medical marijuana jumped from 112 in 2013-14 to 1,320 in 2015, and the cost rose accordingly: from $408,810 to $12.1 million. The audit estimates the cost could reach $25 million in 2016-17, nearly one third of the drug costs of the Veterans Affairs health benefits program.

Veterans Affairs also lacks a "well-defined approach" for monitoring drug use among veterans, and does not monitor trends that could indicate "high-risk" behaviour. For instance, while it will not cover the cost of acetaminophen that exceeds the maximum recommended dose, no such limits exist for narcotics or sedatives.

Immigration, Refugees and Citizenship Canada lacks a systematic method of identifying and documenting fraud risks among its applicants, resulting in people being granted citizenship based on incomplete information or background checks.

The RCMP and the Canada Border Services Agency do not consistently share important details about criminal charges and potential residency fraud with Immigration, Refugees and Citizenship Canada.

Between 2008 and 2015, 50 different applicants used the same single address on their citizenship applications during overlapping time periods; seven of the applicants became Canadian citizens before the address was flagged during a residency fraud investigation.

Citizenship officers did not always follow the standard procedure of checking travel documents against the department's database of lost, stolen and fraudulent documents.

Out of 38 criminal cases since 2010 involving a permanent resident or foreign national, the RCMP shared the relevant details with Immigration, Refugees and Citizenship Canada in only two of them.

Individual units of the Canadian Army's reserve units lack sufficient soldiers — just 14,000 instead of a needed 21,000 — as well as access to key equipment for domestic missions and clear guidance on training, counter to National Defence's stated goal.

Between the 2012-13 and 2014-15 fiscal years, the number of Canadian Army reservists has dwindled by about five per cent, or about 1,000 soldiers per year.

The process of choosing fund managers for the government's $400-million "Venture Capital Action Plan," established in the 2012 budget, was onerous, laden with red tape and insufficiently fair, open and transparent, resulting in just nine submissions out of a possible 100 would-be candidates.

The Immigration and Refugee Board has long-standing vacancies that are contributing to decision-making delays: 21 positions are vacant, leading to wait times of an average of 18 months.

Via Rail lacks a long-term plan or direction approved by the federal government, receiving federal approval only for short-term funding and its five-year plan — a "significant deficiency" that makes it impossible for Via to "fulfill its mandate as economically, efficiently and effectively as desired."