Trudeau Says Mulcair Shares Blame For Federal Liberals Not Hitting Kyoto Targets
Prime Minister Justin Trudeau suggested Tuesday that his NDP rival bears some responsibility for the failure of past federal Liberal governments to reduce greenhouse gas emissions.
And when NDP Leader Thomas Mulcair tried to clear things up with a point of order after question period, Liberals wouldn't let him.
Mulcair rose in the House of Commons to contend that the Trudeau government was shirking its responsibility on the climate file. The NDP leader hinted he'd seen that story before.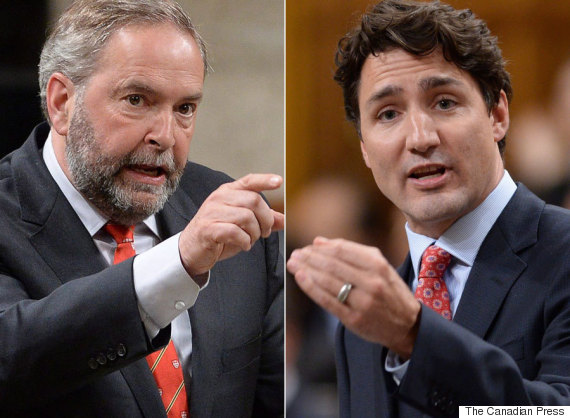 NDP Leader Thomas Mulcair and Prime Minister Justin Trudeau speak in the House of Commons on Tuesday, May 3, 2016. (Photo: The Canadian Press)
"They signed (the) Kyoto (Protocol) the last time they were in power and went on to have one of the worst records in the world," he said. "This time, they went to Paris and said 'Canada is back.' Unfortunately, Canada was back with the Conservative plan."
Mulcair was referencing how the emission reduction targets the federal government took to the Paris climate talks in December were set by the previous Conservative government of Stephen Harper.
"Why no plan to reduce greenhouse gases in Canada?" Mulcair asked. "Canadians want to know."
Trudeau shot back that he wasn't "a politician" when Kyoto was signed.
"But the member opposite was minister of environment for the province of Quebec and (shares) a part of responsibility on what wasn't done in the past," the prime minister said.
Trudeau went on to say his government was working with the provinces to develop a climate plan that will honour its responsibility to future generations.

Accord was ratified by Canada in 2002
Canada signed the Kyoto Protocol in 1998, and ratified it in 2002 under former Liberal prime minister Jean Chretien, but did not come close to hitting GHG reduction targets. In fact, Eddie Goldenberg, a former top Chretien adviser, said in a 2007 speech that Liberal government signed the accord knowing it wouldn't achieve those targets.
Tories formally pulled Canada out of the Kyoto Protocol in 2011.
Mulcair, who served as Quebec's environment minister from 2003 to 2006, would not let Trudeau's jab go unanswered. After question period, he sought unanimous consent to table a document that showed the province "decreased GHG emissions" every year he was environment minister.

Mulcair makes point of order
The Liberal majority would give no consent to Mulcair, though the NDP leader did earn some applause from Conservatives.
No worries, though — George Smith, the NDP leader's senior press secretary, shared a screengrab of the graph on Twitter.
Trudeau blamed Quebec for Fed Libs failing on Kyoto so Mulcair asks to table doc showing he reduced GHGs as Minister pic.twitter.com/KFjhMgS2R7

— George Smith (@GeorgeNDP) May 3, 2016
ALSO ON HUFFPOST:
Drone Images Highlight Climate Change
This windmill pair was shot in the early morning hours. The shallow fog had been around for days because of no wind, high humidity and cold temperatures.

The city of Paracatu was vanished by a river of mud, after a mining dam burst at Mariana, Minas Gerais. It was the biggest environmental accident in Brazil's history.

Palangkaraya – The most polluted place on earth! This photo was taken on October 4th, 2015 when my friends and I did a campaign called "Kalteng with Love" where we gave free masks, milk and vitamin for the people in the city of Palangkaraya, Central Kalimantan, Indonesia. Thick smoke was hovering over where we live. The particulate meter that day showed that the air was so poluted and reached over 2000 psi. The smoke was caused by the fires in Borneo peatlands that was started from the end of July. For almost three months the people in Borneo had to breathe such toxicating air. There are lots of people who suffered from respiratory problems. Schools off. Flights could not operate. Economic system became paralyzed. Borneo is known as the lungs of the world and the fifth largest greenhouse gas emitter in the world, and these fires are not helping. We were even labelled as the most polluted place on earth. Through this photo, I would like to raise the world's awareness that this matter is a huge problem for all of us. This challenge is addressed not only to people in Borneo and Indonesia, but also to the entire world. Could you imagine if all of the forests in Borneo disappear and there is limitied source of oxygen left for over 7 billion people?

Wind power from approx. 120m height.

Energy ACTIVE office building, about 1100m² floorspace : produce yearly more energy then it consumes ( better then passive house results !). Heating & cooling by deep geothermal heatpump with electric compensation of full integrated PV-solarpanels (BIPV) in 45°-roof. Owner : www.stebo.be Building designed by www.burob.be & www.geertdebruyn.be , construction : www.i3.be BIPV solar roof : http://solar.golden-glass.com/c465.html Drone : Yuneec Typhoon Q500 4K

Taken in between two banks of fog in a 2 minute window. Showing the tanks and stacks of Fawley Refinery.

The tiny island in the lake of Galvė looks like a continent and shows us how small our world really is. One tree cut on this island, one nest pulled apart or another kind of intervention will change it beyond our recognition. It is up to us all to make our planet clean and green

This is a picture of the king high tide crashing against this restaurant on the sand in la jolla shores. the king tide was at the peak in this photo at +7feet . is this a result of higher tides due to global warning.Today many coastal communities are seeing more frequent flooding during high tides. As sea level rises higher over the next 15 to 30 years, tidal flooding is expected to occur more often, cause more disruption, and even render some areas unusable .

A playing field I grew up playing football on… It\'s now acquired by the real estate company and they are killed the green of the field, trees providing shadow and building the grey houses on it. It\'s a typical depiction of the impact of growing real estate companies in Bangladesh.

After a mining dam bursts, it took almost 3 hours for the mud to reach Paracatu. Fortunately, it gave time for people to abandon their houses and run. The cemitery of Paracatu stays on a small hill, and it was there where many people rushed to protect themselves. And it was from there, that they saw their city being destroyed. There were no fatal victims in the city but the city itself.