Veterans Affairs Must Rein In Medical Pot Use, Costs: Auditor General
OTTAWA — The latest report from the federal auditor general urges Veterans Affairs to get a grip on its medical marijuana program for injured ex-soldiers, which is expected to cost taxpayers a startling $25 million this year.
Michael Ferguson says it's just one of the programs where the federal government has critical data available to it that's either not usable, not used or not acted upon at all.
The report tabled Tuesday in the House of Commons also looked at the dire condition of the army reserves, the federal government's inability to detect and prevent refugee fraud, and the uncertain impact of the former Conservative government's $400-million venture capital action plan.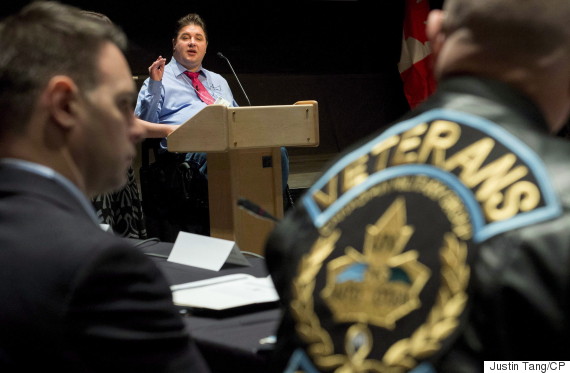 Veterans Affairs Minister Kent Hehr speaks to stakeholders and veterans at a stakeholder summit at the Canadian War Museum in Ottawa on Wednesday, Dec. 2, 2015. (Photo: Justin Tang/CP)
But with medical marijuana for veterans, Ferguson paints a picture of program out of control.
He says the federal department long ago recognized the need to contain the prescribed pot program by imposing a limit on how much the government is willing to pay per gram, but usage levels and costs continue to climb.
Veterans Affairs has covered medical marijuana costs since 2008, but more vets have applied since the regulations were overhauled three years ago, sending the cost through the roof — Ferguson says it will soon account for almost one-third of all federal drug coverage for ex-soldiers.
System is out of control
Tuesday's report finds that officials saw the tidal wave of higher medicinal pot expenses coming, but did little to prevent it.
"We found that before these new regulations were passed, department officials had identified that they would likely cause an increase in the number of veterans requesting marijuana for medical purposes, increasing the department's expenditures," said the audit.
Officials had documented that commercial suppliers were charging up to $14 per gram, almost triple the federal government's estimate, it notes.
"Despite acknowledging this in advance, it did not establish a dollar limit for covering marijuana for medical purposes."

Veterans Affairs willing to pay for up to 10 grams a day
In 2013-14, there were 112 veterans taking prescribed pot at a cost of $408,000, but by the end of December 2015 some 1,320 ex-soldiers were enrolled at a cost of $12.1 million. That adds up to an average of $9,600 per veteran.
The audit also found the department does not effectively monitor high-risk drug utilization among veterans, nor does it effectively manage its drug benefits list.
Veterans Affairs says it's willing to pay for up to 10 grams of marijuana a day, per veteran — twice the threshold recommended by Health Canada. Ferguson questioned whether the department was doing the right thing and warned the policy could lead to some ex-soldiers getting hooked.
"According to an internal departmental briefing document, Health Canada indicated that more than five grams per day may increase risks with respect to the drug's effect on the cardiovascular, pulmonary, and immune systems, and on psychomotor performance, and may increase the risk of drug dependence," said the report.
"Despite the awareness of these potential risks, we found that the department had set the limit at 10 grams per day per veteran, and that in rare circumstances it could increase this limit after consulting with a veteran's health care provider."
The department agreed with the auditor's concerns and said it had hired a pharmaceutical adviser to development guidelines in conjunction with other departments.
ALSO ON HUFFPOST:
Auditor General Spring 2016 Report Highlights
Here are the key findings from the spring 2016 report of federal Auditor General Michael Ferguson, courtesy of The Canadian Press.

Veterans Affairs Canada lacks adequate limits on the soaring cost and usage levels of marijuana among ex-soldiers who are using it for medical purposes, authorizing in some 340 cases the consumption of 10 grams a day — twice Health Canada's recommended threshold.

The number of veterans receiving medical marijuana jumped from 112 in 2013-14 to 1,320 in 2015, and the cost rose accordingly: from $408,810 to $12.1 million. The audit estimates the cost could reach $25 million in 2016-17, nearly one third of the drug costs of the Veterans Affairs health benefits program.

Veterans Affairs also lacks a "well-defined approach" for monitoring drug use among veterans, and does not monitor trends that could indicate "high-risk" behaviour. For instance, while it will not cover the cost of acetaminophen that exceeds the maximum recommended dose, no such limits exist for narcotics or sedatives.

Immigration, Refugees and Citizenship Canada lacks a systematic method of identifying and documenting fraud risks among its applicants, resulting in people being granted citizenship based on incomplete information or background checks.

The RCMP and the Canada Border Services Agency do not consistently share important details about criminal charges and potential residency fraud with Immigration, Refugees and Citizenship Canada.

Between 2008 and 2015, 50 different applicants used the same single address on their citizenship applications during overlapping time periods; seven of the applicants became Canadian citizens before the address was flagged during a residency fraud investigation.

Citizenship officers did not always follow the standard procedure of checking travel documents against the department's database of lost, stolen and fraudulent documents.

Out of 38 criminal cases since 2010 involving a permanent resident or foreign national, the RCMP shared the relevant details with Immigration, Refugees and Citizenship Canada in only two of them.

Individual units of the Canadian Army's reserve units lack sufficient soldiers — just 14,000 instead of a needed 21,000 — as well as access to key equipment for domestic missions and clear guidance on training, counter to National Defence's stated goal.

Between the 2012-13 and 2014-15 fiscal years, the number of Canadian Army reservists has dwindled by about five per cent, or about 1,000 soldiers per year.

The process of choosing fund managers for the government's $400-million "Venture Capital Action Plan," established in the 2012 budget, was onerous, laden with red tape and insufficiently fair, open and transparent, resulting in just nine submissions out of a possible 100 would-be candidates.

The Immigration and Refugee Board has long-standing vacancies that are contributing to decision-making delays: 21 positions are vacant, leading to wait times of an average of 18 months.

Via Rail lacks a long-term plan or direction approved by the federal government, receiving federal approval only for short-term funding and its five-year plan — a "significant deficiency" that makes it impossible for Via to "fulfill its mandate as economically, efficiently and effectively as desired."