Loonie Surge, Trade 'Collapse' Threatens To Undermine Canada's Economy
A stronger loonie may be good news if you're planning a vacation to Florida, but for Canadian companies doing business abroad, it's pretty much the last thing they need.
Despite the loonie losing more than a cent U.S. on Tuesday, it's trading at around 79 cents U.S., some 10 cents U.S. higher than its lows in January. That new-found strength "poses a risk to newly won export gains," BMO chief economist Doug Porter wrote in a client note Wednesday.
"The exchange rate is a massive underlying force. And the three-month surge in the Canadian dollar threatens to undermine those gains."
Porter noted that with the loonie in decline, export volumes had shot up 7 per cent in a year.
But that trend now appears to be fizzling. Statistics Canada reported Wednesday that exports took a steep dive in March, pushing Canada's trade deficit with the rest of the world to record high of $3.4 billion, up from $2.5 billion in February.
The decline was larger than even the most pessimistic forecasts.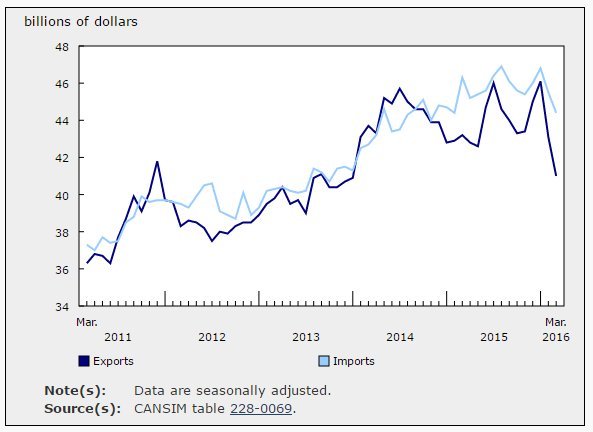 Canadian exports dropped by a steep 4.8 per cent in March, StatsCan says. (Chart: StatsCan)
CIBC economist Nick Exarhos noted it's not just the rising loonie that's at fault -- the U.S. is buying less from the world as well.
"Canada was never going to escape unscathed from a slowdown in U.S. imports, and for March that meant a 4.8 per cent collapse in exports," he wrote.
All the same, the data "shows a rapid deterioration in Canada's external position since the beginning of the year, coinciding with the recent strength in the Canadian dollar," he added.
The drop in exports "means there isn't much momentum as we head into the quarter, and trade is not expected to contribute to economic growth," TD Bank senior economist Leslie Preston wrote.
TD Bank sees Canada's economy growing in the second quarter at half the pace it grew in the first quarter of this year. But it also expects the loonie to stay below the 80-cent U.S. mark, so "Canada's export sector should remain a key source of strength over the medium term."
Like HuffPost Canada Business On Facebook
Canada's Strangest Imports and Exports
The following is based on information from an Industry Canada database of Canadian imports and exports in 2012. This is by no means a complete list, but offers a look into some of what comes into and leaves Canada.

Here's some of what Canada got from other countries in 2012. All numbers are in Canadian dollars.

We exported $91 million in soya beans right back at them.

Among Canada's biggest exports are crude oil, lumber and gold, but where are we sending lentils, binoculars or, you know, bovine semen?

Thanks for the gold!

This was Canada's biggest export to Haiti in 2012.

Thanks for the dried grapes!

In 2008, the export value was $1.5 million. Maybe the frozen french fries industry is booming.

In 2008, only $66,000 worth of product was exported.

Export value was $47 million in 2008 and $1.3 million in 2010.

Canada exported $14,663,272 worth of ice cream to Saudi Arabia, and $6,804,398 worth to the United Arab Emirates.