Chihuahua Puppy Sleeping In A Pocket Is Ridiculously Adorable (VIDEO)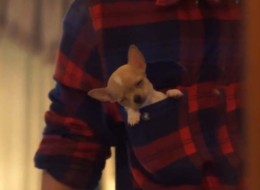 You won't want to leave the house without your pocket puppy.
This two-month-old Chihuahua is so tiny he could comfortably fit inside his owner's shirt pocket.
He got so comfortable, in fact, that he couldn't resist getting himself a little catnap.
Warning: Video may contain extreme cuteness.