Fort McMurray Fire Will Grind Canadian Economy To A Halt: BMO
The wildfire devastating the capital city of Canada's oilsands has thrown all short-term forecasts for Canada's economy pretty much out the window.
But the Bank of Montreal is willing to make a tentative forecast: It sees no growth for Canada's economy in this quarter.
"We have cut our [second quarter] estimate to zero (from 1.5 per cent) amid the severe disruptions to oil production due to the Fort McMurray wildfires," BMO chief economist Doug Porter wrote Friday morning. "This estimate should be viewed only as a placeholder, until we receive further information on the full impact of the disaster."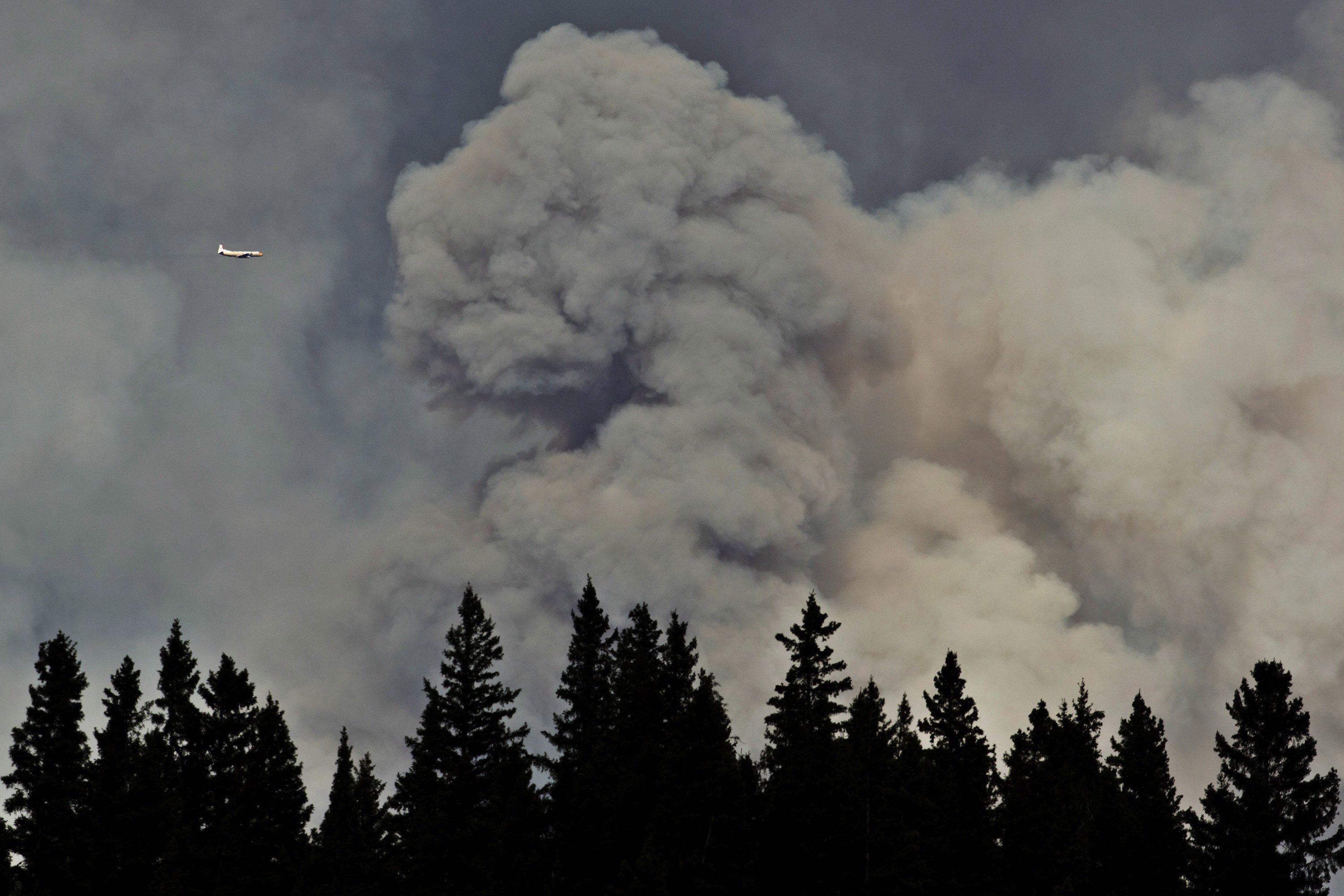 A plane surveys the area near a wildfire in Fort McMurray, Alta., on Thursday, May 5, 2016. BMO has tentatively cut its forecast for Canada's economic growth to zero, on account of the fire. (Canadian Press photo)
Porter's forecast comes amid a new jobs report from StatsCan, showing Canada lost 2,100 jobs in April, with the jobless rate staying steady at 7.1 per cent.
Though that came after a very strong 41,000 increase in jobs in March, it's still the third time in the past four months that Canada has seen job losses.
Meanwhile, a new report from the Conference Board of Canada shows businesses haven't been this spooked since the financial crisis of 2009.
The board's quarterly business confidence index fell for the fourth straight quarter, edging down to 86 from 86.6 the quarter before. Levels that low haven't been seen since mid-2009, when the global economy was gripped by a debt crisis. And that survey was carried out before the Fort McMurray fire broke out.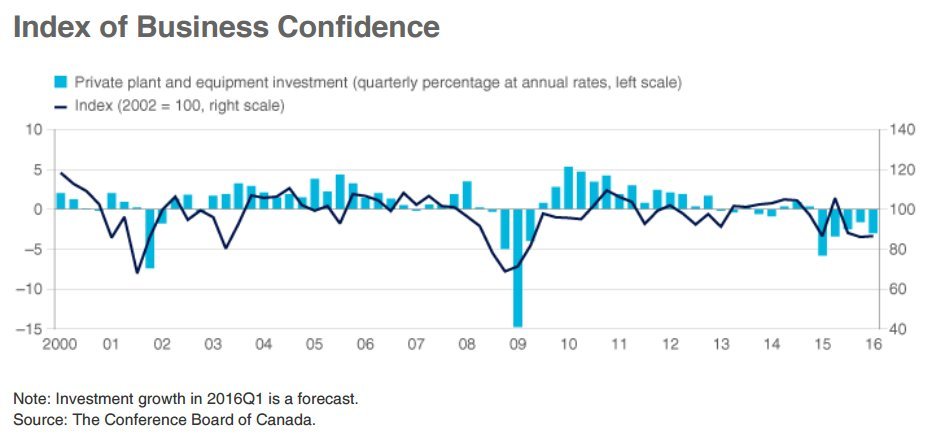 The Conference Board's index of business confidence hasn't plumbed levels this low since the financial crisis. (Chart: Conference Board of Canada)
Businesses seemed to be more confident about Canada's economy as a whole than they are about their own financial positions. Fifty-six per cent said they expect their own positions to worsen over the next two quarters. But 91 per cent said they think things will improve in Canada overall — up from just 56 per cent in the previous survey.
And a larger percentage of them say plan to invest in new facilities or boost their purchases in the coming months — 44 per cent, versus 35 per cent in the last survey.
"With favourable financing conditions persisting and prime lending rates stable at near-record lows, now is arguably the time for firms to invest for future productivity," Conference Board economist Sabrina Bond wrote.
Of course, how Canadian businesses will feel in the wake of the Fort McMurray fire still remains anyone's guess.
Like HuffPost Canada Business On Facebook
Also on HuffPost:
Unexpected Consequences Of Falling Oil Prices
More people are dying in road accidents, as falling oil costs translate into cheaper prices at the pump - increasing the number of journeys. "A $2 drop in gasoline price can translate into about 9,000 road fatalities a year in the US," sociology professor Guangqing Chi said last month. Chi told The Huffington Post that it typically takes almost a year for drivers to adopt new driving habits in response to changes in gas prices. Last year, US road deaths rose by 9.3% in the first six months of 2015. In the UK, while road deaths have fallen almost every year since 2004, provisional data suggests that fatalities increased in 2015 by 3%, alongside a 2.2% increase in traffic. Research has yet to reveal a link between these in the UK.

Pirates are unlikely victims of the global reduction in oil prices. Piracy in West Africa's Gulf of Guinea is now at its lowest level since 2002. Speaking to Bloomberg, Florentina Adenike Ukonga, executive secretary of the Gulf of Guinea Commission, said: "With oil at a low bottom price of below $30 per barrel, piracy is no longer such a profitable business as it was when prices hit $106 a barrel a few years ago." Attacks on oil transported declined by around a third last year, according to a report. Dyrad Maritime found sea crime figures for 2015 "painted a picture of optimism" - although the threat to vessels not carrying oil remains high.

Falling oil prices have translated into rock-bottom "bunker" fuel costs for shipping firms - reducing their incentive to take economical shortcuts. Rather than use routes via the Suez Canal, huge container ships are returning to ports in Asia via the "long way around" the southern cape of Africa. As prices tumble, burning more fuel is cheaper than paying passage rates through the waterway. For one-way passage, an oil transporter can pay as much as $325,000 (2008) to travel through the Suez canal. "For many services it is cheaper to sail south of Africa on the [return journey] than to use the canal routings," SeaIntel, a shipping monitor, said.

Thousands of oil workers have been sacked as a result of dwindling oil prices. In the UK alone, 70,000 oil-related jobs are feared to have been lost since the price war began 12 months ago. Last month, oil giant BP shed 3,000 jobs on top of previously announced redundancies. An estimated 250,000 jobs have been lost across the oil industry as a whole worldwide.

The plunging oil price has added to turmoil on stock markets the world over, affecting many of the world's biggest pension funds. According to Reuters, shares fell sharply this week as oil prices dropped after Saudi Arabia effectively ruled out reducing the output of oil by its producers. Oil prices, lowered by increased production, are one of a number of factors worrying investors. The FTSE 100 index of Britain's biggest traded companies was down 15.38% on a year ago as of Wednesday. The index holds millions of Brit's pension pots. "The markets are really worried that we are missing something here, that the global slowdown may be more significant than we are recognizing and that slowdown could be causing oil prices to drop, and commodities prices in general," Tracie McMillion of Wells Fargo Private Bank told Reuters.

Perhaps the most surprising effect of diving oil prices has been that demand hasn't risen significantly. Despite costs plunging, European economies remain weak, China is decelerating and growing energy efficiencies mean vehicles need less fuel. So the overall effect has been a flatlining of demand, rather than an increase, according to PwC (PDF).

And despite all of this, airfares for passengers flying in and out of Britain jumped 46% from November to December 2015, the Office of National Statistics found. The increase in fares was the highest since 2002. The "highly variable" changes were a result of increased consumer demand for air travel, the ONS said. In America, air passengers were more likely to benefit from tumbling costs - airfares there were lower throughout most of last year.