Jian Ghomeshi Won't Face Second Assault Trial: Sources
Jian Ghomeshi won't face a second assault trial in June, sources confirmed Monday.
The former CBC host, who was acquitted of sexual assault and choking charges in March, is currently scheduled to appear in court for a new trial starting in June on a single count of sexual assault. A source, who spoke on condition of anonymity, told The Canadian Press the trial is set to be formally dismissed on Wednesday, after Ghomeshi signs a peace bond.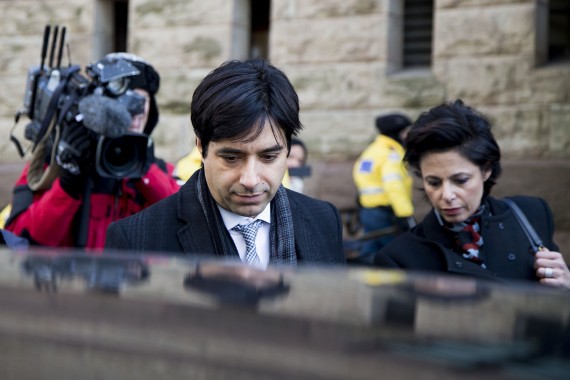 Jian Ghomeshi leaves court with lawyer Marie Henein on Feb. 11, 2016. (Photo: Carlos Osorio/Toronto Star via Getty Images)
Sources first confirmed to the National Post that the 48-year-old will appear at the Ontario Court of Justice to sign the peace bond, which can last as long as one year. Peace bonds are most commonly applied in domestic disputes, or cases where authorities feel obliged to respond to a complaint but may not be sure a criminal offence has occurred.
If Ghomeshi does sign a peace bond, he must remain on "good behaviour" and possibly maintain distance from the complainant. Ghomeshi will have no criminal record if he follows through on the terms.
The complainant in this second trial, whose identity is protected under a publication ban, worked with Ghomeshi at CBC. The charge relates to instances of alleged touching and sexual comments made in the workplace dating back to 2008, Maclean's reported.
The Toronto Star suggested Monday that the former radio host may admit to some level of misconduct and make an apology before signing the peace bond. The newspaper said reports that Ghomeshi's second trial would be cancelled have been circulating since March.
With files from The Canadian Press
Also on HuffPost:
Jian Ghomeshi Case: A Timeline
A former York University student, Kerry Eady, told the Toronto Star she was at an informal meeting of about 25 students in the fall of 1988. Residence advisers told the group that a couple of female students had said Ghomeshi hit them. One said she was choked in a stairwell, Eady recalled. "There was nothing official, because these girls were talking to [the advisers] confidentially, to get advice on what to do. They told them to report it but none of them wanted to," Eady told The Star. Source: Toronto Star

Jim Hounslow attended served as communications coordinator for York's student federation while Ghomeshi was president. Hounslow told the Star that he and Ghomeshi were waiting for an elevator after a student meeting during the 1990-91 school year when Ghomeshi suddenly reached over and grabbed his genitals through his jeans. "I was completely shocked and I reacted," Hounslow told The Star. He grabbed Ghomeshi's arm, pushed him against the elevator doors and told him to never do that again. Source: Toronto Star

Moxy Fruvous fan Sally Block was a 16-year-old living in upstate New York in 1999, and she was surprised when Ghomeshi responded to her email. That initiated a multi-year correspondence that grew to include phone calls. She also met up with Ghomeshi after concerts where Block says he sometimes got "handsy." After she stopped hearing from Ghomeshi in 2002, Block broke into his email by guessing his password. Ghomeshi threatened to press charges, but backed down after Block's father learned of his history of correspondence with his then-underage daughter. Source: The Globe and Mail

Author and lawyer Reva Seth says that she went on a few casual dates with Ghomeshi in 2002. In a blog for HuffPost, she wrote that she was at his home one evening when suddenly "he became a different person." Ghomeshi put his hands around her throat and "violently digitally penetrat[ed]" her. Source: Huffington Post Canada

An anonymous woman says she met Ghomeshi after a taping of his CBC show "Play" in 2002. She says he yanked her hair hard at one point in the evening and asked her if she liked it "rough." She met him again two weeks later, and went back to his home. She says that he grabbed her hair without her consent and gave her three sharp punches to the head. "I was crying. Just crying. He stood there looking at me and said, 'You should leave,' " she told the Star. The same woman was also interviewed by CBC's "As It Happens." Source: "As It Happens" and Toronto Star

The former "Trailer Park Boys" actress says that Ghomeshi, without warning or consent, choked her to the point she could not breathe and then slapped her hard three times on the side of her head. She described the same events again in interviews with the CBC. Source: Toronto Star

A woman sent Ghomeshi a letter asking him to manage her music career, and he called her back. When they met in person, she says Ghomeshi groped her, tried to kiss her and "relentlessly tried to put his hands on and near my inner thighs, crotch and rear, both inside and out of my pants," the Star reported. Source: Toronto Star

An anonymous woman alleges that Ghomeshi attacked her after they went for a walk in a Toronto park following an event. She had been on a few dates with him before, but they had never been intimate. She told The Star he choked, smothered, bit and groped her on a park bench. Source: Toronto Star

A 22-year-old woman met Ghomeshi at a Christmas party. The woman, who worked at the CBC, went out for a drink with him and on the way back to his car, he started choking her with no warning. "I said, 'What the f---.' I told him I have three brothers," she told the Star. She says Ghomeshi replied "your loss." She says he drove away and then called her to say he was under a lot of stress and driving fast — "if I crash it will be your fault." Source: Toronto Star

The former "Q" producer's allegations were initially anonymous, but Borel identified herself in a column about Ghomeshi's workplace harassment for The Guardian on Dec. 2. She alleges that Ghomeshi told her after a story meeting in 2007 "I want to hate f--- you." After that, he gave her uninvited back massages at her desk and more harassment followed over the next three years, until she left the CBC. "A year into my time on the job, he grabbed my rear end and claimed he couldn't control himself because of my skirt," she wrote for the Guardian. "He once grabbed my waist from behind – in front of our fellow colleague, at the office – and proceeded to repeatedly thrust his crotch into my backside. "There was emotional abuse, too: gaslighting and psychological games that undermined my intelligence, security and sense of self. Sometimes that hit harder than the physical trespassing." Source: The Guardian

A woman told The Toronto Star that Ghomeshi did ask her if she "was into choking," telling her "it would heighten the experience of sex." The woman says she told Ghomeshi she wasn't into choking. She also recalls how he hit her and called her "a slut." Source: Toronto Star

A 23-year-old woman applied for a position as Ghomeshi's assistant, but withdrew her application after she met with him and he was critical of her appearance and mispronouncing his name. "I genuinely felt so bad about it at the time. I look back on this now as the tactic of a manipulator with a mandate," she told the Star. Ghomeshi continued to contact her and they began dating. She says he hit her on her head and face with an open hand. "I pushed him back once and he grabbed my wrists and said he did not like that," she told the Star. Source: Toronto Star

A female fan met Ghomeshi at a book signing in a small city in Eastern Canada in 2012. They later corresponded by text, and many of the messages were violent, she said. They eventually met in person, and he allegedly shoved her against a wall, choked, and hit her on the head. Source: Toronto Star

The Toronto Star reported an anonymous woman in her mid-20s says she met Ghomeshi at a book signing in a small city in Eastern Canada. He invited her to visit him in Toronto, where she says he threw her against the wall. She said sex with the host included belts, choking and hitting that left her bruised. Ghomeshi allegedly found the bruises "sexy." Source: Toronto Star

A Western University graduate told the Star about her experience with Ghomeshi on condition of anonymity. She said that as a student, Ghomeshi touched her inappropriately after a taping of "Q." She went to the taping in Dec. 2012 in the hopes of landing a job on the show. She alleges that after the show, Ghomeshi approached her from behind and pressed his body against her. He later asked her out for a "non-work related drink" but she said she didn't want to date and was only interested in discussing a job. He responded that he didn't want to be a "conduit to a job." Source: Toronto Star

A CBC producer in her mid-20s went out for drinks with Ghomeshi following a book signing in Montreal. She told him her dream job was to work for "Q." He rubbed her legs in a pub, telling her that "touching helps" his anxiety. She said she went to Ghomeshi's hotel room, where he threw her against a wall and fondled her. She said she performed oral sex on him "just to get out of there." Source: Toronto Star

A woman, who was a student at the time, said she had a five-month relationship with Ghomeshi. She says he tried to smother her by covering her nose and mouth with his hands. She told the Toronto Star she used her cellphone to call a friend from Ghomeshi's bathroom, who told her to "get out of there." She left and broke off the relationship with him. Source: Toronto Star

A Toronto woman shared a hotel elevator with Ghomeshi while he was in London. She told Ghomeshi her name, and he tracked her email down and contacted her for a drink. "After a few drinks we went back to his room where he proceeded to literally throw me on his bed, no buildup, no conversation, and started biting, pulling my hair and biting me all over," she told the Star. Source: Toronto Star

Although Carla Ciccone's blog for XOjane never identifies the man in the story is Ghomeshi, it is widely assumed to be — Ghomeshi himself has not denied going on a date with Ciccone. The blog details a date with a Canadian media personality, which quickly turned sour when he touched her without consent — on multiple occasions. After the Ghomeshi story broke in Oct. 2014, Ciccone tweeted this about the controversy. Source: XOjane

An anonymous woman told The Star that she had gone out on a few dates with Ghomeshi in 2013 but they never had sex. Weeks later, Ghomeshi invited her over to his new house in Toronto, telling her he "didn't buy this big house to throw parties, but to raise a family." He then kissed her, and then suddenly pulled her hair and went on to hit her, bit her and called her a degrading term. Source: Toronto Star

A Twitter account with the handle @BigEarsTeddy began posting allegations of sexual violence against Ghomeshi in April 2014. The identity of the Twitter user is not known. Source: Twitter

Ghomeshi hired Marie Heinen, a criminal lawyer who previously defended former attorney general Michael Bryant, reports The Toronto Star. In a Toronto Life profile, Heinen says she is "not conflicted about being a strong feminist and what I do in court."

The Toronto Star reports that a woman who has never spoken to the media did file a police complaint. Her allegations partly led to the five abuse-related charges laid against Ghomeshi on Nov. 26. Source: Toronto Star

A woman who bumped into Ghomeshi at the CBC building in Toronto told the Star that she gave him her phone number. They went on a few dates and he sexually assaulted her at his home on several occasions. Source: Toronto Star

Two of the seven counts of sexual assault against Jian Ghomeshi were dropped due to "no reasonable prospect of conviction."

Ghomeshi pleaded "not guilty" to five charges, included four counts of sexual assault and one count of overcoming resistance by choking. The court date is set for Feb. 1, 2016.

Feb. 1, 2016: Ghomeshi's judge-alone trial gets underway in Toronto. Justice William Horkins says he'll deliver the verdict on March 24.

On March 24, 2016, Jian Ghomeshi was acquitted on all five charges against him, a judge ruled. Justice William Horkins delivered his ruling in a provincial courtroom in Toronto's Old City Hall. Reading his decision to the court, the judge said the lack of a "smoking gun" or physical evidence presented a difficult bar for the Crown.