Real Estate Brokers Prepare To Release Secretive Sales Data After Tribunal Rules Against TREB
The era of real estate agents guarding coveted sales data may be coming to an end, starting in Toronto. That's what many agents predict.
In anticipation, they're getting ready to release online long protected and precious industry information — more than anything, the actual selling price of homes.
"I immediately called my web developer so we can get this process started," says Ara Mamourian, owner of Toronto's Spring Realty.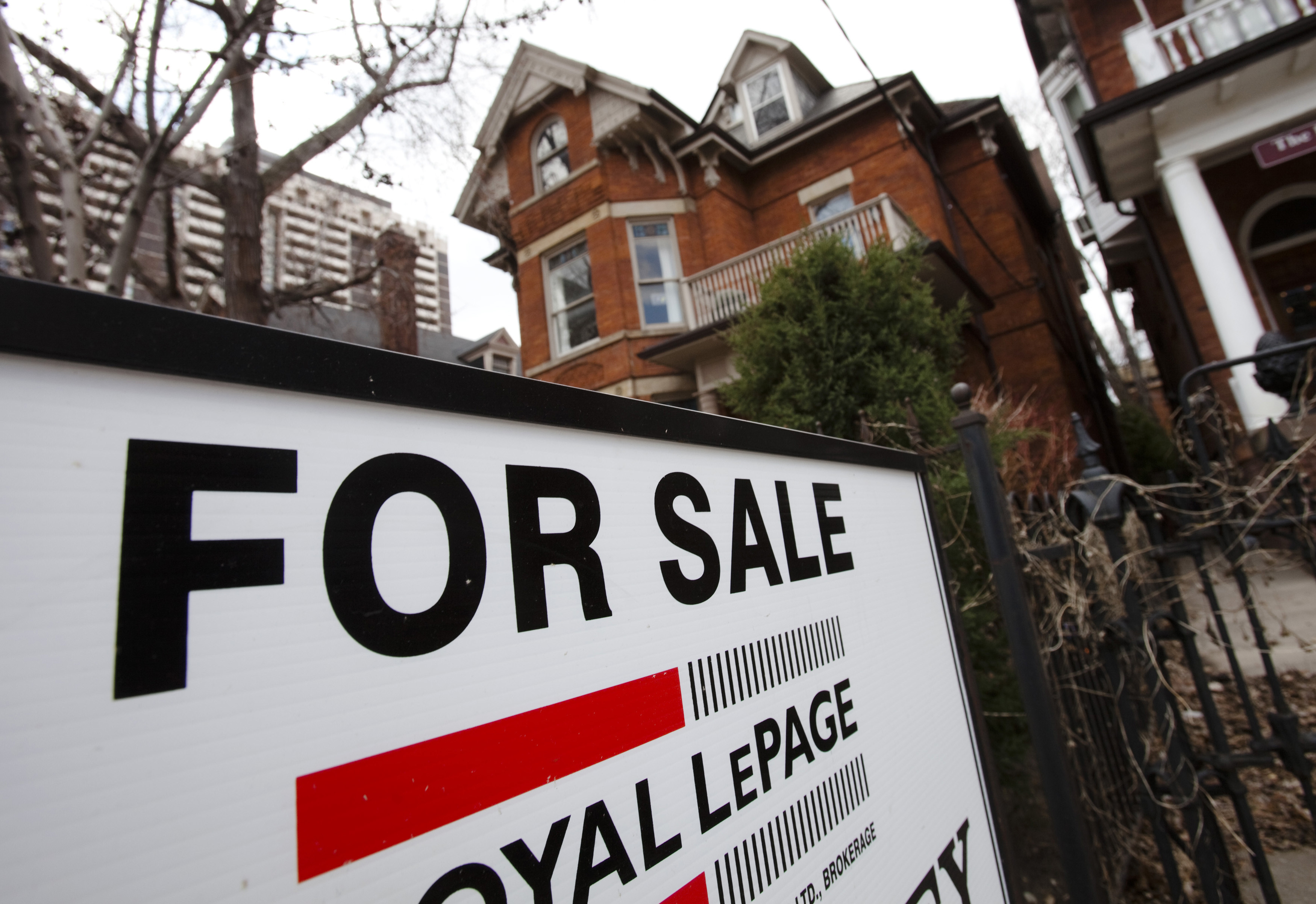 A house is seen for sale on the real estate market in Toronto, April 9, 2009. (Reuters/Mark Blinch)
Earlier this month, the federal Competition Tribunal sided with Canada's Competition Bureau over a long, drawn-out dispute with the Toronto Real Estate Board (TREB). The tribunal ruled TREB was stifling competition by limiting access to some home sales data.
The tribunal has yet to lay out how the ruling will change current TREB rules, under which real estate agents can only dole out the most coveted information to personal clients.
But the expectation is that Toronto real estate agents will soon be allowed to post online what everyone buying or selling wants to know — the final selling price of homes.
And real estate agents in other regions are watching closely. Many anticipate they too will eventually get to unleash selling price data, believing the tribunal decision will influence real estate boards across the country.
"I'm waiting for the moment," says Vancouver-area real estate agent Mayur Arora.
Using data to predict prices
While the tribunal irons out the details, Mamourian is hunkered down at his Spring Realty office. The broker is designing a website where he'll use past sales data to calculate what homes will actually sell for.
In the city's hot real estate market, sellers sometimes under-price houses to ignite bidding wars that can drastically drive up prices.
"Some places might as well be listed for a dollar," Mamourian jokes.
Based on what other homes have recently sold for in a neighbourhood, his website aims to provide a home's estimated true selling price.
"It's going to help you save time," he says. "You'll be able to zoom in on those places you can actually afford."
Mamourian also plans to offer up what a home has sold for over time. But he's not sure yet how detailed that history can be and can't launch his website until the tribunal gives the green light.
"We're building the technology so all we have to do is flip a switch," says the broker.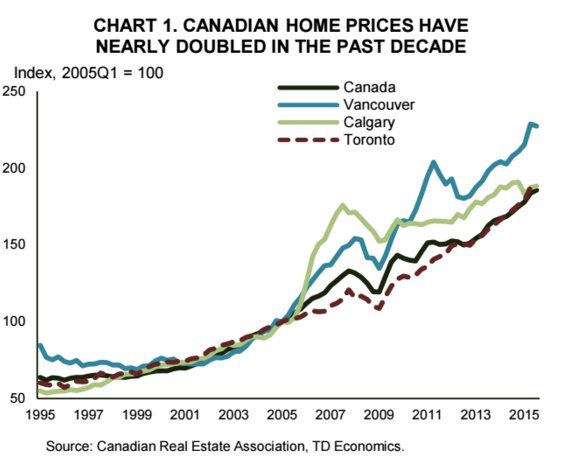 Chart: TD Economics
TREB no longer in way
This is Mamourian's second attempt to publicly release inside information.
Last year, in defiance of TREB's rules, he started emailing recent selling prices in select Toronto neighbourhoods to anyone who signed up.
"It's 2015, not 1980 anymore. The way people expect to receive information has changed, and we're just simply giving people what they want," he told CBC News at the time.
But he stopped his service after receiving a threatening letter from TREB.
"They could have immediately shut down our brokerage," admits Mamourian.
Now the broker is optimistic he won't face any more obstacles.
"We're pretty happy about it."
Story continues below
Feb. 2016: What $5 Million Will Buy You In Canada
This five-bedroom, five-bath house in Montreal's ritiziest neighbourhood has a large (almost 19,000-square-foot) lot featuring an amazing rock formation that makes the back yard entirely unique. The realtor boasts of spectacular views of the city as well. Listing.

This house in Coyote Valley, northwest of Calgary, features five bedrooms and three full baths in more than 6,000 square feet of living space. The property features an exercise room, a rec room and a media area, as well as a four-car garage. Listing.

This two-bedroom, two-bath condo in Coal Harbour features a 221-square-foot patio on the lower level and a master-bedroom balcony on the upper level. Which is helpful, because the views are not to be missed. Listing.

This four-bedroom, four-bath property sits in one of Canada's ritziest urban neighbourhoods and features a "smart home" automation system and an elevator. And the view from bedroom windows is of trees, which is sort of incredible for downtown Toronto. Listing.

This 9,200-square-foot house in the Greater Toronto suburb of Oakville was built around 1888, and features seven bedrooms and nine baths, and no fewer than six fireplaces. The realtor says the home was recently entirely renovated. Listing.

This 20-acre private island in swanky Lake of Bays, some 200 km north of Toronto, features five separate summer cottages and a three-bedroom boathouse, with parking for five boats. Great place for an extended family -- a rich extended family. Listing.

The realtor's boast that this is "one of the most beautiful waterfront settings on the Continental Eastern Seaboard" was a little difficult for us to verify, but it sounds good. Five bedrooms and seven baths in this 12,000-square-foot house that also features a library, a gym and a "hidden wine cellar." Listing.
Broker aims to go public
Toronto broker John Pasalis is also pleased about the tribunal's ruling.
His current real estate website provides information such as sales history and length of time a home has truly sat on the market — but only to personal clients, not the general public.
The president of Realosophy Realty says he's always believed the information should be open to everyone.
"People want to do some of their own research," he says.
So as soon as he has permission, Pasalis plans to make his site available to all.
"Anything that we can make public, we will make public, including sold prices," he says.
B.C. agent says price data may clean up industry
Real estate agent Mayur Arora is also anticipating his website will eventually offer up selling price data.
But Arora doesn't live in Toronto — he's across the country with OneFlatFee in Surrey, B.C.
However, the agent is convinced the tribunal's ruling will influence other regions to stop guarding information.
"It is 99 per cent sure in my mind that it's going to be all across Canada."
Arora says he's already contacted web developers to help him redesign his website to offer a home's sales history.
He believes the information will not only enlighten home shoppers, but also help bring more transparency to the industry.
Vancouver's real estate scene is facing close scrutiny these days, sparked by accusations some agents engage in unscrupulous practices like secretly flipping a property multiple times when selling a home.
"All that nonsensical behaviour that is derogatory to our brand name, I think it's going to open it up and clear the muddy waters," says Arora about the release of sales data.
Some laying low
But not everyone is rushing to release more information.
Shortly after receiving its own threatening letter from TREB last year, Bosley Real Estate in Toronto ceased offering sold information on a home search app.
But the agency tells CBC News it won't be making any new plans until it knows precisely what the Competition Tribunal's decision means for real estate agents.
TREB is also laying low, telling CBC News it's not commenting while the case is still before the tribunal.
The tribunal will hear proposals from both TREB and the Competition Bureau next month before it reveals exactly how its ruling will shake up Toronto's real estate industry.