Study: Marijuana, Driving Laws Have No Scientific Basis
WASHINGTON — Six states that allow marijuana use have legal tests to determine driving while impaired by the drug that have no scientific basis, according to a study by the nation's largest automobile club that calls for scrapping those laws.
The study commissioned by AAA's safety foundation said it's not possible to set a blood-test threshold for THC, the chemical in marijuana that makes people high, that can reliably determine impairment. Yet the laws in five of the six states automatically presume a driver guilty if that person tests higher than the limit, and not guilty if it's lower.
As a result, drivers who are unsafe may be going free while others may be wrongly convicted, the foundation said.
'Approach is flawed'
The foundation recommends replacing the laws with ones that rely on specially trained police officers to determine if a driver is impaired, backed up by a test for the presence of THC rather than a specific threshold. The officers are supposed to screen for dozens of indicators of drug use, from pupil dilation and tongue colour to behaviour.
The foundation's recommendation to scrap the laws in Colorado, Montana, Nevada, Ohio, Pennsylvania and Washington comes as legislatures in several more states consider adopting similar laws.
At least three states, and possibly as many as eleven, will also vote this fall on ballot measures to legalize marijuana for either recreational or medicinal use, or both. Several legislatures are also considering legalization bills.
"There is understandably a strong desire by both lawmakers and the public to create legal limits for marijuana impairment in the same manner we do alcohol," said Marshall Doney, AAA's president and CEO. "In the case of marijuana, this approach is flawed and not supported by scientific research."
Determining whether someone is impaired by marijuana, as opposed to having merely used the drug at some time, is far more complex than the simple and reliable tests that have been developed for alcohol impairment.
There's no science that shows drivers become impaired at a specific level of THC in the blood. A lot depends upon the individual. Drivers with relatively high levels of THC in their systems might not be impaired, especially if they are regular users, while others with relatively low levels may be unsafe behind the wheel.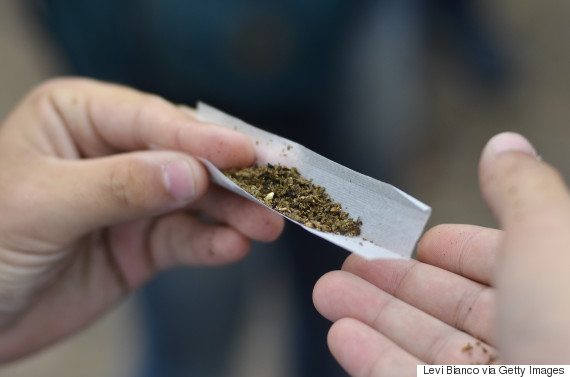 The study said it's not possible to set a blood-test threshold for THC, the chemical in marijuana that makes people high, that can reliably determine impairment. (Getty Images)
Some drivers may be impaired when they are stopped by police, but by the time their blood is tested they have fallen below the legal threshold because active THC dissipates rapidly. The average time to collect blood from a suspected driver is often more than two hours because taking a blood sample typically requires a warrant and transport to a police station or hospital, the foundation said.
In addition, frequent marijuana users can exhibit persistent levels of the drug long after use, while THC levels can decline more rapidly among occasional users. Nine states, including some that have legalized marijuana for medicinal use, have zero-tolerance laws for driving and marijuana that make not only the presence of THC in a driver's blood illegal, but also the presence of its metabolites, which can linger for weeks after use.
That makes no sense, said Mark A. R. Kleiman, a New York University professor specializing in issues involving drugs and criminal policy. "A law against driving with THC in your bloodstream is not a law you can know you are obeying except by never smoking marijuana or never driving," he said.
He said rather than switching to a new kind of law as AAA recommends, states should consider simply making it a traffic violation.
Driving with 'noisy child' equally dangerous
Studies show that using marijuana and driving roughly doubles the risk of a crash, Kleiman said. By comparison, talking on a hands-free cellphone while driving — legal in all states — quadruples crash risk, he said. A blood alcohol content of .12, which is about the median amount in drunken driving cases, increases crash risk by about 15 times, he said.
Driving with "a noisy child in the back of the car" is about as dangerous as using marijuana and driving, Kleiman said.
The exception is when a driver has both been using marijuana and drinking alcohol because the two substances together greatly heighten impairment, he said.
The foundation also released a second study that found the share of drivers in fatal crashes who had recently used marijuana doubled in Washington after the state legalized it for recreational use in December 2012. From 2013 to 2014, the share of drivers who had recently used marijuana rose from 8 per cent to 17 per cent.
While it stopped short of blaming the crashes on that increase, AAA traffic safety director Jake Nelson said traffic fatalities went up 6 per cent in Washington during that same period while the fatalities nationally declined.
Also On HuffPost:
Top 50 Most Influential Marijuana Users
"It makes me feel the way I need to feel."

"I went to Vietnam, and I was there for a long time. [Using marijuana] made the difference between staying human or, as Michael Douglas said, becoming a beast."

"Kush rolled, glass full... I prefer the better things!"

"Smoking helped put me in touch with the realm of the senses."

"You know you're a stoner when your friends make you a Bob Marley cake."

"Pot always just made me sleepy."

"Robert Downey Jr. said he started smoking weed at age 8."

"It [my behavior on the show in 1994] wasn't because I was excited about you [David Letterman]. I think it may have had something to do with the joint I smoked before I came on."

"I'm not a great pothead or anything like that… but weed is much, much less dangerous than alcohol."

In 1975 he wrote "Maverick," a memoir about his days playing in the NBA. Among other things, Jackson spoke frankly about marijuana use. -- Salon

"Bieber both confirmed that he'd been caught smoking weed and apologized for it." -- Huffington Post

"Angelou settled into a job as a waitress and began smoking marijuana with abandon."

"The first time I smoked was at home with my mother and step-father."

"I've tried pot, but it doesn't do much for me."

"Cocaine didn't interest me. Not at all. I'm way way back in the early pot…"

"The blogger and commentator Andrew Sullivan was busted in July for possessing a small amount of marijuana within the Cape Cod National Seashore."

"As I've already been open about in the past -- and as I assume many would expect -- I made personal choices when I was younger that I neither support nor condone for others and certainly wouldn't encourage through public policy."

"I don't smoke much pot anymore."

"Of course I know how to roll a joint."

"… the one that has the worst effect for me was pot. I felt silly and giggly - I hate feeling like that."

"Never give up the ganja."

"I went through one period when I smoked a surprising, a really breath-taking, amount of grass almost every night."

"I enjoy it once in a while. There is nothing wrong with that. Everything in moderation. I wouldn't call myself a pot-head."

"[Phelps] firmly denies that he takes drugs, suggesting that the notorious photo of him smoking from a bong was a one-time lapse of judgment."

"…what I did was experiment with a little marijuana like a lot of other people and walked away…"

"CNN anchor Gwen Scott claimed it is common knowledge that Turner sits in his office and smokes marijuana."

"I was hiding out from the celebrity thing, I was smoking way too much [marijuana]."

"I smoke a lot of pot when I write music."

"The owner of a local cannabis café told reporters George Clooney was no stranger there."

"I wouldn't have been able to make it through hundreds of shows if it weren't for the benefits of medical marijuana"

"James also revealed he and his teammates smoked marijuana one night after getting access to a hotel room in Akron."

"I have tried it."

"According to this woman, who requested anonymity because of her current job as a clinical psychologist, "He and Randy came to my house, they knocked on my door, and then they blindfolded me, tied me up, and put me in their car. They took me to their apartment and tried to force me to take bong hits. They'd been smoking pot."

"I did experiment with marijuana when I was a youth."

"I wouldn't answer the marijuana questions. You know why? Because I don't want some little kid doing what I tried."

"As for drugs – well, Gates was certainly not unusual there. Marijuana was the pharmaceutical of choice…"

"Look, I have never made a secret of the fact that I have tried marijuana... About 50,000 times."

"He said he had tried marijuana, enjoyed it, 'but it did not become a habit and I have not tasted it in many years.'"

"Yes." [In response to the question: "Which of you are ready to admit to having used marijuana in the past?"]

"I smoked some weed, and that's how I finished 'Izzo.'"

"Do you know how many movies I wrote when I was high?"

"First, [in high school], I smoked a lot of pot...and that's how I got to know the people 'half in' the society of my high school and we waved at each other over the bong. Then I got to know people by making jokes."

"The White House said today that Judge Clarence Thomas, President Bush's Supreme Court nominee, had smoked marijuana while in college."

"I experimented with marijuana a time or two."

"To kick things off, [television show host Andy Cohen] asked the last time Winfrey had smoked marijuana. 'Uh … 1982,' Winfrey replied. 'Let's hang out after the show,' Cohen joked. 'Okay,' Winfrey laughed. 'I hear it's gotten better.'"

"When I was a kid, I inhaled frequently. That was the point."