B.C. Drug Overdose Deaths Expected To Reach New Record In 2016: Health Minister
VICTORIA — British Columbia's health minister says he's hopeful the rate of drug overdose deaths will start dropping this month as a result of action taken by the province to curb a disturbing spike in opioid-related fatalities.
So far, last month's declaration of a public-health emergency doesn't appear to have slowed the number of overdose deaths, said Terry Lake, who noted fentanyl appears to be playing an increasingly central role.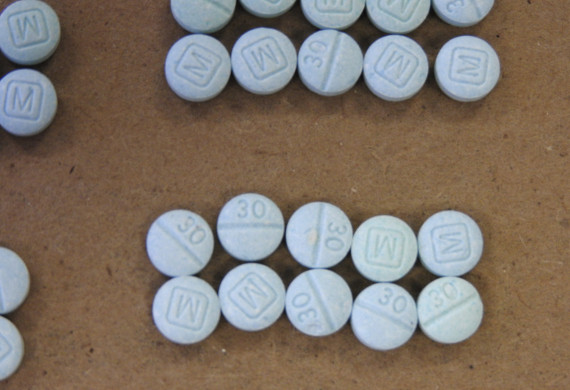 Fentanyl pills appear to be playing a central role in the increase of drug-related fatalities. (Photo: The Associated Press)
"The numbers are continuing to be extremely high," Lake said. "We're on track for a record year."
Updated numbers released Thursday by the BC Coroners Service showed the deadly opioid was linked to nearly half of more than 250 overdose deaths tallied for the first four months of this year.
That's compared to about a third of the 480 overdose fatalities for all of last year.
"Definitely, fentanyl is a big, big part of what's going on," Lake said.
The emergency declaration made in April allows health officers to collect information in real time to identify patterns and respond with preventative measures by targeting certain areas and groups of people. The step reduces the lag of waiting for data from the coroner's office.
Number of deaths increasing despite emergency declaration
But the number of deaths has continued to grow, despite increased outreach initiatives, aggressive awareness campaigns and the rapid distribution of the overdose-reversing drug naloxone.
"With the declaration of the public-health emergency, with increased availability of naloxone (and) with the increased number of first responders available to administer it, I'm hopeful that this month we'll start to see those numbers come down," said Lake.
"But it really is something that we have to continue to talk about, to make sure people are very aware."
B.C.'s medical health officer Perry Kendall said he wasn't surprised by the update.
"(Overdose deaths) haven't gone down yet, but I didn't really think that they would have," he said on Thursday.
"This obviously means we need to work on them."
Kendall predicted last month that if the number of fatalities continued to rise at this rate, the total could exceed 800 by year's end.
The Fraser Valley region leads the province with a total of 76 overdose deaths in the first four months of 2016. That's followed by 66 deaths in Metro Vancouver and 54 on Vancouver Island. There have been 45 overdose fatalities in the Interior and 15 in Northern B.C.
Also on HuffPost:
Fentanyl In Metro Vancouver
Hardy and Amelia Leighton, both in their 30s, were found dead July 20, 2015, leaving behind their two-year-old son Magnus. Toxicology testing confirmed that the couple ingested toxic levels of fentanyl in combination with other drugs.

From January to May 2015, 54 deaths were linked to fentanyl. From July 7 to Aug. 7, 2015, fentanyl was detected in at least 12 deaths, said the BC Coroners Service. In 2012, there were a total of 15 deaths related to the narcotic.

Jack Bodie, 17, and a 16-year-old friend were both found unconscious in a Vancouver park on Aug. 1, 2015 in a suspected fentanyl overdose. The teens were rushed to hospital where Bodie was placed on life support but he died a day later. His friend recovered and was released from hospital. Police believe the pair took fake Oxycontin.

Police in Delta, B.C. said it's a miracle that no one died after nine people overdosed within a 20-minute period on what are believed to be drugs laced with fentanyl. Emergency crews responded to a series of nearly simultaneous calls from four locations about recreational drug users who thought they were taking cocaine.

Fake Oxycontin pills containing fentanyl are displayed during a news conference at RCMP headquarters in Surrey, B.C., on Sept. 3, 2015. Fentanyl is 50 to 100 times more toxic than morphine.

The cheap synthetic opioid often added in drug labs to heroin or Oxycontin to make it more potent and fast-acting, according to police. (Pictured is a photo released by Vancouver police of packages of fentanyl which users thought were heroin.)

North Vancouver RCMP said they suspect the death of a 31-year-old man on July 31, 2015 is also linked to fentanyl. A relative found the man in distress and called police, but he died at the scene.

On Aug. 9, 2015, 16 people overdosed in Vancouver — including six in one hour — from pink heroin that police suspect was laced with fentanyl.

Mounties showed off equipment, pills, money and weapons seized from a counterfeit Oxycontin production facility in Burnaby in 2015. They said there was enough fentanyl pills to put 200 to 300 people's lives at risk. Riley Goodwin, 26, of Vancouver, has been charged with production and possession for the purposes of trafficking.

RCMP Cpl. Derek Westwick shows off seized pill making equipment during a news conference at RCMP headquarters in Surrey, B.C. on Sept. 3, 2015. Among the gear was a pill press capable of producing 18,000 tablets an hour, said police.

A member of the RCMP Clandestine Laboratory Enforcement Team is framed by pill manufacturing equipment while standing in a protective suit, of the type worn when dismantling drug production facilities containing fentanyl, during a news conference at RCMP headquarters in Surrey, B.C., on Sept. 3, 2015.

RCMP Cpl. Derek Westwick of the RCMP Clandestine Laboratory Enforcement Team, holds genuine Oxycontin pills, left, and seized fake Oxycontin pills containing fentanyl, right, during a news conference at RCMP headquarters in Surrey, B.C., on Sept. 3, 2015.

In October 2014, Vancouver police issued a warning about fentanyl masquerading as heroin. It caused more than 30 overdoses and one death that month.