neighbourhood
of luxury high-rise buildings and beachfront property.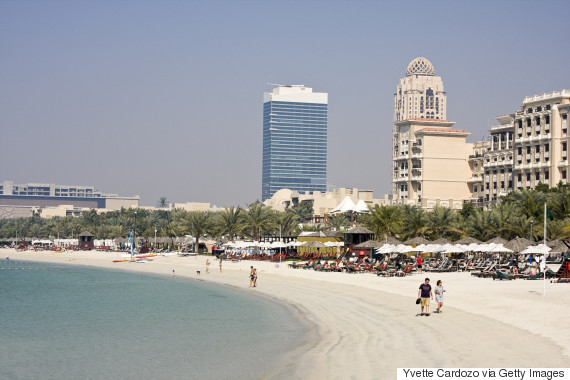 File photo of Dubai beachfront. Violent crimes are typically rare in the United Arab Emirates city. (Photo: Yvette Cardozo/Getty Images)
Dubai's police chief, Maj. Gen. Khamis Mattar al-Mazeina, said the victim "used to carry an Iranian passport and then had a Turkish one."
He said authorities believe the man also was allegedly involved in the killing of someone's daughter in Turkey, according to an account of his remarks published Thursday by state-owned The National newspaper of Abu Dhabi.
The man suffered seven gunshot wounds to the head, as well as two other wounds to his body, fired from two different guns, al-Mazeina said. The National reported that the shooters may have fled to Canada.
"We cannot ignore this and remain quiet, no matter what the motive behind committing the crime is."
Al-Mazeina discussed the attack with members of the Federal National Council during a meeting Tuesday. However, the shooting was not widely publicized until a video of his comments circulated later online. "We cannot ignore this and remain quiet, no matter what the motive behind committing the crime is," he said in the video. "The Ministry of Interior is working on the case. We were already able to identify those involved and we collected evidence that we will hand over to the Canadian judicial system." Al-Mazeina offered no motive for the slaying, nor did he name any suspects or the victim. An official with the Canadian Embassy in Abu Dhabi, the capital of the United Arab Emirates, referred a call for comment to the Royal Canadian Mounted Police. They did not immediately respond to a request for comment. Dubai, a popular tourist destination that is home to the world's tallest skyscraper, is a safe haven in the turbulent Middle East. Violent crime remains rare.

Also on HuffPost:

9 Cities Where Crime Is Soaring




Suggest a correction

DUBAI, United Arab Emirates — At least two Canadians and an Iranian are sought in Dubai after a man was shot dead at the city's marina last week, an attack not initially disclosed to the public. The shooting, which authorities say happened May 4, apparently targeted the man as he sat in a car in the