Tanya Tagaq Proves Residential Schools Aren't In Our Deep Past By Posting Her Apology Letter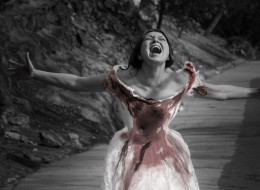 Inuk throat-singer Tanya Tagaq, an award-winning artist known for taking bold stances on indigenous issues like the seal hunt, posted a stark reminder during the week that Canada finally embraced the 2007 UN Declaration on Rights of Indigenous Peoples, of how recent Canada's painful history actually is.
On her Facebook page, Tagaq posted a letter from former prime minister Stephen Harper, sent in 2008, apologizing for her time spent as a student in "Indian Residential Schools." She's 41.
"I'm posting this because people think this happened in the deep past. The damage inflicted by residential schools is relegated into history by the collective consciousness of our country. Not only did the last school close down until 1996, but the damage inflicted poisoned our stream of thought for generations to come.

Our children were forcibly taken. Anyone executing own own laws were imprisoned themselves, the implemented judicial system is so foreign and corrupt people do not heal from it. When the children came home from residential schools broken with no language, steeped in violence and sex, this cycle got perpetuated. I have friends that have gone to jail for simply protecting the innocent from violence. The equation was created to equal us eradicated.

We are still here."
In the comments, she added: "Consider that you are speaking to someone who has lived through both residential school and it's intergenerational effects at the hands of a government whose direct intention was to "kill the Indian, save the man" before giving unsolicited direction/tips on healing. This isn't theory. These are our lives. Thank you."
And if one needed an equally stark example of that intergenerational trauma, MP Charlie Angus, the NDP indigenous affairs critic, had to cancel his attendance at a UN forum because he's still dealing with his riding's ongoing suicide crisis in Attawapiskat.
Like Us On Facebook

ALSO ON HUFFPOST:
Residential Schools: A Photo History
Inuit children who lived too far away and had to stay at school during the summer at the Anglican Mission School in Aklavik, N.W.T. in 1941.

The blackboard on the left reads: "Thou Shalt Not Tell Lies." Cree students at the Anglican-run Lac la Ronge Mission School in Saskatchewan in 1945.

Sisters of the Soeurs du Sacré-Coeur d'Ottawa and students on the steps of the school on the Pukatawagan Reserve in Manitoba in 1960.

La Tuque Residential School's hockey team at a tournament held during the Quebec Winter Carnival in 1967.

Canada's first and only Indian Air Cadet Unit, "No. 610" in 1956. The boys are from the Roman Catholic-run Williams Lake, B.C., Residential School.

Chemistry class at Kamloop's Residential School in 1959

Students play pool at the Norway House Residential School in Manitoba in 1960.

Students at a dormitory of the Shingwauk Residential School in Ontario in 1960

The carpentry shop at a Kamloops, B.C., residential school in the late 1950s.

Children hold letters that spell "Goodbye" at the Fort Simpson, N.W.T, Residential School in 1922.

Undated photo of a group of students and parents from the Saddle Lake Reserve in Alberta en route to the Methodist-operated Red Deer Industrial School.

St-Michael's Residential School in 1959

Shingle Point Residential School & Home For Boys, Mackenzie District, N.W.T. in 1930.

Students from the residential school in Moose Factory Island in Ontario attend a service at St. Thomas Anglican Church in 1946.

Aboriginal children at the Roman Catholic-run Fort Providence Residential Mission School in the Northwest Territories in 1929.

An undated photo of a dog team carrying a hay load near the residential school at Fort Resolution, N.W.T.

Undated photo of children cutting logs at the residential school in Fort Resolution, N.W.T.

Undated photo of boys cutting hay at the residential school in Duck Lake, Sask.

An undated photos of aboriginal students attending the Metlakatla, B.C., Residential School.

Two Métis children with an Inuit child at the All Saints Residential School, in Shingle Point, Yukon, in 1930.

Students at the Onion Lake Catholic Residential School in 1950.

Adeline Raciette amd Emily Bone study on the lawn of the Assiniboia Residential School in Manitoba in 1958.

Students share dish-washing chores at Portage La Prairie Residential School in Manitoba in 1950.

Fort Qu'Appelle Industrial School in Saskatchewan in 1884.

Children at the Fort Resolution, N.W.T., residential school in 1928.

The Alert Bay Mission School in British Columbia in 1885.