Victoria Mayor Lisa Helps says the plumbing comes in response from neighbourhood concerns, such as the smell associated with the camp's port-a-potties. Neighbours living near the site have called it an urban ghetto, saying they have picked up discarded needles, human waste and other garbage left in the area by campers.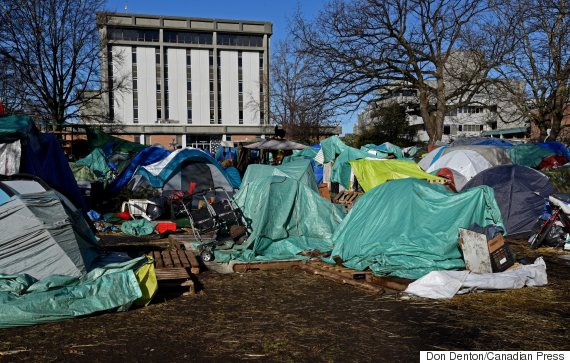 Tents, tarps and pallets cover the ground in a park next to the court house in downtown Victoria, British Columbia, on March 5, 2016. The tent city, taking advantage of a law that allows camping on provincially owned land, was initially created to draw attention to the homeless. (Photo: Don Denton/Canadian Press)

Helps says the province is looking for other places to house the campers because no one wants the tent city to stay on the courthouse lawn permanently. Last month the B.C. Supreme Court refused to grant the government an interim injunction to dismantle the camp, but the province is expected to go back to court later this year seeking a permanent injunction. (CFAX, The Canadian Press)

Also On HuffPost:

Homeless for the Holidays




Suggest a correction

VICTORIA — Plumbing is being installed at a tent city set up on the lawn of Victoria's court house. The province is installing running water and a flushing toilet at the homeless camp, where about 100 people have been living since last spring.