William Lyon Mackenzie King's Home Vandalized In Kitchener, Ont.
The childhood home of William Lyon Mackenzie King — Canada's longest serving prime minister — has been damaged in what police are calling an act of vandalism.
The incident took place close to midnight on Sunday at the Woodside National Historic Site in Kitchener, Ont., and police said they are looking for those responsible.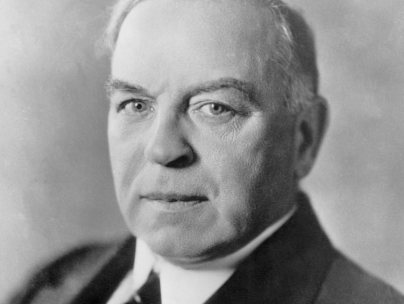 William Lyon Mackenzie King is shown in an undated file photo. (Photo: The Canadian Press)
"It's disheartening, but we're going to move forward," said Lisa Curtis, Parks Canada superintendent of national historic sites for southern Ontario. "We're protecting and preserving a national treasure for present and future generations...It's extremely important to keep it intact."
Police said someone heard glass and wood being smashed in the area of the home and an alarm was set off before officers arrived to find a number of windows and doors had been damaged.
A final tally indicated 66 panes of glass were shattered and one door was broken in the incident, Curtis said. A broken piece of the home's eavestrough was also found and is believed to have been used to smash windows, she added.
Nothing, however, was stolen from the Victorian-era home, which is filled with King family heirlooms, Curtis said.
"We're protecting and preserving a national treasure for present and future generations...It's extremely important to keep it intact."
"We did a full investigation to ensure everything (inside) was intact and it was," she said. "It was just pure vandalism."
Work is already underway to repair the damage, which is expected to cost Parks Canada just under $10,000, Curtis said.
The site, which is not fenced in, is also considering extra security measures for the future, she added.
Repairs to cost $10,000
King, who was born in Kitchener, lived in the home for seven years, between 1886 and 1893, with his parents and three siblings, according to Parks Canada.
He was Liberal party leader from 1919 to 1948 and served as prime minister for almost 22 years.
Local police said it's disappointing someone would target a site of such significance.
"It's a criminal offence but ultimately it's an offence to a very historic site in our city," said Staff Sgt. Mike Haffner. "We're appealing to the public for information."
Woodside was built in 1853 and has been restored to represent the period when the King family lived in the home.
The grounds of the site are open to the public year-round and the home itself is open to visitors from October to December, as well as on Family Day, Canada Day and special events.
ALSO ON HUFFPOST:
What Canada's PMs Have Said About Canada
"We are a great country, and shall become one of the greatest in the universe if we preserve it; we shall sink into insignificance and adversity if we suffer it to be broken."

"We shall all respect the principles of each other and do nothing that would be regarded as an act of oppression to any portion of the people."

"I hate politics and what are considered their appropriate measures. I hate notoriety, public meetings, public speeches, caucuses and everything that I know of which is apparently the necessary incident of politics—except doing public work to the best of my ability."

"The one calamity above all others which stands before this country is that political division should follow the division of race or the division of religion."

"I hope the time is fast approaching in Canada when we shall never hear the question raised of a man's birth, or the creed that he professes. We live in a country and under a constitution in which every man has a right to act as his judgment dictates, or as his education leads him, upon matters of this very important character."

"Each little Province is a little nation by itself. "

"Two races share today the soil of Canada. These people had not always been friends. But I hasten to say it. There is no longer any family here but the human family. It matters not the language people speak, or the altars at which they kneel."

"Let us never forget the solemn truth that the nation is not constituted of the living alone. There are those as well who have passed away and those yet to be born. So this great responsibility comes to us as heirs of the past and trustees of the future. But with that responsibility there has come something greater still, the opportunity of proving ourselves worthy of it."

"Loyalty to the ballot box is not necessarily loyalty to the nation. Political captains in Canada must have courage to lead rather than servility to follow."

"A strong and dominant national feeling is not a luxury in Canada, it is a necessity. Without it this country could not exist."

"Canada: a land endowed by heaven with incalculable wealth. A people free and brave and strong with the strength that comes from the mountains and the prairies, the rivers and the sea."

"Our nation was planned as a political partnership of two great races. It was planned by men of vision, of tolerance, as a partnership in which both of the partners would retain their essential characteristics, their religion, their culture."

"I am a Canadian, free to speak without fear, free to worship in my own way, free to stand for what I think right, free to oppose what I believe wrong, or free to choose those who shall govern my country. This heritage of freedom I pledge to uphold for myself and all mankind."

"Whether we live together in confidence and cohesion; with more faith and pride in ourselves and less self-doubt and hesitation; strong in the conviction that the destiny of Canada is to unite, not divide; sharing in cooperation, not in separation or in conflict; respecting our past and welcoming our future."

"Canada will be a strong country when Canadians of all provinces feel at home in all parts of the country, and when they feel that all Canada belongs to them."

"This is a very complicated country. You have to understand it, you have to respect it, and I think our most successful prime ministers have been people who have drawn together the diversity of the country."

"In any democracy, there is always a tug-of-war between policies to achieve equality and policies to promote excellence. I am certain that Canada can achieve both equality and excellence."

"Canada must stand for the best in all fields of human endeavour. And we must be uncompromising in the pursuit of values that are the moral foundation of all great nations. That is my dream for my country: a Canada fair and generous, tolerant and just."

"In the... years of our common history, anglophones and francophones, Aboriginal peoples and new Canadians have shown that our political system, founded on the profound respect of differences and the sharing of fundamental values, is our most powerful tool of development."

"What we have built together in Canada is something very great and very noble. A country whose values of tolerance, understanding, generosity have made us what we are: a society where our number one priority is the respect and dignity of all our citizens."

"The people of Canada have worked hard to build a country that opens its doors to include all, regardless of their differences; a country that respects all, regardless of their differences; a country that demands equality for all, regardless of their differences."

"Canada must reflect the true character of its people. Honourable in our dealings. Faithful to our commitments. Loyal to our friends. By turns a courageous warrior and a compassionate neighbour. That is the spirit of the Canada I know."

UP NEXT: Canada's Longest-Serving PMs

On November 13, 2014 -- his 3,203rd day on the job -- Stephen Harper leapfrogged former PM (and fellow Conservative) Brian Mulroney to become the sixth longest-serving prime minister in Canadian history. But he still has a ways to go to catch the five former leaders ahead of him.

Days in office: 3,689

Days in office: 5,564

Days in office: 5,642

Days in office: 6,934

Days in office: 7,837

UP NEXT: How Much Tories Have Aged?