Peter Harder's Request For Extra Office Money Denied By Senators
OTTAWA — The Liberal government's point man in the Senate is going to have to do his job without all the money he says he needs for the position.
The Senate committee in charge of spending decided Tuesday that Peter Harder won't get a dollar more than the $400,000 already allocated to his office as government representative in the Senate, even though he says he needs twice that amount to run the office.
Harder had asked for up to $886,000 to add to the $185,400 he already receives from his Senate office budget to handle the task of managing the government's legislative agenda in the upper chamber, among other duties.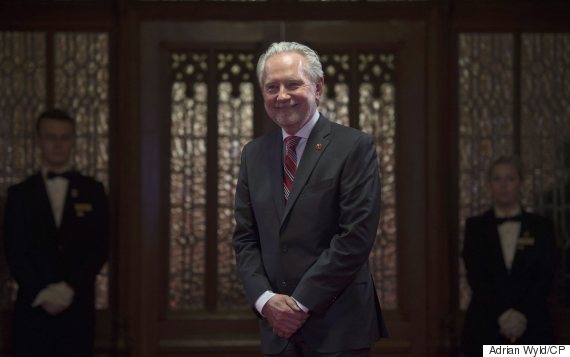 Senator Peter Harder waits to take his place in the Senate before being officially welcomed to the Senate on Parliament Hill in Ottawa, Tuesday April 12, 2016. (Photo: Adrian Wyld/CP)
When he made the pitch, Harder said his request was no different than what previous government Senate leaders had received to pay for staff and research in their office.
In a report tabled Tuesday, senators on the internal economy committee agreed Harder needed more money, but not as much as his predecessors because he has no caucus to manage.
The decision still means that the Senate may have to find $800,000 or more in savings to handle the extra cost that wasn't predicted when senators crafted this year's Senate budget.
The Senate budgets annually for about 100 senators in the chamber during the year, although typically senators don't use 100 per cent of their office budgets.
The seven senators Prime Minister Justin Trudeau appointed in March ate up about $3 million of the Senate's $90.1-million budget.
The budget didn't take into account the new setup in the upper chamber, with a government representative and his two deputies sitting with no direct connection to a party caucus. The extra cash for Harder, along with additional research money for the three independent senators making up the government's leadership team — Harder, Diane Bellemare and Grant Mitchell — have left a squeeze on Senate finances to the tune of $778,248.
It's possible that the Senate could find the money absent any new senators, but the government is expected to fill up to 19 vacant seats by September, which would soak up any extra money that could be used to cover the shortfall.
Senators on the internal economy committee heard the extra costs could be covered by cutting committee budgets and the money available to pay for travel for witnesses to appear before committees, but a final decision has yet to be made.
ALSO ON HUFFPOST:
Trudeau's 7 New Senate Appointments
Prime Minister Justin Trudeau announced seven new Senate appointments on Friday, March 18. The new senators fill vacancies in Ontario, Manitoba and Quebec. Here is more information on each, from The Canadian Press.

He spent 29 years in the federal public service, including 16 years as a deputy minister and four years as the personal representative of the prime minister to three G8 Summits. He was appointed by Trudeau to manage the Liberal transition into government last fall. Harder, then-secretary of the Treasury Board of Canada, is shown at a news conference on Nov. 10, 1999.

Justice Murray Sinclair. He was the first Aboriginal judge appointed in Manitoba and only the second in Canada. He was the chief commissioner of the Truth and Reconciliation Commission, which investigated the legacy of the residential school system and delivered a landmark report in 2015. Sinclair is shown speaking during the closing events for the Truth and Reconciliation Commission in Ottawa, Monday June 1, 2015.

She has won over 20 medals for Canada in the sport of wheelchair racing, beginning at the 1992 Paralympic Games in Barcelona. She is chef de mission for Canada's team at the 2016 Paralympic Games in Rio de Janeiro. Petitclerc shows off her five gold medals from the 2008 Beijing Paralympics at Trudeau airport in Montreal Friday, Sept. 19, 2008.

Author and journalist, he spent 14 years as editor-in-chief of the Quebec daily paper La Presse. He is one of the founders of a Quebec think tank on federalism. Journalist and author Andre Pratte autographs copies of the book 'Reconquerir Le Canada' (Reconquering Canada), in Montreal, Thursday, Nov. 8, 2007.

Most recently, Lankin spent 10 years running the United Way in Toronto, taking that job after years as an NDP cabinet minister and MPP in Ontario. From 2009 to 2016, she was a member of the Security Intelligence Review Committee, the oversight body for the country's security agencies. Governor General David Johnston welcomes Frances Lankin into the Order of Canada during a ceremony at Rideau Hall Friday November 22, 2013 in Ottawa.

She has worked in education for over 35 years. She served as president of Universite Saint-Boniface from 2003 to 2014. She was responsible for the college obtaining full university status and has been honoured for increasing the range of educational opportunities available in French in the province. Governor General David Johnston presents the Order of Canada to Raymonde Gagne during an investiture ceremony at Rideau Hall in Ottawa on Wednesday, September 23, 2015.

Recognized globally for her contributions to increasing the inclusion of immigrants, she is currently the founding executive director of a think tank at Ryerson University's school of management that focuses on diversity, migration and inclusion. She is the chair of Lifeline Syria, which seeks to bring 1,000 privately sponsored Syrian refugees to Toronto. She also serves on the boards of the Centre for Mental Health and Addiction, The Environics Institute, and Samara. Lifeline Syria's Chair Ratna Omidvar works with volunteers at the organization's offices in Toronto on Friday, September 4, 2015.

UP NEXT: Trudeau's First Cabinet

Prime Minister Justin Trudeau has kept his promise of a smaller, gender-balanced cabinet. At 31 ministers (including him), Trudeau's first cabinet features many new faces and some veterans.

Minister of Finance Morneau is the former executive chair of Morneau Shepell, one of Canada's largest human resources firms.

Minister of Foreign Affairs An MP since 1996, Dion served as Canada's intergovernmental affairs minister under Jean Chrétien and environment minister under Paul Martin. He served as Liberal leader and leader of the Official Opposition from 2006 to 2008.

Minister of Justice and Attorney General of Canada Wilson-Raybould is a former Crown prosecutor and regional chief of the B.C. Assembly of First Nations.

Minister of International Trade An MP since 2013, Freeland was courted by Trudeau's team when she was a senior editor at Thomson Reuters in New York City.A Rhodes scholar, she is a well-known author and journalist. She was part of Trudeau's team of economic advisers.

Minister of Health Philpott is a family physician, associate professor at the University of Toronto, and former chief of the department of family medicine at Markham Stouffville Hospital.

Minister of National Defence Sajjan is a retired lieutenant colonel who served in Afghanistan and was the first Sikh to command a Canadian Army regiment. He also served as a Vancouver police officer for 11 years.

Minister of the Environment and Climate Change McKenna was a former legal adviser for the United Nations peacekeeping mission in East Timor and founded Canadian Lawyers Abroad (now known as Level), a charity focused on global justice issues.

Minister of Employment, Workforce Development, and Labour Mihychuk was an NDP MLA in Manitoba from 1995 to 2004, serving as minister of industry, trade, and mines, and later minister of intergovernmental affairs.

Minister of Infrastructure and Communities An Edmonton city councillor since 2007, Sohi immigrated to Canada from India 35 years ago. He spent time as a political prisoner in India in the late 1980s.

Minister of Canadian Heritage Joly, 36, made a name for herself by finishing second to ex-Liberal cabinet minister Denis Coderre in the Montreal mayoral race in 2013. She's a lawyer and communications expert.

Minister of Democratic Institutions Monsef, a community organizer, was born in Afghanistan. She fled the Taliban and came to Canada as a refugee with her widowed mother and sisters in 1996.

Minister of Veterans Affairs and Associate Minister of National Defence Hehr was an Alberta MLA from 2008 to 2015, was one of just two Liberals elected in Calgary. In 1991, he was the victim of a drive-by shooting that left him confined to a wheelchair.

Minister of Status of Women Hajdu was executive director of Shelter House, Thunder Bay's largest homeless shelter.

Minister of Sport and Persons with Disabilities Qualtrough is a lawyer and former Paralympian. Legally blind, she won three Paralympic and four World Championship medals for Canada in swimming and was president of the Canadian Paralympic Committee.

Minister of Families, Children, and Social Development Duclos is a renowned economist who taught at at Laval University.

Minister of Natural Resources Carr, a former Manitoba MLA and deputy leader of the Manitoba Liberal Party, served as president of the Business Council of Manitoba from 1998 to 2014.

Minister of Public Services and Procurement An MP since 2008 and the party whip, Foote previously held several cabinet portfolios in Brian Tobin's provincial government.

Minister of Transport The former astronaut, navy engineer, president of the Canadian Space Agency and Liberal leadership contender was first elected in 2008. He has served as an industry and foreign affairs critic.

Minister of Public Safety and Emergency Preparedness The finance minister under Paul Martin's government, Goodale was the only Liberal elected in Saskatchewan.

Minister of Innovation, Science, and Economic Development An MP from 2004 to 2011, Bains regained his seat this year. In addition to being a certified management accountant, holding an MBA, and teaching at Ryerson University, Bains was an important Trudeau organizer and also served on the Liberals' national election readiness committee.

President of the Treasury Board An MP since 1997, Brison was the public works minister and receiver general of Canada in Paul Martin's government. He had been the Liberal spokesman on economic issues and the vice-chair of the Commons' committee on finance.

Minister of Indigenous and Northern Affairs A family physician who has been an MP since 1997, Bennett was Canada's first minister of state for public health and oversaw the 2003 response to the SARS epidemic. In recent years, Bennett has served as the party's vocal critic on aboriginal affairs.

Minister of Fisheries, Oceans, and the Canadian Coast Guard A former MLA and speaker of the Nunavut legislative assembly, Tootoo held several cabinet positions in the territory and has extensive government administration experience.

Minister of Agriculture and Agri-Food An MP since 1988, MacAulay has served as solicitor general of Canada, minister of labour, secretary of state for veterans and secretary of state for the Atlantic Canada Opportunities Agency. In the last Parliament, MacAulay was the critic for fisheries and oceans.

Leader of the Government in the House of Commons The Liberals' House leader in the last Parliament, LeBlanc was sworn in as a privy councillor in 2004 when, under Paul Martin, he served as parliamentary secretary to the leader of the government in the House and deputy government whip. He is a childhood friend of Trudeau's

Minister of Immigration, Refugees, and Citizenship First elected in 2000, McCallum, a former chief economist at the Royal Bank of Canada, served as minister of national defence and minister of veterans affairs under Jean Chrétien. He was named minister of national revenue under Paul Martin and was also tasked with leading an expenditure review of government spending.

Minister of Small Business and Tourism Chagger, 35, worked for the Kitchener-Waterloo Multicultural Centre. She also worked on Trudeau's leadership campaign.

Minister of National Revenue A small business owner who has been an elected warden for the Regional County Municipality of Rocher Percé since 2010, Lebouthillier won a seat in Gaspé that the Liberals haven't held in more than a decade.

Minister of International Development and La Francophonie Bibeau worked for the Canadian International Development Agency (CIDA) in Ottawa, Montréal, Morocco and Benin, Africa, before settling and launching her own business in her riding.

Minister of Science Elected in 2008, Duncan taught meteorology, climatology, climate change, and medical geography at the university level.