Fort McMurray Fire: Canadians Do What They Do Best During City's Crisis
The devastating wildfires that ravaged Fort McMurray, Alta. uprooted families and torched homes. The disaster has separated beloved pets from owners. It put brave first responders in once in a lifetime situations.
But the blaze has also produced a portrait of the unassailable good this country can do during a crisis.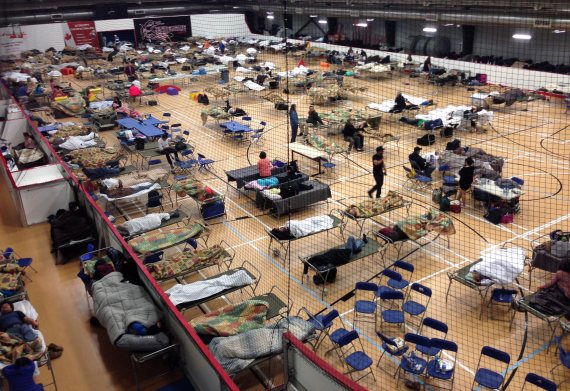 Cots litter the gym floor at an evacuee reception centre set up and operated by the regional municipality of Wood Buffalo in Anzac, Alta. on May 4, 2016. (Photo: Greg Halinda/The Canadian Press)
Since May 3, scores of incredible acts of kindness toward Fort McMurray's evacuees have emerged. Here's a sample of some of the amazing deeds Canadians have done for other Canadians.
There were the kind Albertans who didn't think twice about immediately opening their homes to evacuees:
If anyone is coming as far south as Calgary. I am opening my home. #YMMHELPS

— Terry-Ann Duitman (@princesstad) May 3, 2016
#ymmfire we have room for 3-4 people in Hinton #myhinton #wildfire

— Jenn Lummiss (@JeneilDesigns) May 4, 2016
Syrian refugees stepped up, too: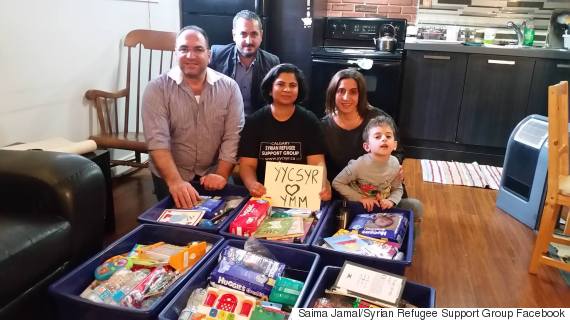 Members of the Syrian Refugee Support Group Calgary fill hampers to send to Fort McMurray evacuees. (Photo: Saima Jamal/Syrian Refugee Support Group Calgary)
Some refugees in Alberta collected donations for evacuees. Others chipped in with five-dollar donatations.
"Those newcomers who just came two, three months ago ... five dollars to them is just a huge amount of dollars," Sam Nammoura, co-founder of a refugee support group in Calgary, told The Huffington Post Alberta.
"I was so proud. It brought tears to my eyes, it brought joy to my heart."
Another group of refugees in Waterloo, Ont. are on a "mission" to rebuild homes in Fort McMurray, CBC News reports.
Rules were thrown out the window when a Suncor manager decided to fly out almost 100 pets on a company plane: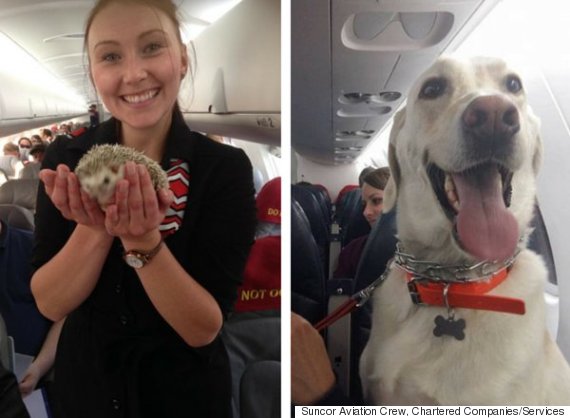 Pilot Keith Mann says these pets were calm and tranquil flyers. (Photo: Suncor aviation crew and chartered companies and services)
Keith Mann, manager of flight operations for Suncor Energy, had to make a call. Three hundred evacuees needed to be flown out from his company's lodges, and they had almost 100 pets with them.
"We didn't want any people to make the decision to stay behind because they couldn't take their pets so we sort of broke, or bended our policies on the carriage of pets to let that happen," he told The Huffington Post Alberta.
"It was 'worry about it after'. The main thing was make sure we had enough airplanes and enough time to get people out and do it safely because it was a mass effort."
A small group of animal lovers in Alberta also decided to bend rules in a similar situation.
After rescuing more than 200 pets from the area, members of the Fort Mac Fire - Pet Rescue Facebook group were told by authorities that local officials were taking over pet rescue duties.
The group was worried the animals wouldn't be reached in time. They went back in and got kicked out by police. Determined to keep helping, the group continued its efforts in coordination with authorities.
Kids set up lemonade stands across the country to raise funds for evacuees:
RT @SarahNKraus: Kids sell lemon-aid near George H. Luck school for @redcrosscanada #ymmfire evacuees. $2K already pic.twitter.com/OCzm7taChT

— Canadian Red Cross (@redcrosscanada) May 8, 2016
Young Canadians in B.C., Ontario, Alberta and P.E.I. raised thousands of dollars for relief efforts. In Edmonton, one group of children raked in $2,000 from their lemonade stand.
Alexander Tuck, a five-year-old from Whitby, Ont., raised more than $2,500 alone, according to CTV News.
5 y/o Alexander Tuck has opened a lemonade stand in Whitby to help raise money for Fort McMurray pic.twitter.com/kSpDn7Hi0E

— Erica Vella (@ericavella) May 7, 2016
Thousands of volunteers jumped on opportunities to help clean-up and rebuilding efforts:
One applicant told the Edmonton Journal she heard more than 800 people responded to a callout for 500 applicants.
"I'm really hoping I'm one of them who gets picked and help clean up Fort McMurray, and rebuild their town," Sophie Vruno told the paper.
Another company, Drake International, put a callout for 200 people to help with clean up. A company manager told Global News they received more than 2,500 resumes in less than a day.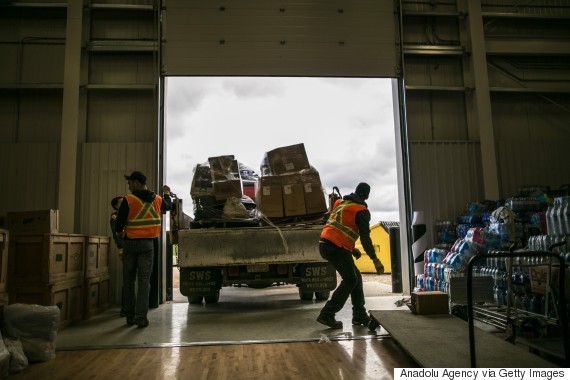 Volunteers load donated items near Bold community center in Lac la Biche, Alta., south of Fort McMurray. (Photo: Amru Salahuddien/Anadolu Agency/Getty Images)
An Ontario First Nation that's been dealing with its own crisis pitched in:
The Canadian Red Cross took to Twitter to say Attawapiskat Chief Bruce Shisheesh presented a $5,000 donation to the Alberta fire relief.
"We know what it is like to be hurt... Just because we are in a crisis, we still want to help," Shisheesh said.
#Attawapiskat Chief @bruceshisheesh presents a generous $5000 donation to support #ABfire relief. "We want to help." pic.twitter.com/dT11AdFvTX

— Canadian Red Cross (@redcrosscanada) May 16, 2016
Companies showed their human sides: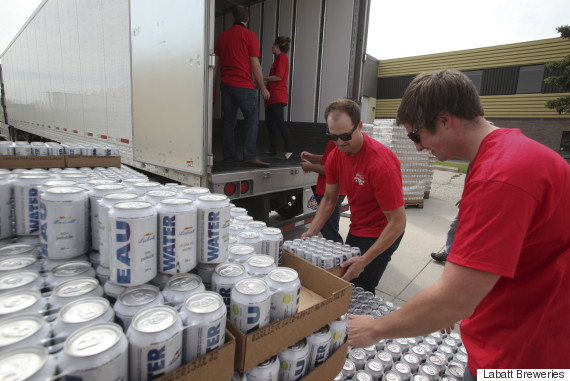 (Photo: Labatt Breweries)
Several businesses stepped up to help Fort McMurray evacuees. GoodLife Fitness, for example, offered those displaced from their homes with free use of their gym showers. Labatt — yes, the brewing company — offered canned water to firefighters and residents.
Many companies donated to the Canadian Red Cross, as well.
Legions of Canadians did whatever they could to help.
From organizing online groups dedicated to fundraising, collecting donations or finding lost pets, to going up to Fort McMurray to help battle the blaze — even if they were warned not to.
Ricky Vassberg told The Huffington Post Alberta that he went to the northern Alberta city to support a local fire hall.
Vassberg, who had training, was given proper equipment from firefighters. But he was injured while helping to clear a house that was on fire.
He said he doesn't regret doing what he did one bit.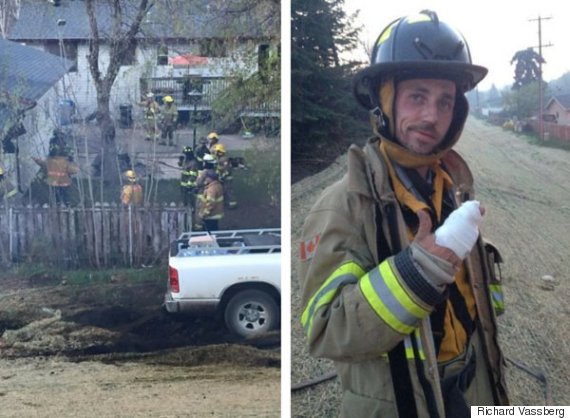 Vassberg shows off a bandaged hand that was injured while attempting to clear the building pictured on the left. The volunteer's white truck, pictured, was also damaged in Fort McMurray. (Photo: Richard Vassberg)
"I'm just a volunteer," he said.
"But just anything I could do that would help I'd do."
Like Us On Facebook
Follow Us On Twitter
With files from The Canadian Press, Angelyn Francis, Sarah Rieger, Jesse Ferreras and Rhianna Schmunk
Also On HuffPost:
Volunteer Firefighter Shares Inside Look At Fort McMurray Blaze
Volunteer Ricky Vassberg took these incredible photos of the Fort McMurray fire in May 2016. The Edmonton resident helped support and deliver supplies to a fire hall as a massive wildfire swept through the northern Alberta community.

Vassberg bought a trailer and filled it with supplies for firefighters.

Vassberg, pictured next to equipment that was damaged during the fire.

Firefighters fight a structure fire in Fort McMurray.

Stopping a small patch of fire in the Fort McMurray area.

The wildfire burns through a Fort McMurray neighbourhood.

A vehicle destroyed by the blaze.

Destroyed cars line the road in a Fort McMurray neighbourhood.

Vassberg, pictured wearing donated equipment from local firefighters. His truck was damaged in the blaze.

Vassberg's hand was injured while trying to clear furniture from a building that had been on fire.

This dog, Max, was rescued from a building in the Fort McMurray neighbourhood of Abasand.