U.S. Airport Lineups Should Be Enough To Keep Canadians Away. If The Loonie Didn't Already.
Canadians may want to rethink any trips they planned to the U.S. for May Long Weekend.
That is, unless they enjoy waiting in long lineups for hours at a time. And paying with a dollar that's worth less than it was last year.
The U.S. Transportation Security Administration (TSA) has been pummeled online in the past week with images of lines stretching through terminals such as New York's LaGuardia and Chicago's O'Hare International Airport.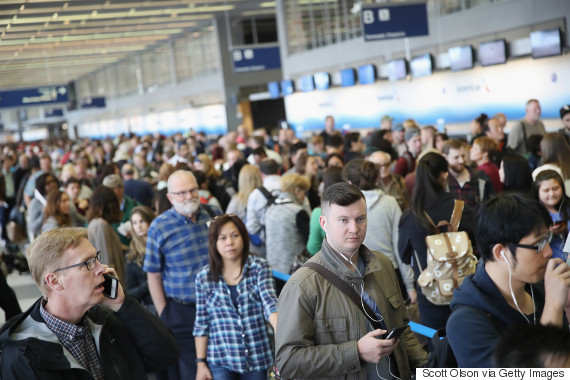 Passengers at O'Hare International Airport wait in line to be screened at a Transportation Security Administration (TSA) checkpoint on May 16, 2016 in Chicago, Ill. (Photo: Scott Olson/Getty)
The lines are happening for a number of reasons. For one thing, it's the the summer travel season, and lines during that period are always going to be long, CNN quoted Homeland Security Secretary Jeh Johnson saying last week.
But the number of passengers has also gone up by 12 per cent since 2011, while at the same time, TSA screeners have dropped by a similar proportion, The New York Times reported Wednesday.
Add to that the fact that security was tightened after travelers managed to bypass screeners with weapons and fake bombs, and you have a recipe for waits as long as three hours.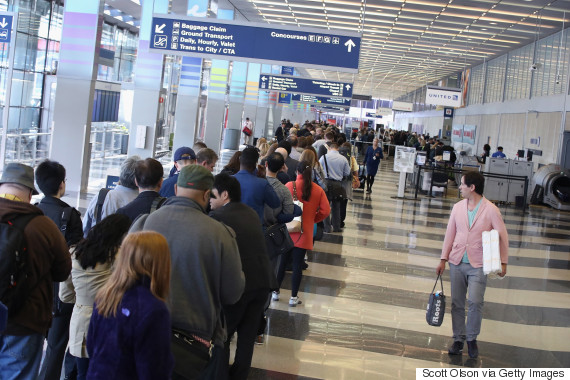 Passengers at O'Hare International Airport wait in line to be screened at a Transportation Security Administration (TSA) checkpoint on May 16, 2016 in Chicago, Ill. (Photo: Scott Olson/Getty)
Johnson said the Department of National Security would have more screeners on hand and increase overtime in an effort to cut the lines. The U.S. Congress has earmarked $34 million to bring on more staff.
But for now, social media is lighting up with images of lengthy lines at airports throughout the United States.
Some are keeping a sense of humour about it.
@jtduong @rmthedwall TSA issues revealed. pic.twitter.com/vmCrzxOJs6

— Reed Nelson (@reednelson23) May 18, 2016
And airports are finding ways to keep people entertained as they wait.
WATCH: Airports are offering clowns, mini therapy horses, snacks and more to calm anger over long TSA lines. https://t.co/dDiIdc2oKy

— Good Morning America (@GMA) May 17, 2016
Lineups are just one more factor that could deter Canadians from travelling south of the border — on top of a loonie that was valued at US$0.77 on Wednesday, down from about $0.82 around the same time last year.
They come just ahead of May Long Weekend — and months after StatsCan observed Canadian trips to the U.S. dropping year over year.
The statistical agency released a report in February showing that Canadians made 3.4 million trips to the States in December 2015, down 1.7 per cent from November and down 20.7 per cent from the year prior.
Of course, back then the loonie was worth around $0.72.
So perhaps, with a higher dollar, Canadians might be willing to brave the airport crowds.
Also on HuffPost:
Cross-Border Shopping: What You Need To Know
The biggest change to cross-border shopping is the increased allowances to duty-free purchases. Canadian travellers outside the country for more than 24 hours can now bring in up to $200 in goods. The previous limit was capped at $50. Photo courtesy of: Flickr/ blmurch

As of June 1, Canadians who find themselves outside of the border for 48 hours or longer will have their allowance double from $400 to $800. The limit for travellers outside of the country for more than seven days has also changed. Their limit has increased by $50 from $750 to $800.

For those looking to capitalize on the new duty-free rules, here's some advice: plan accordingly as the new rules are still time sensitive. For example, Canadians can't claim duty-free status on any goods if their trip less than 24 hours. Also, the date you left Canada doesn't count towards your trip length, but the day you return can.

The duty-free status still only applies if your purchases are for personal use. That means it can be for your house, a souvenir, or anything else for your own personal enjoyment. However, if it's anything for commercial use, expect to pay full duties. Also, while you can bring back gifts for other people under your duty-free allowance, that allowance can't be shared with other people.

The rules regarding alcohol purchases outside of Canada still hold true, despite the increased in allowance. For example, you can only claim duty-free status if your trip is 48 hours or longer in length. Also worth noting is that only one of the following items can count towards your allowance: 1.14 L (40 oz.) of liquor; OR 1.5 L of wine; OR 24 X 355 ml (12 oz.) containers of beer.

Shoppers can expect to rake in many goods across the border with Canada's new rules, but certain items are still off limits. For example, certain fruits, meats and vegetables are prohibited from entering Canada as are weapons such as guns, mace, and pepper spray -- something worth noting if you find yourself at the local gun show.

Much like alcohol, the rules to tobacco are still in effect. Canadians need to be outside of the country for at least 48 hours but can bring in any of the following as part of their duty-free purchase: 200 cigarettes; 50 cigars or cigarillos; 200 tobacco sticks; and 200 g (7 oz.) of manufactured tobacco.

Now that the purchases have been made, all that's left is to get them back into Canada and that's where receipts come into play. Canadian Border Services Agency workers may ask for proof of any purchase and having them on hand may be the difference maker between a five-minute process and a five-hour delay. Receipts can also help verify how long your trip was based on the date of your purchases.

Canadians can now make more purchases over the border but they still need to be sure that they can bring everything back. That's because the CBSA still limits the duty-free status to goods on your possession when returning. There is one exception to this rule though: travellers gone longer than seven days can have the duty-free status apply to their goods delivered to them via mail, courier, or by a delivery agency.