Capybaras Escaped From Toronto's High Park Zoo Still On The Run
TORONTO — The hunt continues for two large rodents — dubbed by staff as Bonnie and Clyde — that escaped a Toronto zoo.
Megan Price, a spokeswoman with the city's Parks, Forestry and Recreation division that runs High Park Zoo, says staff are focusing on the area's creeks as they search for two missing capybaras, which resemble tailless beavers with short legs.
She says the pair, just six months old, have been on the lam since Tuesday morning when they took off while they were being introduced to their enclosure for the first time as part of an exchange with another zoo.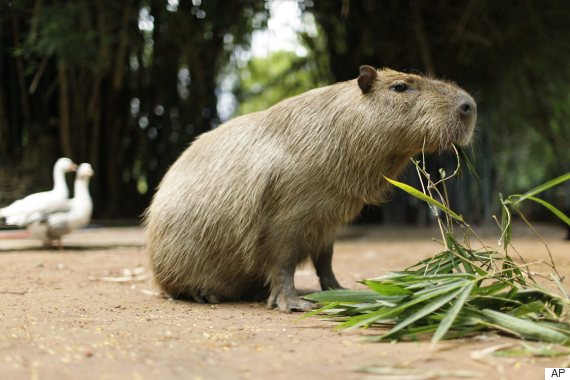 Capybaras can remain still, silent and submerged under water for hours. (Photo: AP)
Price says staff are armed with large nets in case they come across the pair, which weigh about 30 pounds each, but could grow to more than 100 pounds.
She is buoyed by a sighting at 9:45 p.m. Tuesday night, where someone saw one of the capybaras — native to South America — sniffing around its intended enclosure.
She says the semi-aquatic rodents can be difficult to find because they can remain still, silent and submerged under water for hours with just their noses sticking out.
Also On HuffPost:
An African stork and a capybara are seen at Schonbrunn zoo in Vienna on June 10, 2009. Schonbrunn zoo presents an ecological project, called 'Trouble in Paradise,' which run until October 2009. AFP PHOTO/JOE KLAMAR (Photo credit should read JOE KLAMAR/AFP/Getty Images)

Cub of South American tapir which was born 27th of September 2012 is seen with capybara in zoo in Brno, Czech Republic.

american wood stork mycteria...

snowy egret egretta thula ...