Crowdfunding Maternity Leave: U.S. Couple Start Campaign In Lieu Of Baby Shower
Paid parental leave does not exist in the U.S., which is why one California couple has resorted to crowdfunding to help cover the mom-to-be's maternity leave.
Charles Webb and Rona Luo, who live in Oakland, are expecting their first child in July. While the U.S. does offer up to 12 weeks of 'Äújob-protected leave'ÄĚ under the Family and Medical Leave Act, it is unpaid and only applies to those who work in companies with 50 or more employees.
As a result, Webb and Luo, a video game writer and a self-employed acupuncturist, are looking to their community for help to fund Luo's leave of absence.
'ÄúYour support will allow Rona to take a three month unpaid maternity leave so that she can fully recover before returning to work,'ÄĚ the couple'Äôs YouCaring fundraising site reads. 'ÄúYour funds will also help us procure baby gear items like a car seat, stroller, diapers, changing table, nursing supplies and more.'ÄĚ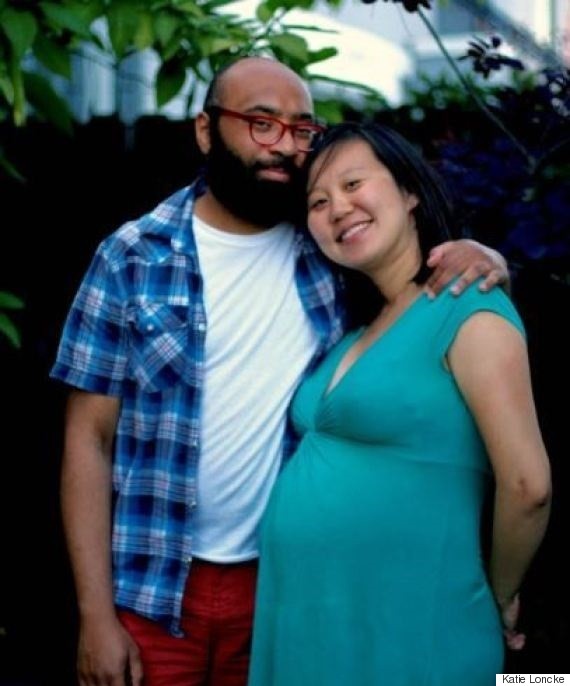 According to Webb, his partner thought crowdfunding would be more beneficial than a baby shower, as the money could help support the family while they only have one source of income.
'ÄúRona struck on the idea that in lieu of a baby shower, we should reach out to our friends and family for help directly,'ÄĚ the dad-to-be told HuffPost Canada Parents. 'ÄúMoney for diapers and to help with her leave are more valuable than clothes which we could get as hand-me-downs or limited-use things which we could find second-hand.'ÄĚ
Luo also added that she was inspired to crowdfund for her maternity leave after she campaigned with two friends to start a collectively-owned business in 2014. 'ÄúThat perhaps primed me towards being open to asking for community support and generosity,'ÄĚ she said.
Since launching their fundraiser on Monday night, the couple has already raised $881 of their $4,500 goal. 'ÄúWe've been touched by the positive responses and our community's generosity,'ÄĚ the expectant mom said.
'ÄúMoney for diapers and to help with her leave are more valuable than clothes which we could get as hand-me-downs or limited-use things which we could find second-hand.'ÄĚ
Luo and Webb aren't alone in their fundraising efforts. Back in April, Today.com reported that crowdfunding is now a trend among parents trying to help cover costs of parental leave.
Virginia mom Jennifer Warren Baker, who also crowdfunded during her pregnancy earlier this year, echoed Luo'Äôs sentiments about turning to the community for support. 'ÄúPeople are crowdfunding everything else, why can't I do this?'ÄĚ the mom-of-four told Today.com.
In the past, GoFundMe has hosted over 5,000 fundraisers for people looking to fund their maternity leave or child care, says spokeswoman Kelsea Little. Additionally, YouCaring has also seen dozens of people start similar fundraisers on their site.
'ÄúWe'Äôre not trying to get anything out of it other than just making sure I have a place to live with my kids,'ÄĚ said one Texas mom, Kieri Andrews, who has a GoFundMe page for her maternity leave.
'ÄúIdeally universal parental leave benefits would mean we would not have to fundraise like this.'ÄĚ
The U.S. is one of three countries that do not provide parents with any paid parental leave, which is why so many have resorted to fundraising.
'ÄúFor workers without paid family leave, taking time off to care for a new baby or a seriously ill loved one can have devastating long-term financial consequences, ranging from racking up credit card debt to raiding savings to bankruptcy,'ÄĚ Dina Bakst, co-founder of A Better Balance, an agency that fights for flexible workplace policies, told ABC News.
Luo agrees that U.S. parental leave policies are troubling. When asked what she thought of the U.S. not offering any leave to new parents, the mom-to-be said: 'ÄúI believe paid maternity leave should be universal and available to low-wage workers, as well as the growing population of self-employed, freelance or independently contracted workers. Ideally universal parental leave benefits would mean we would not have to fundraise like this.'ÄĚ
In Canada, maternity leave policies are strikingly different compared to the U.S., as both parents are offered up to 35 weeks of parental leave combined. In addition to this, new moms can also take up to 17 weeks of maternity leave.
ALSO ON HUFFPOST:
Top 10 Countries For Parental Leave Benefits
Duration: 34 weeks (37 for single moms and 43 for multiples) Wages paid: 65 per cent Parents (overwhelmingly moms) on parental leave are entitled to work without sacrificing their benefits. Still, the country has the lowest rate of working mothers of kids children under the age of six in the European Union: 37.6 per cent, compared to the EU average of 58.9 per cent.

Duration: 36 to 46 weeks Wages paid: 100 per cent for the shorter leave, 80 per cent for the longer Norway'Äôs so-called daddy quota was introduced in 1993 'ÄĒ four weeks of use-it-or-lose-it parental leave that has since been bumped up to 12 weeks. Interestingly, moms are only required to take six weeks off after having a baby.

Duration: 365 days Wages paid: 80 per cent for 150 days after the birth, and 50 per cent for the rest. Albania is a largely agrarian economy, with small-scale farming accounting for half of employment. Still, it is surprisingly progressive when it comes to mat leave; meanwhile, just across the Adriatic, Italian moms get five months of leave at 80% of pay.

Duration: 52 Weeks Wages paid: Moms get 55 per cent (up to a maximum of $485 per week) for 17 weeks; the remaining 35 weeks can be split between parents, at the same rate. To qualify, you must work 600 hours and pay in to the Employment Insurance system in the year before you initiate a claim. You can also generate a small amount of extra income while on parental leave (though be warned: It's based on a new and intensely complicated formula that almost negates the value of doing so

Duration: One year Wages paid: 82 per cent for first 30 days, 75 per cent for the rest. Yet another former Yugoslav republic, with an economy still highly reliant on foreign aid, makes the Top 10. Bosnia has a birth rate of just 1.25 babies per woman, putting it at No. 218 out of 224 nations (Singapore's is the lowest, at 0.79).

Duration: 52 weeks Wages paid: 90 per cent The U.K. is second on that MIT/Harvard list of socially progressive countries. But we have to wonder: Does the Duchess of Cornwall qualify for maternity leave benefits now that she's at home with wee George?

Duration: 52 weeks Wages paid: 100 per cent The maternity leave benefits might be great, but just 38.3 per cent of women in this former Yugoslav republic participate in the workforce, well below the European Union average of 58.5 per cent.

Duration: 52 weeks Wages paid: 100 per cent For the second year running, Denmark was ranked number one in the World Happiness Report. The country has the second-highest level of female employment in Europe and generous family benefits that amount to 4.2 per cent of the country's GDP. Plus, babies six months and up are guaranteed a daycare spot.

Duration: 1 year Wages paid: 100 per cent Over and above the one year of paid leave, either parent is entitled to stay out of the workforce until their child turns three. That stretch of leave is unpaid, but the parent continues to collect medical insurance and accrue pension benefits.

Duration: 420 days Wages paid: 80 per cent Ikea, H&M, Alexander Skarsg√•rd 'ÄĒ this tiny Nordic nation has a lot going for it. And in April, Sverige was ranked the world'Äôs most progressive country by a joint MIT/Harvard study. Its generous parental leave 'ÄĒ which can be spread over eight years, and two months of which must be taken by dad 'ÄĒ is a major factor.