A Quarter Of Indebted Canadians Say They'll Be That Way For Life
Canadians may have taken to heart all those warnings that we've piled up too much debt.
But while some are busily paying down their debts (a majority, in fact, according to one new survey), others are throwing up their arms and declaring they will never see an end to the debt cycle.
Nearly one-quarter of Canadians who are carrying debt say they will be indebted for life, according to a survey carried out by Ipsos Reid.
On average, indebted Canadians expect to be debt-free within 8.33 years, but 23 per cent told Ipsos Reid they would never escape their debt. Another 13 per cent said they would need at least 20 years to pay it all off.


(Chart: Ipsos Reid)
"It's concerning that being debt free is such a distant goal for many Canadians," said Doug Jones, president of tax advisory service BDO Canada, which commissioned the Ipsos poll.
"While only one-quarter of in-debt Canadians are worried enough about their debt to seek professional advice, many could benefit from speaking with a licensed insolvency trustee, who can explain all the debt relief options that are available to them."
Majority are paying down debt
The Ipsos poll landed the same day as a report from credit ratings agency Equifax that found Canadian consumers have once again increased their debt — although a majority are now reducing what they owe.
Canadian consumers' total debt rose to $1.618 trillion in the first quarter of 2016, Equifax reported Thursday, up 4.78 per cent from a year earlier, but down slightly (0.21 per cent) from the previous quarter.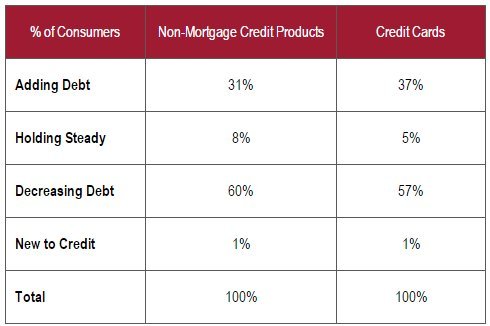 This chart shows what share of indebted Canadians is paying down debt, and what share isn't. The numbers look at non-mortgage debt only. (Chart: Equifax)
Mortgage debt accounted for two-thirds of that ($1.072 trillion) but installment loans (up 7.7 per cent) and auto loans (up 5.9 per cent) were the fastest growing segments of the credit market.
Among those carrying non-mortgage debt, 60 per cent are reducing what they carry, while 31 per cent are adding to their debt, Equifax found.
"While overall debt has continued to increase on an annual basis, one has to take a closer look at specific sub-groups to see the full picture," Regina Malina, senior director of Decision Insights at Equifax Canada, said in a statement.

"While most consumers are tightening up on their spending, partially due to seasonal spending, a significant number of consumers are still adding to their debt obligations."
Equifax found loan delinquency rates have spiked in oil-producing provinces, which have seen large increases in unemployment since oil prices fell. But delinquencies are falling in other parts of the country, with Ontario (down 4.1 per cent) and British Columbia (down 3.1 per cent) leading the way.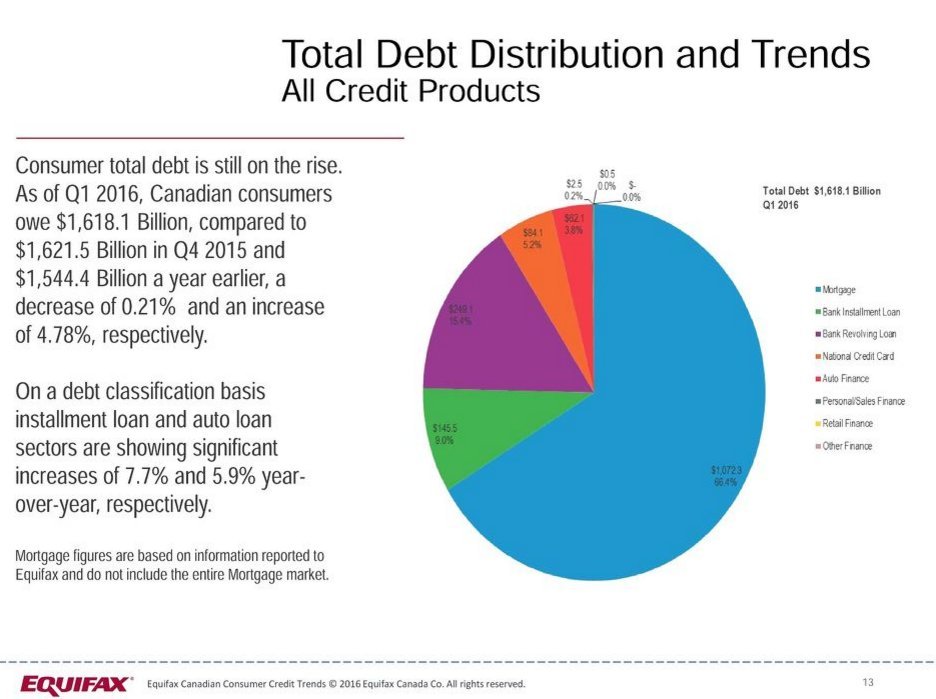 Also on HuffPost:
How Millennials Can Save Money
You may feel like saving is impossible with that huge pile of debt sitting on your back, but unless you take care of it first, you won't be able to plan out a clear financial future. "High debt levels will slow down your saving and investing abilities when you start working, so do everything you can do to stay out of debt," says author and financial coach David Campbell Lester. Obviously, this situation isn't ideal for everyone — especially students who take loans during the school year and don't find full-time work right away. Once you graduate, talk to a financial planner to figure out how much you should save each month, and if you're a student, talk to your school's career centre for part-time work or look for grants or scholarships.

This can either be someone who works at your bank or someone you know who is really good with their money. Meet with your mentor once a month and discuss your challenges and successes thus far in terms of your career and finances, Lester says. And although it may be a little embarrassing to share your savings and debt numbers with someone you know, remember, we've all been there at one point.

"When in school, get a part-time job that will complement your career when you graduate, and give you cash to keep out of debt," Lester says. Although getting part-time work can be tough during the school year, try looking at jobs on campus that can work around your schedule, and give you more skills in your preferred field.

If you love your credit card and treat it like a best friend, make sure you're using it for the right things."Build credit by paying your mobile, cable, internet, and other fixed costs on your credit card and then pre-authorize a full payment at the end of the month," he says. Don't make of habit of paying for everything on credit — especially if you can't pay it off. Also, when you are looking for a credit card, choose one (or two) that will benefit you with either points or a cash back feature. Credit can be your friend, as long as you don't create a hole of debt.

If you know you have $100 a week to spend on food, coffee, entertainment, etc. then leave that amount in a "spending account," or take it out in cash every Sunday, Lester says. If you are the type of person who is more likely to spend cash if they see it in their wallet, start with a small amount, like $20 to $40 per week.

Make your own coffee that day, pack your lunch, stay in and watch Netflix, and make your own dinner. Start this challenge by bringing your lunch every day, for example. Turn it up a notch by implementing financial-free weekdays at least three times a week. "Going out only once a week will save you a ton of money," Lester says.

Have your bank transfer 10 to 20 per cent of your paycheque into a savings account every time it goes in. Over time, it will grow and you won't even miss the amount. If you're worried about spending it, try opening up a separate bank account without any fees or invest in a TSFA. Remember, once you get comfortable, you can move up the percentage.

Looking into the future, start thinking about investing in property. "Real estate has gone up in the long run and there isn't a single better investment for retirement than a home that is paid for," Lester says. Although this may seem out of reach for most millennials, start saving early by putting away a certain amount of money each month for a condo or house, live with roommates to decrease your own rent costs, and keep an eye out for new buildings or units in your area.

"I know it seems boring, but once you have a portfolio of investments pumping money into your account, you'll see it as fun too," Lester says. Join an investing group, watch the news for the latest numbers or pick up some investing books from the library.

Take a minute to actually figure out where your money is, including how much money you have in each account, money you owe and money you have invested, if any. "You don't have to cut out expensive coffees, shop with coupons, and live like a hermit to be a money champ. Spend less than you make and save 10 to 20 per cent for your future," Lester says. If your net worth is increasing year after year, you're on the right track.