When You Hear Kids Complain About Going To School, Show Them This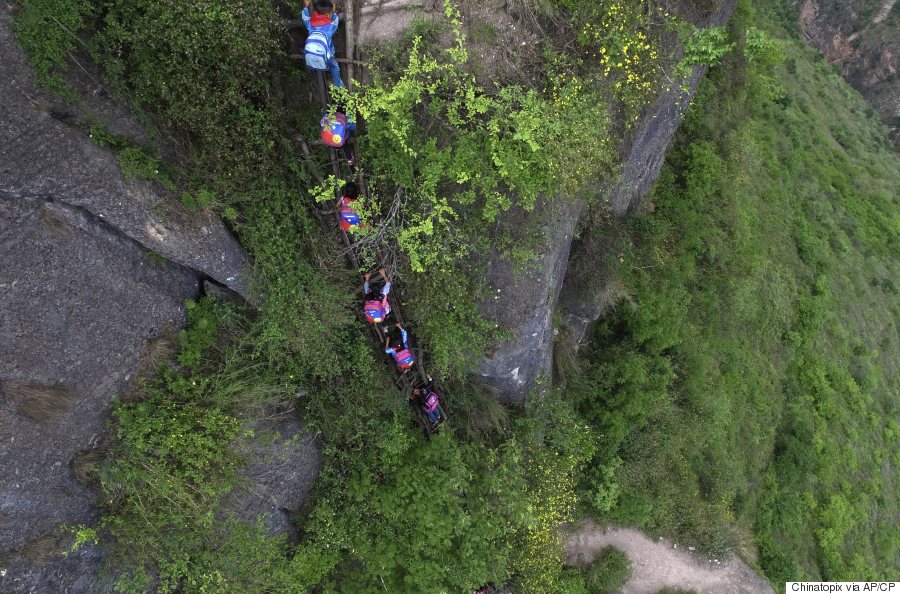 BEIJING — Just to get home from school, they climb 800 metres toward the sky — on a ladder made of bamboo and secured to a sheer cliff face.
After pictures surfaced of the challenging trek faced by schoolchildren in a poor corner of China's mountainous west, their village may be getting some assistance by way of a safer, more modern piece of infrastructure: a solid set of steel stairs.
The hardship faced by residents in the village of Atuleer in Sichuan province underscores the vast gap in development between China's prosperous, modern east and parts of the remote inland west that remain mired in poverty.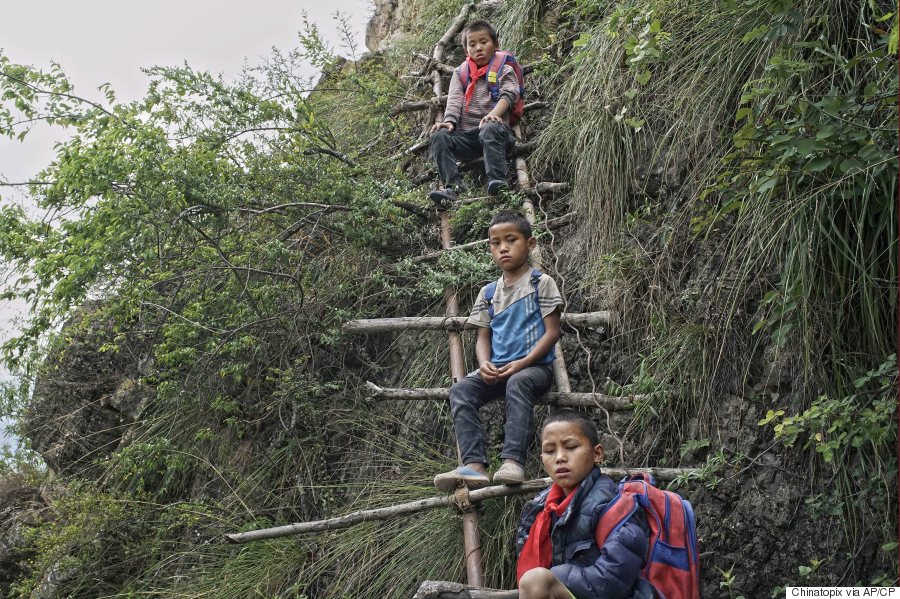 The bamboo ladder is the only means of access to the village to which the 15 children age 6-15 return every two weeks from the school at which they board. The 72 families who live there are members of the Yi minority group and subsist mainly by farming potatoes, walnuts and chili peppers.
A news release Friday from the Liangshan prefectural government that oversees the county said a set of stairs would be built as a stop-gap measure while officials consider a longer-term solution.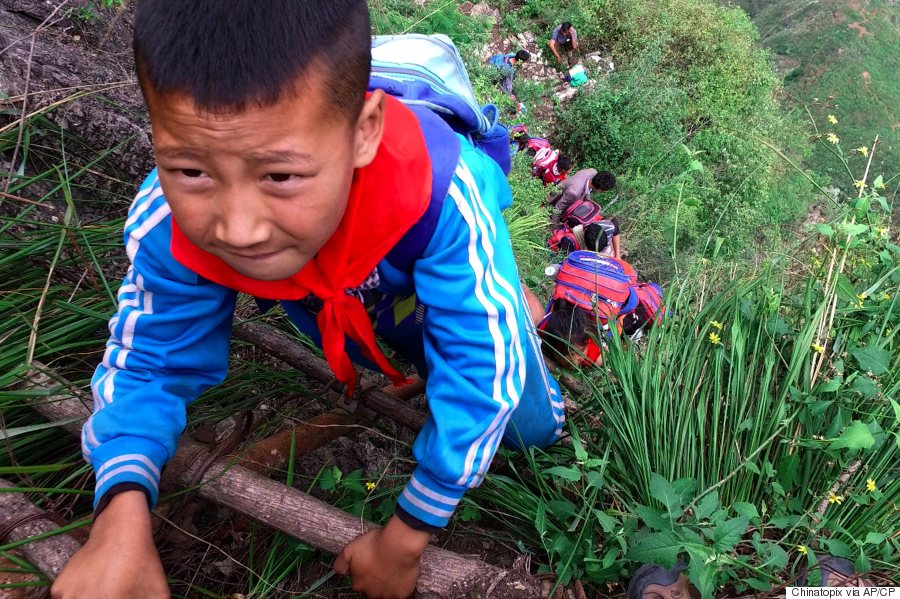 It quoted local residents as saying that in addition to the safety issue, the ladder-only access exposed villagers to exploitation because traders knew they would be unable to carry unsold produce back up the cliff.
"The most important issue at hand is to solve the transport issue. That will allow us to make larger-scale plans about opening up the economy and looking for opportunities in tourism,'' county Communist Party Secretary General Jikejingsong was quoted as saying in the news release.
"The most important issue at hand is to solve the transport issue."
The dramatic photos that appeared online earlier this week show children wearing colorful backpacks climbing the 17 separate ladders accompanied by a pair of adults. The photos garnered even more attention after appearing on the front page of the English-language China Daily and other newspapers on Thursday.
A team of 50 officials from the Zhaojue county government's transport, education and environmental protection departments travelled to the area on Wednesday to assess safer alternatives, the Global Times reported Friday. It said the county is considering building a road to the village, although the cost would be exorbitant for such a poor region.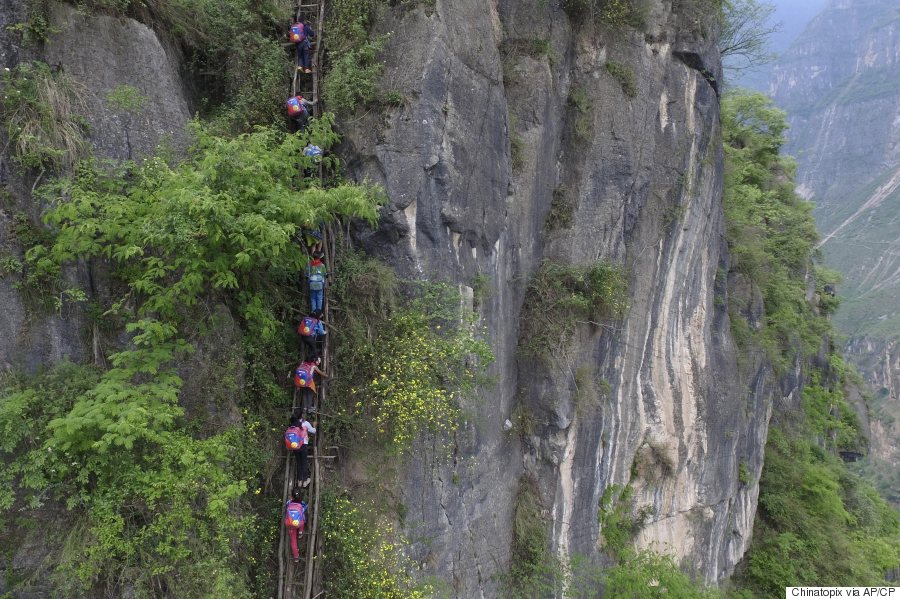 China pulled almost 700 million people out of poverty following the implementation of economic reforms in the early 1980s and says less than 10 per cent of the population still suffers from extreme privation.
Most of China's poorest people are from long-marginalized minority groups or are farmers and herders living in the mountainous southwest, where rope bridges, aerial runways, canoes and cliffside ladders remain crucial to accessing the outside world.
Also On HuffPost:
These Have To Be The Most Unusual School Journeys In India
Girls being ferried to school in what looks like a canoe made from rubber in a village in Udaipur district, Rajasthan.

No, these are not children having a gala time climbing trees. This precarious structure is a footbridge built over a stream in Srinagar to help children reach school on the other side.

A boy enjoys a break, while trekking across the frozen Zanskar river in the Ladakh region to reach his school.

In Cherrapunji, these tree roots are the only semblance of a road in thickly forested region with no proper pathway through it.

In the outskirts of New Delhi, children hitch a ride in a horse cart on their way back from school. Dangerous? Sure it is!

In Harkesh Nagar, Delhi, children and parents have to cross the train tracks to get to school. Often, they have to crawl from under the trains to get to the other side.

Very young children in Budhwal, Rangareddy dist, Telangana help each cross a narrow stream to get to school.

Children trek to the top of a hill every day to attend classes at the Haji Public school in Kashmir.

Children of Palvancha, Telengana, wade through a stream to get to school.

Children making their way through a deep forest with a rocky, undulated narrow path to get to school. This is in Carron tea-gardens of North Bengal.

Two schoolgirls way through a paddy field in Sunderbans, West Bengal.

School children brave a dust storm in New Delhi.

Children wading through waist-deep water to get to school in a flooded village in West Bengal.

Again, in Telangana, the road to school for these children is anything but easy. In Palvancha, children have to regularly, climb such raised surfaces on their way to school and back from it.

Children being taught to cross railway tracks in Kolkata.

Children and parents wade through water in Sonitpur District, in flood-hit Assam to reach school.

School kids trek across paddy fields in Sitamarhi, Bihar.

A water pipeline is not an obstacle but a shortcut to get to school in this Mumbai neighbourhood.

This may look like a bunker, but its actually a classroom in Kashmir.

Safety goes for a toss as children are herded on to one auto-rickshaw.

These rickety 'school vans' are neither safe nor healthy. However, they are the preferred mode of transport for many children across India. This photo is from Delhi.

Young buys climb on to the back of a bus and hang from its gate, on their way back from school.

These children have to trek for five days across the frozen Zanskar river to reach a boarding school on the other side of it.