Lisa Raitt, Finance Critic, Says New Child Benefit Will Be Hard On Divorced Couples
OTTAWA — The Liberal government's new child benefit could clog courts with divorced couples fighting over how much one spouse must pay in child support when the potentially lucrative payments start landing in just over one month, says Opposition finance critic Lisa Raitt.
The Liberals' new $23-billion-a-year benefit will replace three different programs on July 1 with one income-tested payment to families each month.
Unlike with the benefits being replaced — the universal child care benefit and the Canada child tax benefit — the government's budget and associated legislation doesn't give guidance about how divorced parents can split tax deductions, or calculations of spousal support payments.
Raitt said the problem could affect some 1.2 million Canadians.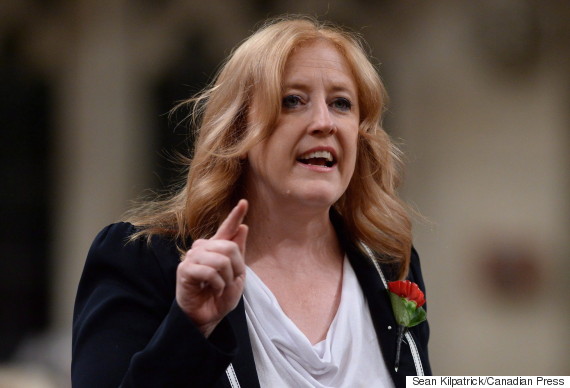 Conservative MP Lisa Raitt asks a question during question period in the House of Commons on Parliament Hill in Ottawa on May 4, 2016. (Photo: Sean Kilpatrick/Canadian Press)
"Obviously they're going to have a point of view on whether or not they should be paying more or less child support and instead of clogging up the courts, this government owes (it to) them to give them some direction,'' Raitt said in a telephone interview.
"I don't think they've figured it out yet.''
"It's going to affect anybody's separation agreements, it's going to affect anyone's child support orders and there's silence on it (from the government). I don't think they've figured it out yet.''
The new child benefit will replace the monthly universal child care benefit with an income-tested payment that will start at $6,400 a year for a child five and under, and $5,400 a year for children six to 17. Only those families earning less than $30,000 a year will receive the full amount; the government will reduce payments as incomes rise.
The government has been negotiating agreements with provinces to ensure the new benefit wouldn't adversely affect those receiving provincial social assistance. Those subsidies are income tested, meaning the more a family earns, the less they receive in subsidies.
Feds say it will lift 300,000 children out of poverty

The government says the new benefit should lift 300,000 children out of poverty in its first year, and provide more money to nine out of 10 families.
Critics still have questions about whether the new child benefit will have the same dampening effect on maternal employment rates that the universal child care benefit had as women opt to stay home so as not to earn too much money and lose out on their benefit or on their taxes.
"Every time you make one change there is ripple effects.''
"Officials have said there hasn't been a lot of analysis done on certain measures that the government has implemented,'' Raitt said.
"Every time you make one change there is ripple effects across either the economy or the social cohesion in the country and we just want to know how much work the Liberals did around it.''
Finance Minister to be questioned Monday

The issue is expected to be a central fixture of questioning Monday when opposition MPs get three different chances to grill Finance Minister Bill Morneau about his first budget, and government spending documents. First he will face the daily question period, then go to the Commons' finance committee, and finally face the House of Commons as a whole in the evening for a detailed grilling in committee-of-the-whole.
The focus is a departure from the months-long war of words over whether the Tories left the Liberals with a surplus and how the government intends to balance the budget at some point in the future.
The Finance Department said last week that preliminary estimates show a deficit of $2 billion for the fiscal year ending March 31, not including year-end adjustments and a $3.7-billion commitment to benefits for veterans. The Liberals argue the numbers support their view that the Tories left the books in the red; the Tories say the Liberals squandered the surplus left behind.
Also On HuffPost:
Federal Budget 2016 Highlights
The Liberal government delivered its maiden budget Tuesday, March 22. A deficit of $29.4 billion in 2016-17, nearly three times the $10 billion promised during the fall election campaign, and a projected deficit of $17.7 billion in 2019-20 rather than the balanced budget that was promised in October. (Source: The Canadian Press)

One of the earmarks of the budget is a commitment to spending on aboriginal issues. This includes: - $2.6 billion over five years for primary and secondary education on First Nations reserves, including language and cultural programs, plus $969.4 million over five years for education infrastructure. - $1.2 billion over five years for social infrastructure for Aboriginal Peoples, including First Nations, Inuit and northern communities. - $10.4 million over three years for new women's shelters in First Nations communities, and $33.6 million over five years and $8.3 million ongoing for support services. - $40 million over two years for the inquiry into missing and murdered aboriginal women and girls. Read more here (Source: The Canadian Press)

The Liberals will be changing the structure of Canada's child benefits, ending income splitting and other tax credits for families and parents. This means: - $10 billion more over two years for a new Canada child benefit, absorbing and replacing both the Canada child tax benefit and the universal child care benefit. Targeted to low and middle-income families, the government says the new benefit provides an average increase of nearly $2,300 in 2016-17. - An end to income splitting for couples with children, the children's fitness tax credit and the children's arts tax credit. Read more here (Source: The Canadian Press)

The government will spend $2.5 billion over two years on a suite of changes, including reducing the required work experience for new entrants and re-entrants; halving the two-week waiting period; extending a pilot project to allow claimants to work while collecting benefits; simplifying job-search requirements; and extending the benefit eligibility window in specific regions with a higher unemployment rate. (Source: The Canadian Press)

- $5.6 billion more in benefits to veterans and their families over five years, including a disability award that increases to $360,000, retroactive to 2006, and an earnings loss benefit to injured vets of 90 per cent of pre-release salary. The government is also re-opening nine veterans' service offices across the country and adding a 10th. - Planned National Defence purchases worth $3.7 billion — ships, planes and vehicles — are being deferred indefinitely. Read more here (Source: The Canadian Press)

Planned National Defence purchases worth $3.7 billion — ships, planes and vehicles — are being deferred indefinitely. Read more here (Source: The Canadian Press)

The budget includes $3.4 billion over five years to increase the guaranteed income supplement top-up benefit by up to $947 annually for single seniors, and restore the old age security eligibility age to 65 from 67. Read more here (Source: The Canadian Press)

The Liberals broke a major campaign promise to cut the small business tax rate. Instead, the rate will remain at the current 10.5 per cent on the first $500,000 of active business income. Read more here (Source: The Canadian Press)

The Liberals will spend $1.53 billion over five years to increase Canada student grants to $3,000 from $2,000 for low-income students, to $1,200 from $800 for middle-income students and to $1,800 from $1,200 for part-time students. $2 billion over three years is also earmarked for a new strategic investment fund for infrastructure improvements at colleges and universities, in partnership with provinces and territories.

The Liberals' green infrastructure plan includes: - $2.2 billion over five years in water and wastewater treatment and waste management - $2 billion over two years for a low-carbon economy fund - Over $1 billion over four years to support future clean technology investments - $345.3 million over five years to Environment and Climate Change Canada, Health Canada and the National Research Council to take action to address air pollution. (Source: The Canadian Press)

The Liberals will spend $500,000 to help understand the role of foreign homebuyers in the country's housing market. The government says comprehensive and reliable data on the number of homes sold to foreign buyers does not exist right now. Read more here. (Source: The Canadian Press)

The marquee Liberal commitment to Syrian refugee resettlement could end up costing taxpayers close to $1 billion. The budget provided an additional $245 million over five years to bring in the remaining 10,000 people needed to meet the Liberal promise to resettle 25,000 Syrian refugees by the end of 2016. Read more here (Source: The Canadian Press)

$142.3 million over five years will be spent to add new national parks and improve access during the 150th anniversary of Confederation. (Source: The Canadian Press

The Grits will provide up to $178 million over two years for the provinces for urgent affordable housing needs. Read more here (Source: The Canadian Press)

The budget earmarks $38.5 million over two years to strengthen and modernize Canada's food safety system. (Source: The Canadian Press)