Goodale Wants CBSA To End Detention Of Child Migrants
OTTAWA — Public Safety Minister Ralph Goodale says he wants to end the Canada Border Services Agency's practice of detaining child migrants. 
Goodale told a Senate committee today his department is looking at alternatives to locking away children, but he suggests the issue is a complex one that requires study. 
In a confidential inspection report made public in January, the Red Cross says Canada should jail child immigrants only as a "last resort" and must find alternatives to detention for such vulnerable newcomers.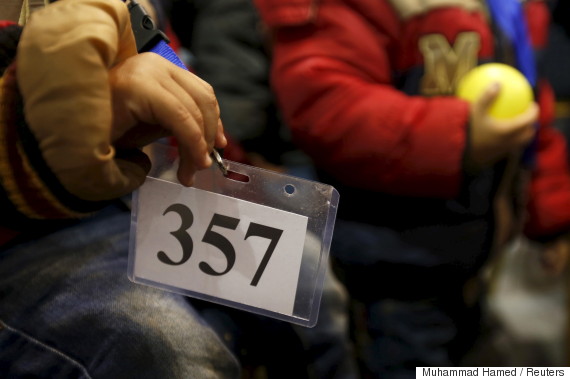 A Syrian refugee child displays his serial number as his family register their information at the Canadian processing centre for Syrian refugees, during a media tour held by the Canadian Embassy in Jordan, at Marka airport, Amman, Jordan on Dec. 8, 2015. (Photo: Muhammad Hamed/Reuters)
The border services agency holds people who are considered a flight risk or a danger to the public, and those whose identities cannot be confirmed.
The Red Cross says the border agency detained 10,088 immigrants — almost one-fifth of them refugee claimants — in 2013-14 in a variety of facilities, including federal holding centres and provincial and municipal jails.
Among these were at least 197 minors, held an average of about 10 days each.
Follow @JimBronskill on Twitter
Also on HuffPost:
Countries With The Most Immigrants: 24/7 Wall St.
> Immigrants: 7.3 million > Pct of population: 20.7% > GDP (PPP) per capita 2012: $42,734 > Gov't immigration goals: Maintain Currently, 7.3 million immigrants live in Canada, equivalent to more than 20% of the nation's total population. As 2011, the Canadian government was one of the few to propose policies that would increase the level of immigration for the purpose of family unification. The level of immigration, more generally, was considered satisfactory in the same year, according to the U.N. In spite of Canada's exceptionally liberal immigration policies, there has been concern recently over whether Canada's immigrants are successfully integrating into society. To avoid the potential social tension that could arise from a growing economic difference between immigrants and locals, the Canadian government has restructured its screening process to emphasize factors such as job skills and language fluency. Read more at 24/7 Wall St.

> Immigrants: 7.4 million > Pct of population: 11.6% > GDP (PPP) per capita 2012: $35,548 > Gov't immigration goals: Decrease Just 11.6% or France's roughly 65 million residents are international migrants. According to the U.N. Population division, while the French government promoted some policies aimed at attracting skilled immigrants as of 2011, the governments overall attitude toward immigration was generally negative. As a member of the European Union, France is obligated to support the free movement of EU nationals between the EU nations. In recent years, however, the European Commission has criticized the French government for expelling Roma, popularly called Gypsies, from the country. France's existing immigrant population is older, with nearly 20% at least 65 years of age, compared to just 11.1% globally. Read more at 24/7 Wall St.

> Immigrants: 7.8 million > Pct of population: 12.4% > GDP (PPP) per capita 2012: $36,941 > Gov't immigration goals: Decrease About 7.8 million million immigrants live in the U.K., up from just under 6.5 million as of 2010. This is despite the U.K. government's view, as of 2011, that the large influx of foreigners to the country was somewhat of a problem. The government's policies intended to lower the level of immigration to the country, including high-skilled workers immigration. Only one of the world's eight largest destinations for immigrants, the United Arab Emirates, had a higher average annual increase in immigration that exceeded the U.K.'s 4.0%. Although the country's aging population may actually signal a necessity for more immigrants, British Prime Minister David Cameron has stated that immigration has strained the nation's public services. Read more at 24/7 Wall St.

> Immigrants: 7.8 million > Pct of population: 83.7% > GDP (PPP) per capita 2012: $49,012 > Gov't immigration goals: Decrease A stunning 83.7% of UAE residents are international migrants the most of any country in the world, excluding only Vatican City. Between 2010 and 2013, the emirates let in more than 4.5 million migrant workers, more than any other nation in the world. The UAE is able to attract workers to come there because the country is extremely wealthy, with an economy driven by oil and finance. As of 2012, the nation's per capita GDP exceeded $49,000, on-par with that of the U.S. But despite the nation's appeal for immigrants, the UAE's government as of 2011 considered immigration to be too high. Additionally, the country has been criticized for the poor living and working conditions faced by many migrant workers. Read more at 24/7 Wall St.

> Immigrants: 9.1 million > Pct of population: 31.4% > GDP (PPP) per capita 2012: $31,275 > Gov't immigration goals: Decrease Nearly one-third of Saudi Arabia's population consists of immigrants, while between 2000 and 2013 the number of immigrants rose by an annual average of 4.2% per year, higher than most other nations. Between 2010 and 2013 alone, the number of immigrants to Saudi Arabia rose 24.3% As of 2011, the Saudi Arabian government regarded the overall level of legal immigration as too high and implemented policies to reduce immigration, according to the UN had. Similarly, the government's policies on the naturalization of immigrants were also considered restrictive. Recent news reports suggest immigration policy in Saudi Arabia has only become more restrictive with new measures implemented to prevent undocumented workers from finding employment. Read more at 24/7 Wall St.

> Immigrants: 9.8 million > Pct of population: 11.9% > GDP (PPP) per capita 2012: $39,028 > Gov't immigration goals: Maintain Germany, one of the world's largest economies, is a popular destination for immigrants. Its well-developed infrastructure and top-rate higher education only add to its attraction. Just under 10 milllion of the country's 82 million residents are immigrants. As of 2011, Germany's policies reflected approval of the country's rate of immigration. In 2012, with the eurozone crisis still unabated, a growing number of young workers immigrated from southern Europe to Germany. But Germany has openly recruited high skilled-workers to live and work in the country permanently, especially as the country's population ages and shrinks, according to Der Spiegel. Unfortunately, many such workers fail to stay for even as little as a year, and since 2010 the number of immigrants to Germany has actually dropped. Read more at 24/7 Wall St.

> Immigrants: 11.0 million > Pct of population: 7.7% > GDP (PPP) per capita 2012: $17,709 > Gov't immigration goals: Increase More than 12 million immigrants lived in Russia in 2010 and the Russian government was among the few seeking to increase the number of foreigners entering the country. In 2011, the country's government viewed immigration as too low and oriented its policies towards increasing immigration. However, these policies have failed to attract more net immigrants: as of this year, there are just over 11 million immigrants living in Russia, a decrease of roughly 10% from 2010. Local authorities have not embraced the prospect of single-ethnicity communities for Chinese, Uzbeks, Tajiks and other ethnic groups in Russia ,and have even sought to ban them in some cases, hoping instead to promote integration into Russian society. Read more at 24/7 Wall St.

> Immigrants: 45.8 million > Pct of population: 14.3% > GDP (PPP) per capita 2012: $49,922 > Gov't immigration goals: Maintain The U.S. is by far the largest destination for immigrants, with more than 45.7 million living in the country, according to the UN. As of 2011, the U.S. government's policies toward both immigration and emigration remained effectively neutral. However, immigration reform has been especially prominent in Congress this year. This reform is expected to address issues related to illegal immigration, while determining how, and whether, undocumented immigrants should be able to attain citizenship. Considering the U.S. has one the highest per capita GDPs in the world, at nearly $50,000, its appeal to immigrants is fairly straightforward. It is the world's largest economy, as measured by output, and has the second largest total exports. Also, the U.S. offers well-developed infrastructure and financial markets, as well as quality education. Read more at 24/7 Wall St.