Cincinnati Zoo Gorilla: Police Investigating Harambe's Killing After Boy Entered Gorilla Exhibit
CINCINNATI — Police said Tuesday they were investigating the circumstances surrounding a 4-year-old boy entering a gorilla's exhibit at the Cincinnati Zoo and the animal being shot to death to protect the child. A federal investigation is also planned.
A federal inspection less than two months ago found no problems with the zoo's Gorilla World exhibit, but earlier zoo inspections reported issues including the potential danger to the public from a March incident involving wandering polar bears.
Hamilton County Prosecutor Joe Deters' office said Cincinnati police are investigating what transpired with the death of the gorilla named Harambe on Saturday. Afterward, police will talk with prosecutors about whether charges are warranted, the office said.
Police said over the weekend that no charges were planned, but spokeswoman Tiffaney Hardy said Tuesday they are still gathering information on what happened.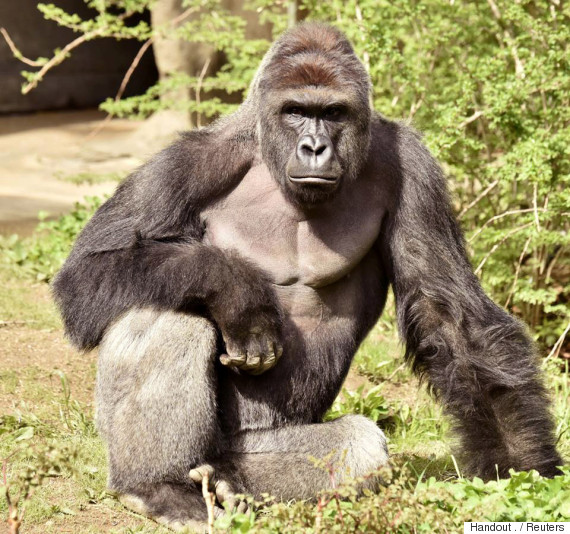 Harambe, a 17-year-old gorilla at the Cincinnati Zoo is pictured in this undated handout photo provided by Cincinnati Zoo. (Photo: Handout/Reuters)
Some critics have said the boy's parents should be charged with child endangering, while others want the zoo held responsible for the death of the 17-year-old western lowland gorilla. The boy was released from a hospital later Saturday, and his family has said he's "doing just fine'' at home.
Tanya Espinosa, a spokeswoman for the U.S. Department of Agriculture's Animal and Plant Health Inspection Service, said Tuesday that there wasn't an investigation open yet but that it would be looking into the incident for any violations of the Animal Welfare Act.
Zoo director Thane Maynard said the zoo has gotten a lot of support from visitors and animal experts since Saturday.
Federal reports viewed by The Associated Press showed an inspector warned the zoo that the public could have been "at great risk for injury, harm or death'' on March 16 when two polar bears went through an open den door into a behind-the-scenes service hallway. At the time, zoo officials said some visitors were moved for safety as the bears were returned to their main holding area. No one was injured.
No 'formalized method' for checking doors
The federal inspection found that two doors were left open by keepers and there didn't appear to be "a formalized method'' for double-checking locks and doors.
The report said animals can be harmed when they access areas not meant for their use, adding: "Surprising the bears in the keeper area could have resulted in human injury or death.'' It also said the public would have been at great risk if the bears had gotten outside.
The report said the zoo's dangerous-animal response team used tranquilizer darts on the two bears. Maynard said Monday that using tranquilizers on the gorilla likely would have put the boy in greater danger because they don't take effect immediately.
A routine inspection April 4-7 that included the gorilla area didn't find any violations, another report said.
"The (zoo's) barrier obviously isn't sufficient to keep the public out. Otherwise, Harambe wouldn't be dead.'' —Michael Budkie, Stop Animal Exploitation NOW
Inspections in 2014 found several issues including the need to repair areas where monkeys and horses were housed and a camel that appeared to be badly bothered by flies.
Maynard said the zoo remains safe for its 1.6 million annual visitors, but a review is underway to determine any improvements that can be made.
The executive director of a Cincinnati-based animal rights organization is calling on the USDA to fine the zoo.
"The (zoo's) barrier obviously isn't sufficient to keep the public out,'' said Michael Budkie of Stop Animal Exploitation NOW. "Otherwise, Harambe wouldn't be dead.''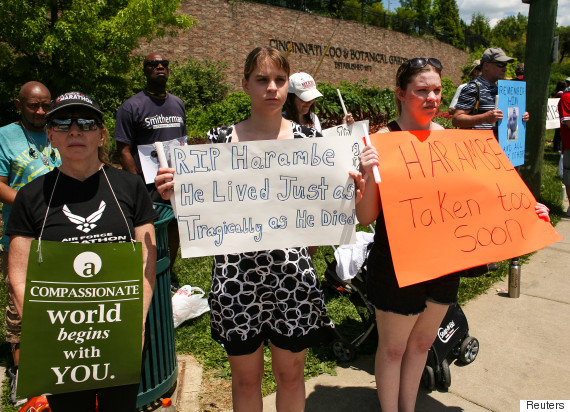 People attend a vigil outside the Cincinnati Zoo and Botanical Gardens. (Photo: Reuters)
Jack Hanna, host of "Jack Hanna's Into the Wild,'' said the zoo made the right call by shooting the gorilla. Hanna said he saw video of the gorilla jerking the boy through a shallow moat inside the enclosure and knew what would happen if the animal wasn't killed.
"I'll bet my life on this, that child would not be here today,'' Hanna told WBNS-TV.
In an interview with Boston television station WFXT, conservationist and television host Jeff Corwin suggested that the boy's family should shoulder some of the blame, saying "zoos aren't your baby sitter.''
"I don't think this happened in seconds or minutes. I think this took time for this kid, this little boy, to find himself in that situation. Ultimately it's the gorilla that's paid this price,'' he said.
The family has declined to comment further.
___
Associated Press writers John Seewer in Toledo, Patrick Mairs in Philadelphia and Rhonda Shafner in New York contributed to this report.