Valeant Ex-CEO Michael Pearson To Make $9 Million And More After Stock Tanked
MONTREAL — The former head of the embattled Valeant pharmaceutical company will receive nearly US$1 million this year for continuing to advise the Quebec-based firm.
That's on top of US$9 million in severance that Michael Pearson will receive from a previously disclosed employment contract signed last year.
Valeant revealed Tuesday that its former CEO will get US$83,333 per month in consulting fees through the end of 2016, plus US$15,000 monthly in 2017, for a total of US$846,664.
The consulting contract can be extended monthly and Pearson will be fully paid even if Valeant terminates the contract prior to the second anniversary of his termination on May 2.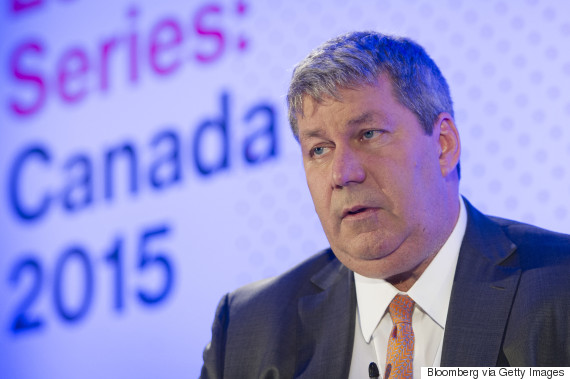 Michael Pearson, ex-CEO of Valeant Pharmaceuticals International Inc., speaks during an interview at the Bloomberg Canada Economic Summit in Toronto, Ontario, Canada, on May 21, 2015. (Photo: Bloomberg via Getty Images)
Pearson, 56, also retains medical coverage for his family for two years. He suffered from pneumonia and complications that kept him off the job from late December until he returned in late February.
He is required to hold for two years the one million Valeant shares he received in settlement of his equity awards and bound by terms concerning confidentiality, competition and solicitation of employees for two years.
Once Canada's most valuable company by stock market value, Valeant's stock has plunged amid controversy on several fronts, including its relationship with U.S. mail order pharmacy Philidor Rx Services and increases to drug prices.
The stock is currently trading at about C$37.50 at the Toronto Stock Exchange, but was trading above $300 per share last summer before the problems emerged — erasing billions of dollars of market value.
Valeant's stock reached a height of $263.70 in August 2015, and later fell to a low of $25.27 in April 2016, The Globe and Mail reported.
Also on HuffPost:
Pharmacists in British Columbia, Alberta, Manitoba, Ontario and New Brunswick, Nova Scotia and New Brunswick can administer flu shots during flu season, generally to people over five years of age. In some provinces, pharmacists can also provide vaccinations for whooping cough and HPV.

Pharmacists who receive special training across the country can help patients who suffer from arthritis with specialized advice related to pain management, as well as holistic options for treatment.

"Increasingly, pharmacists are in a position to order and interpret lab tests," says Philip Emberley, director of Pharmacy Innovation at the Canadian Pharmacists Association. "Medication that people are on is affected by lab tests, and if you know what their lab values are, you can understand how a medication can be tolerated by that patient." Pharmacists cannot currently order lab tests.

Though pharmacists are still limited in prescribing medications, in some provinces, they are able to prescribe medical devices like diabetes supplies and asthma inhalers. This varies by region, so if you require supplies like this, see if your pharmacy can help.

For minor acne, pharmacists can prescribe medications that can help. While stronger, antibiotic treatments must come from a doctor, pharmacists can steer you toward the most effective over-the-counter meds that go beyond the regular options.

"There are a fair number of pharmacists who make home visits, for patients who are shut-ins or not able to pick up their medication," says Emberley. "Rather than having delivery person drop it off, pharmacists go in and talk to them about their medication, any complaints they may be having and try to figure out the best method of care."

While pharmacists generally cannot yet prescribe medication, in many provinces they can substitute one drug for another in its class or change the way it's taken if it benefits the patient. They can also renew prescriptions for continued medication. In Alberta, some pharmacists collaborate with doctors to fully manage and prescribe a patient's medication in long-term cases.

In addition to being able to renew prescriptions for continued care, pharmacists in many provinces are able to renew birth control prescriptions. They're also able to prescribe emergency contraception, or the "morning after" pill.

"Dermatitis, or a skin problem, is an example of a minor thing that could probably go away on its own, but a pharmacist can help speed the healing along," says Emberley. "If you go to a family physician with a fairly minor ailment, it takes up valuable resources with something that could have been handled a little quicker on a pharmacy level."

Pharmacists have access to resources that can help new mothers with the breastfeeding problems they encounter, including assistance using breast pumps, information on medication interacting with breast milk and knowledge about the nutritional components of formula.

Pharmacists have extensive knowledge about the vitamins and herbal supplements available in their stores, so if there's a condition for which that can be useful, take advantage.

Pharmacists have access to and can prescribe smoking cessation treatments without a doctor. Options like nicotine replacement therapy are a good place to start.