CTV Cancels 'Canada AM'
TORONTO — After 43 seasons, CTV's popular morning show "Canada AM'' is ending as the network looks to evolve its programming.
CTV says the show, billed as "Canada's most-watched national morning newsmagazine,'' will air its final episode this Friday.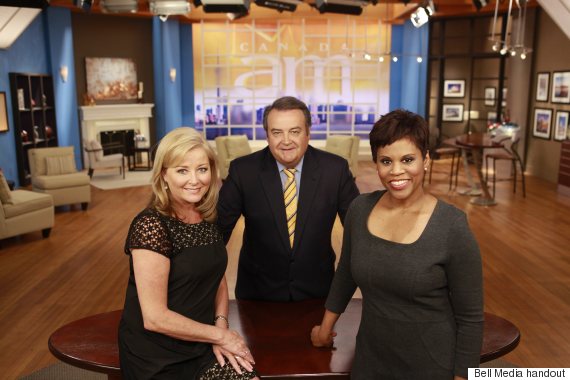 Hosts Beverly Thomson, left to right, Jeff Hutcheson and Marci Ien pose in this undated photo. (Photo: Bell Media handout/Canadian Press)
Co-hosts Beverly Thomson and Marci Ien will stay with Bell Media while Jeff Hutcheson will begin his previously announced retirement.
Thomson will move to CTV News Channel while Ien will develop new projects with Bell Media In-House Productions.
New program to come
"Canada AM'' has been airing since 1972, providing news and lifestyle headlines as well as interviews with stars and newsmakers.
CTV says it will announce a new program for the 6 to 9 a.m. timeslot next week.
A simulcast of live CTV News Channel programming will air in the timeslot on CTV beginning Monday.
"As the television landscape continues to evolve, so too must our programming."
Friday's episode will be a tribute to both the program and its hosts.
"As the television landscape continues to evolve, so too must our programming. We look forward to building upon the success of ''Canada AM" as we move forward,'' said Randy Lennox, president of entertainment production and broadcasting at Bell Media, in a statement.
"We invite viewers and fans to join us as we say goodbye tomorrow and acknowledge the lasting legacy this series and its talent — both now and in the past — have had on Canada's broadcasting industry.''
Also On HuffPost:
TV Shows That Have Stood the Test of Time
It's a wonder that this show ever made it to primetime, but it's wonderful that it did. David Lynch and Mark Frost's "Twin Peaks" told the story of murdered prom queen Laura Palmer, and the eccentric FBI agent (Kyle MacLachlan) who'd stop at nothing to find out what happened to her. The series is being revived in 2017. Available on CraveTV.

This hilarious show featured the eponymous star playing a 30-year-old single woman who moves to Minneapolis and becomes a producer on the "Six O' Clock News." There she tangles with her cranky boss Lou Grant (Ed Asner) and moronic-but-lovable news anchor Ted Baxter (Ted Knight). Available through Amazon.

It's one of the longest-running series in the history of primetime, and it's little wonder why. "Friends" told the story of a group of people living in New York: Monica (Courteney Cox) the chef, Ross (David Schwimmer) the paleontologist, Rachel (Jennifer Aniston) the fashion lover, Joey (Matt LeBlanc) the actor, Phoebe (Lisa Kudrow) and Chandler (Matthew Perry) the ... executive? They stick together as they navigate their careers and relationships in hilarious fashion. Available on Netflix.

Members of the Bluth family have been sheltered all their lives. So reality becomes a hard nut to crack when patriarch George (Jeffrey Tambor) is sent to prison. It's up to Michael (Jason Bateman) to keep his zany relatives, including his mother Lucille (Jessica Walter), sister Lindsay (Portia de Rossi), brother Gob (Will Arnett), brother-in-law Tobias Fünke (David Cross) and his son George Michael (Michael Cera), together. Available on Netflix.

This 1990s sitcom follows the Tanners, a family living in San Francisco. Father Danny (Bob Saget) tries to keep control over his household, which includes his three daughters, along with musician friend Jesse (John Stamos) and comedian friend Joey (Dave Coulier). (And you're probably already aware of the "sequel," starting Feb. 26.) Available on Netflix.

A show about nothing. Imagine selling that to a television executive. Larry David managed to do that with this long-running sitcom about a comedian living in New York, and encountering increasingly bizarre, yet inherently meaningless situations with his friends Elaine (Julia Louis-Dreyfus), George (Jason Alexander) and Kramer (Michael Richards). Beyond being a cultural touchstone, it's impossible to watch an episode without laughing. Available on CraveTV.

Jimmy McNulty (Dominic West) is a brilliant detective on the trail of Avon Barksdale (Wood Harris) who, along with trusted confidant Stringer Bell (Idris Elba), runs a drug empire on the streets of Baltimore. It's a stirring HBO classic that allows viewers to uniquely see inside the lives of both drug dealers and cops. Available on CraveTV.

The gang from Bayside High School had kids glued to their TV sets from 1989 to 1993. But in a way they never stopped. Zack Morris (Mark-Paul Gosselaar) was the de facto leader of a crew that included his on-again/off-again girlfriend Kelly Kapowski (Tiffani Amber-Thiessen), brainy Jessie Spano (Elizabeth Berkley), fashionable Lisa Turtle (Lark Voorhies), musclebound A.C. Slater (Mario Lopez) and nerdy Samuel "Screech" Powers (Dustin Diamond). Available through Amazon.

This is the story about Will (Will Smith), a kid from West Philadelphia who gets in trouble and is sent to live with his family in Bel-Air, Calif. His street sense soon clashes with his uptight Uncle Phil (James Avery) and nerdy cousin Carlton (Alfonso Ribeiro). But slowly he becomes a part of the family. Available on Netflix.

A kindly rich man from Park Avenue (Conrad Bain) takes in Arnold (Gary Coleman) and Willis (Todd Bridges), two underprivileged children, after their mother dies. The show's depiction of a privileged family learning about the struggles of people from the other side of the track still resonates today. Available through Amazon.

Twenty-seven seasons and counting, "The Simpsons" is America's longest-running sitcom. So ingrained is it in the public consciousness that there's hardly a real-life situation that can't be related back to "The Simpsons." Available through Amazon.

Columnist Carrie Bradshaw (Sarah Jessica Parker) ruminates on her sex life in New York alongside her friends Samantha (Kim Cattrall), Charlotte (Kristin Davis) and Miranda (Cynthia Nixon). And constantly finds herself going back to Mr. Big (Chris Noth). The questions the show poses (perhaps a bit cheesily) remain relevant to those in the dating world today. Available on CraveTV.

The truth is out there, and FBI agents Fox Mulder (David Duchovny) and Dana Scully (Gillian Anderson) are going to find it. Together they investigate paranormal events and the possibility that aliens already walk among us. The show has even been rebooted on Fox. Available on Netflix.

This sitcom followed horndog Jack Tripper (John Ritter) and his zany hijinx living with roommates Janet Wood (Joyce DeWitt) and Chrissy Snow (Suzanne Somers). Jack had to pretend to be gay to appease landlords Mr. Roper (Norman Fell) and later Mr. Furley (Don Knotts). A reminder — this was made in the '70s, and while Jack and the gang were making fun of the older cast, some of these jokes may fall flat today. Available through Amazon.

This '50s-era American sitcom followed the ambitious Lucy (Lucille Ball), who was married to bandleader Ricky Ricardo Jr. (Desi Arnaz). And while she shows a passion for show business, it constantly gets her into trouble, and means she has some "'splaining to do." But it's Lucy and Ricky's relationship that really carries this show — that, and the moments of comedic brilliance. Available through Amazon.

A group of sociopathic friends open a bar in Philadelphia and come up with schemes that fail at almost every juncture. Dennis (Glenn Howerton) fancies himself a ladies' man, Mac (Rob McElhenney) a musclebound goon, Charlie (Charlie Day) is an illiterate cretin, and Deandra (Kaitlin Olson), Dennis' sister, is treated poorly by all of them. It's a testament to this show's appeal that it has lasted 11 seasons and counting. Available on Shomi.

This TV adaptation of the 1970 Robert Altman film told the story of military doctors working in a surgical hospital during the Korean War. Staffers including Hawkeye (Alan Alda) and Captain Hunnicut (Mike Farrell) use humour to deal with intense situations, in a show that also offered social commentary on the Cold War and the Vietnam War. Available through Amazon.

Even bosses get the blues. James Gandolfini plays Tony Soprano, the head of a Mafia family who's trying to keep control over his wife, his kids and his own sanity. Available on CraveTV.