Mumps Outbreak In Whistler, B.C. Spreads To Metro Vancouver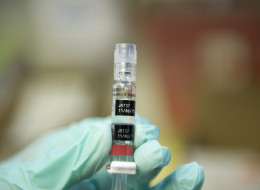 WHISTLER, B.C. — A mumps outbreak in Whistler, B.C., has spread to nearby municipalities.
Vancouver Coastal Health says 41 people in Whistler, Squamish, North Vancouver and Vancouver have been reported to have the highly contagious illness.
Mumps can cause fever and swelling of salivary glands in the face, and has been linked in rare cases to meningitis and temporary deafness.
Medical officer Dr. Althea Hayden says the average age of patients impacted by the outbreak is 33, so most of the people infected were not fully vaccinated against the viral infection.
The health authority says anyone born after January 1, 1970 needs two doses of vaccine to be protected, and a second dose was not added to B.C.'s routine vaccine schedule until 1996.
The vaccine is available for free from pharmacists, family doctors and most walk-in health clinics.

Also On HuffPost:
Lanaudière, Quebec As of March 11, 119 cases of measles in Quebec were reported, and related to the Disneyland outbreak.

Toronto As of Feb. 16, nine cases of measles were confirmed in Toronto.

Niagara Region As of Feb. 16, five cases of measles were confirmed in the Niagara region.

Winnipeg As of Feb. 10, one case of measles was confirmed in Winnipeg, a baby who likely contracted the disease out of the country.

York Region As of Feb. 11, one case of measles was confirmed in York Region.

Halton, Ontario As of Feb. 17, one case of measles was confirmed in Halton.

Toronto As of March 31, Public Health Ontario confirm 11 cases of measles in the province.

Winnipeg Two confirmed measles cases have been recorded in the Manitoban capital as of April 3.

Regina Public health officials confirm 11 measles cases in 2014. On March 18, Regina Qu'Appelle Health Region issued a news release declaring the outbreak over.

Edmonton Six measles cases have been confirmed since the start of the year, the first since 2012.

Calgary Nine cases have been confirmed in Calgary as of April 29.

Fraser Valley, B.C. Fraser Health confirm a total of 375 measles cases as of April 8. Authorities say the second wave of the virus is "close to being over."

A measles epidemic broke out in Quebec and a total of 725 cases were confirmed in the province. According to Health Canada, the first reported cases were traced to travellers who contracted the virus in Europe.

A spring outbreak in British Columbia resulted in 82 confirmed cases.

A total of 53 confirmed cases were recorded in Ontario during an outbreak between March and June.

Quebec outbreak resulted in 96 confirmed cases between April and September. Six other cases were found outside the province in the same year.

A total of 13 cases were confirmed country-wide by federal health authorities.

Health Canada recorded a total of http://www.phac-aspc.gc.ca/im/vpd-mev/measles-rougeole-eng.php of measles across the country.

A second dose of measles-vaccine was added to routine immunization schedules in every Canadian province.

Health Canada introduces the one-dose measles-mumps-rubella vaccine.