Tom Mulcair Gleefully Drops F-Bombs At Press Gallery Dinner
At a roast of journalists and politicians, NDP Leader Tom Mulcair declared he gave "zero f*cks" and then proceeded to drop several of them in a memorable speech.
He and other party leaders spoke at this year's parliamentary press gallery dinner which celebrated the group's 150th anniversary on Saturday night.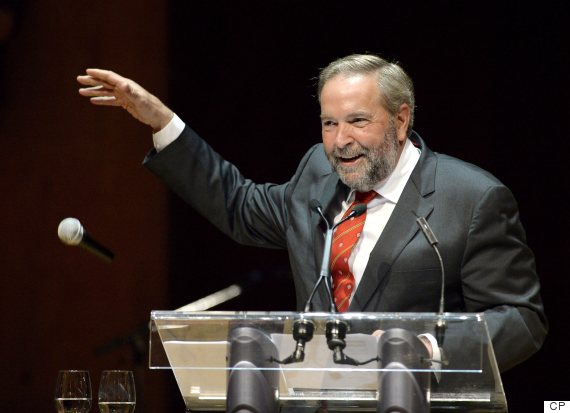 NDP Leader Tom Mulcair drops the microphone at the end of his press gallery dinner speech. (Photo: Justin Tang/Canadian Press)
The event is a night of self-effacing speeches and jabs at media and politicians alike, and Mulcair told everyone how he really felt. (Watch Mulcair's full speech above.)
"It's great to be here at the press gallery dinner and you know why? Because unlike every other person here tonight, I give zero f*cks," Mulcair said. He was voted out as leader of his party at their recent convention in Edmonton but is staying on until a new one is chosen.
"Any ... pollsters here tonight? Go f*ck yourselves," he said in front of the crowd at the Canadian Museum of History across the river from Parliament Hill.
How I'm picturing Tom Mulcair at #gala150 pic.twitter.com/blzEqP4gXk

— Jackie (@Jackstar009) June 5, 2016
Mulcair also took aim at various media outlets, reporters and other politicians before ending his segment with a literal mic drop, declaring, "Mulcair out."
Not to be outdone, Conservative Leader Rona Ambrose had some quality zingers of her own — many of them at the expense of former prime minister Stephen Harper.
"Stephen Harper actually loved humanity," she quipped. "It was just people that he couldn't stand."
In offering up suggestions for new slogans for the current Conservatives, Ambrose suggested: "The bad man is gone."
(Watch part of Ambrose's speech below.)
Harper never attended the press gallery dinner while serving as prime minister, but gave some sharp roasts as Opposition leader.
Prime Minister Justin Trudeau tried out his comedic talent on Saturday night, but his wife, Sophie Gregoire Trudeau, stole the show from him. She sang a blues number and even demonstrated a yoga pose that would be helpful for politicians.
Press Gallery Dinner 2016
Gov.-Gen. David Johnston raises his glass in a toast to the 150th anniversary of the parliamentary press gallery at the group's annual dinner at the Canadian Museum of History on Saturday, June 4, 2016 in Gatineau, Que.

NDP Leader Tom Mulcair concludes his speech with a mic drop.

Interim Conservative leader Rona Ambrose gestures during her speech.

Kevin Vickers, Canadian ambassador to Ireland and former sergeant-at-arms of the House of Commons, speaks at the dinner.

Justin Trudeau is the first prime minister to crack jokes at the annual press gallery dinner in a decade.

He brought his wife, Sophie Gregoire Trudeau, on stage for his segment.

Gregoire Trudeau, who is a yoga instructor, manoeuvres into a difficult pose to illustrate how politicians can use yoga to relax.

The Trudeaus concluded their segment by re-creating the pose from a Vogue magazine shoot.

The Trudeaus as seen backstage by the prime minister's principal secretary, Gerald Butts.

La Presse reporter Joel-Denis Bellavance receives the Charles Lynch Award at the event.

Bloc Quebecois leader Rheal Fortin speaks during the press gallery event.

NDP Leader Tom Mulcair gleefully dropped F-bombs during his speech.
With files from The Canadian Press