Trudeau Says C-14 Strikes Right Balance As NDP Ramps Up Critcism
Prime Minister Justin Trudeau is evidently not worried that his government's assisted dying legislation could be unconstitutional, despite warnings from the Senate Liberal leader, a renowned legal expert, and a family behind last year's landmark Supreme Court ruling.
Trudeau faced a grilling from New Democrats in question period Monday after the federal government failed to meet the Supreme Court's June 6 deadline to have a new law in place.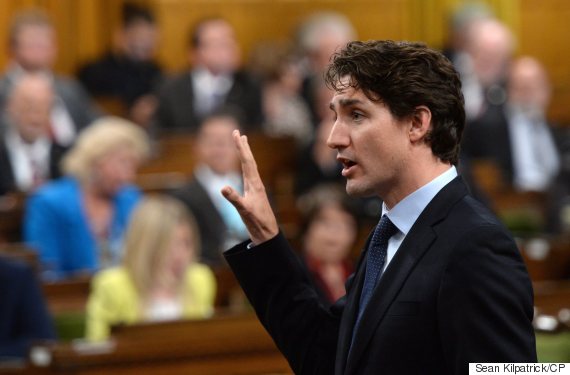 Prime Minister Justin Trudeau speaks in the House of Commons on Parliament Hill in Ottawa on June 6, 2016. (Photo: Sean Kilpatrick/The Canadian Press)
The Liberals' Bill C-14 is currently before the Senate, where questions are being raised about restrictions that essentially make physician-assisted death available only for suffering Canadians who are at death's door.
Senate Liberal Leader James Cowan told The Huffington Post Canada last week the bill fails to meet the standard of the top court's Carter decision — which stated consenting adults have the right to assisted death if they suffer from "grievous and irremediable" medical conditions that cause them unbearable suffering.
Cowan told HuffPost he believes the bill is unconstitutional.
NDP MP Marjolaine Boutin-Sweet was quick to relay the Senate Liberal leader's concerns in the House of Commons, and urged Trudeau to "listen to James Cowan and work on getting (C-14) right the first time."
PM lauds Senate reform efforts
The prime minister replied that Boutin-Sweet's remarks show his government's efforts to reform the Senate and make it a less partisan place have worked.
"There is no better example than the NDP highlighting the great work the Senate is doing weighing in on important pieces of legislation," Trudeau said.
The prime minister added that he looked forward to hearing what "independent voices" have to say about the bill. Boutin-Sweet called on the Liberal government to amend the legislation, saying warnings about its constitutionality have already come in from "all quarters."
Trudeau tries to deflect expert criticism
NDP justice critic Murray Rankin focused his remarks on Peter Hogg, a renowned constitutional scholar who told a Senate committee Monday that C-14 is simply "not consistent" with the top court's decision. He added that it will "undoubtedly" be struck down.
Hogg told the Senate the government cannot exclude a group of people confirmed by the country's highest court to have these Charter rights, Rankin said
"Will Liberals finally respect the Charter and announce they're willing to fix this bill?" Rankin asked.
Trudeau said that Liberals took a "big step" in the history of Canada, and were able to strike a balance between protecting the vulnerable and upholding rights and freedoms.
"We allowed and encouraged a free vote in the House of Commons," Trudeau said. He said it was "disappointing" the NDP didn't allow themselves to vote freely on the issue.
"The Liberals' stubborn refusal to listen to experts and work with the opposition will mean, Mr. Speaker, suffering Canadians spending years in court defending rights they've already won."
— Murray Rankin
That quip rankled New Democrats, who maintain their votes weren't whipped even though all the party's MPs voted against C-14. NDP House leader Peter Julian tried unsuccessfully to have Trudeau correct the record after question period.
"The Liberals' stubborn refusal to listen to experts and work with the opposition will mean, Mr. Speaker, suffering Canadians spending years in court defending rights they've already won," Rankin said.
Kay Carter's family 'betrayed'
The NDP critic then turned to comments from the family of Kay Carter, the 89-year-old woman who travelled to Switzerland in 2010 to end a life that was debilitated by spinal stenosis.
Carter's family told reporters in Vancouver they feel "betrayed" by C-14.
"We are ensuring that this big step that Canada is taking — despite people who think it goes too far, others who think it's not going far enough — is done the right way," Trudeau said.
Rankin said if Liberals really disagree with "Canada's foremost constitutional scholar" and the Alberta Court of Appeal that just last month ruled that feds weren't complying with the Supreme Court's ruling, they ought to table the government's legal opinion.
"So Canadians can judge for themselves," Rankin said.
With a file from Althia Raj, The Canadian Press
ALSO ON HUFFPOST:
Right-To-Die Laws Around The World
A look at some jurisdictions where right-to-die laws are in place. (Information courtesy of The Canadian Press)

A right-to-die bill was adopted last year, the first legislation of its kind in Canada. The law, scheduled to go into effect in December, stipulates that patients would have to repeatedly ask a doctor to end their lives on the basis of unbearable physical or psychological suffering. They would have to be deemed mentally sound at the time of the requests. The law, however, is being challenged in court by two Quebec-based groups on the grounds that it undercuts sections of the Criminal Code that outlaw assisted suicide and euthanasia. The federal government has expressed its opposition to the legislation but is named as a defendant in the court challenge because it is responsible for the Criminal Code.

The results of a referendum made Oregon the first U.S. state to make it legal for a doctor to prescribe a life-ending drug to a terminally ill patient of sound mind who makes the request. However, doctors cannot administer the life-ending drugs and the patient must swallow them without help. Patients must state three times -- once in writing -- that they wish to die, and those statements must be made at least 15 days apart. They must also obtain a concurring opinion from a second doctor that they have less than six months to live and are of sound mind. The law took effect in late 1997, and through June, 2014, just over 800 people had used the law.

The state became the first in the U.S. to allow a person's right to die through legislation rather than through a court decision or a referendum result. Vermont's law, which took effect in May 2013, is closely modelled on the system in Oregon and uses the same safeguards. Patients must state three times, including once in writing -- that they wish to die. They must also obtain a concurring opinion from a second doctor that they have less than six months to live and are of sound mind.

In January 2014, a judge ruled that competent, terminally ill patients have the right to seek their doctors' help in getting prescription medication if they want to end their lives on their own terms. The state's attorney general is appealing the ruling, and a decision on whether it will be upheld is expected later this year.

A referendum saw the state enact right to die legislation in 2008. As in Oregon, patients with less than six months to live must administer the doctor-prescribed lethal medication on their own. According to a government report, 549 people applied for the right to die between 2009 and 2013. Of those, 525 actually took their own lives.

In 2009, the state's Supreme Court ruled that Montana's public policy supports mentally competent, terminally ill patients being able to choose aid in dying. Physicians are allowed to prescribe medication that patients must administer themselves. More detailed legislative bills have been introduced in the state but have not passed. The court ruling still stands today, but data about its usage is not available.

A law passed in 1942 forbade anyone from helping someone kill themselves for selfish reasons. As a result, people arguing that they are assisting with a suicide for unselfish motives are not considered to be committing a crime. Suicides can be assisted by people other than doctors and no medical condition needs to be established. Switzerland is the only country that allows foreigners to travel there for the purpose of ending their own lives.

In the Netherlands, euthanasia is legal under specific circumstances and for children over the age of 12 with parental consent. In Europe, patients don't have to prove that they have a terminal illness -- establishing unbearable suffering is usually sufficient. Dutch doctors are allowed to perform euthanasia if a patient whose unbearable suffering has no hope of improvement asks to die with a full understanding of the situation. A second doctor must agree with the decision to help the patient die.