Airdrie Mom's Photo Of Toddler With Gun Sparks Debate On Gun Safety
An Alberta mom has sparked controversy after she posted a photo on Facebook of her toddler holding a gun.
"I posted it because it was cute and because I knew there was going to be a reaction," Cindy O'Hara told The Huffington Post Alberta.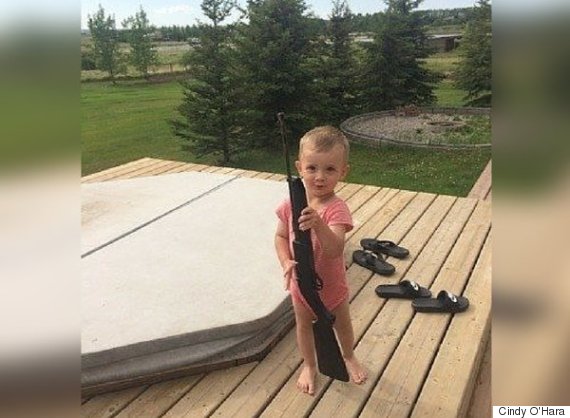 Cindy O'Hara posted this photo of her son on Facebook, which sparked debate.
The mother, who lives in Airdrie, shared the photo in a few private Facebook groups for parents in the city north of Calgary with the caption: "Wow we taught our 2.5 to shoot today. He did great."
Commenters immediately launched into a debate over parenting and gun safety.
"Sorry people, but guns in the hands of children are not safe no matter the argument. Children as young as the one in this photo simply aren't equipped mentally to understand the dangers and consequences," wrote Dan Brown on Facebook.
Broken BB gun
O'Hara said her two-year-old son Jaxson is holding a broken BB gun in the photo.
"It was unfireable, it was completely broken," she said in a phone interview. "He was taught the proper stance, how to hold it properly and how to put it away properly."
Still, many parents were concerned.
"The 2.5 year old now knows it's ok and cute to play 'pew pew.' What happens if he grabs one that does work," commented Dan McEwing.
"It boils down to parent choice, responsibility and accountability, and teaching the correct ways."
Others came to O'Hara's defence.
"Better to teach him now then later! At least he's going to learn how to use it properly," posted Kim Taylor.
O'Hara says the negative feedback hasn't changed her stance on guns and gun safety, adding that her eight-year-old fires BB guns at a shooting range and she hopes Jaxson will join him when he's older.
"It boils down to parent choice, responsibility and accountability, and teaching the correct ways," O'Hara said. "Jaxson, you can ask him. He knows guns are dangerous. You don't point them at people."
It's legal for Canadians under the age of 18 to use guns, as long as they are directly supervised by an adult with a gun licence.
Like Us On Facebook
Follow Us On Twitter
Also on HuffPost:
Old-School Parenting Would Get Us In A Lot Of Trouble Today
How many of us remember eating junk food until we puked at family parties? No helicopter parents here!

How quickly we've gone from the generation "smoke anywhere and everywhere" to the "never, ever smoke because it will kill you" generation.

Soap box derbies... without helmets.

No need for helmets or baby seats... just let the kids ride freeeeeeeeeee!

Sure kid, have a stick of sugar.

No one was worried about ticks or rabies in this photo.

Sure, why not put toys IN the crib to help the baby fall asleep.

Family portraits are now all about "acting natural." Maybe that's because our parents staged us in some really weird poses.

Why did our parents make the siblings dress alike? Was it easier to get us dressed?

Our parents didn't believe in taking us to the hairdresser. The kitchen shears were good enough for us!

The family that hunts together, stays together.

It's kind of amazing any of us survived.