Canadian Airport Wait Times Will Spike Without More Funding: Experts
MONTREAL — Canadians risk flight delays and even longer airport security lines unless Ottawa boosts screening funding to address growing passenger levels, industry experts are warning.
"It is on the cusp of being a real problem, with serious, serious delays," says John Gibson, chairman of the Canadian Airports Council.
Canadian airports aren't currently facing the chronic disruptions that are increasingly angering U.S. passengers. Still, lines have steadily grown over the last few years as Canadian funding hasn't kept pace with the 21 per cent increase in passenger growth over the last five years.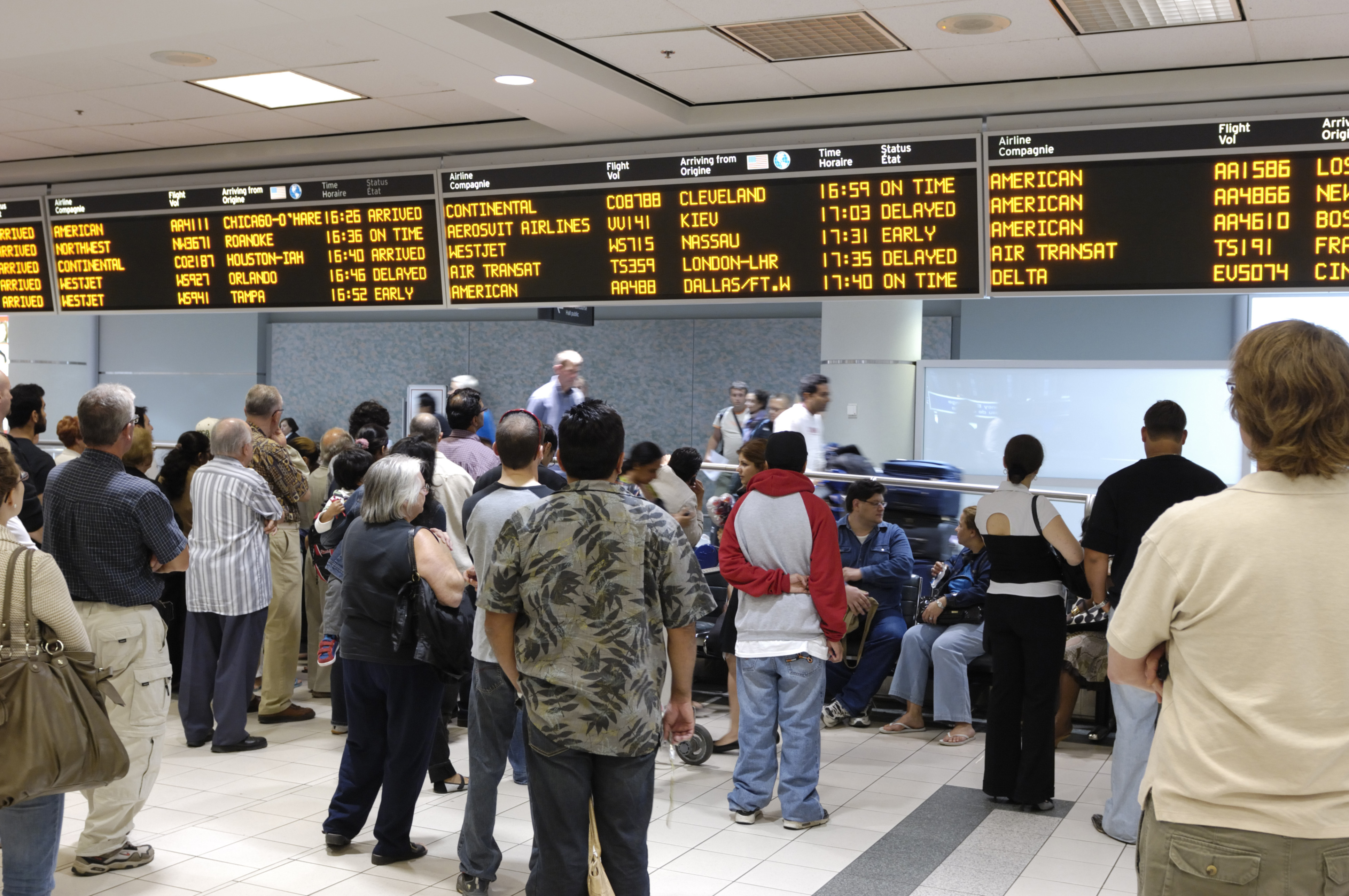 People waiting at arrivals hall of Toronto Pearson International airport. (Oleksiy Maksymenko via Getty Images)
The Canadian Air Transport Security Authority (CATSA) says, on average, it screens 85 per cent of passengers within 15 minutes.
But waits can be much longer at some large airports during peak travel times, with additional pressure potentially coming during the rush of summer travel — and the number of passengers is growing by 3.5 per cent each year.
If nothing is done to address the bigger volumes, Gibson said, passenger waits could regularly reach an hour.
The number of security screeners has in the past fluctuated depending on the size of government funding. More than 6,000 agents screened 58 million passengers last year.
The agency says it's doing the best it can with the resources it's provided by the government. An extra $29 million in the Liberal government's first budget will help to maintain the current threshold this year.
"Based on the long-term funding that we have right now, if we don't get additional funding then, yes (lines will be longer)," said spokesman Mathieu Larocque.

Passengers stand in a lineup running the length of the terminal at Pearson's Terminal one in Toronto, Friday, November 16, 2007 (THE CANADIAN PRESS/J.P. Moczulski)
Passenger complaints associated with longer wait times have been growing, CATSA said in its 2015 annual report.
Toronto's Pearson International Airport, the country's largest, said it is also hearing from passengers.
"As we see passenger growth across the country, most airports are seeing more passengers and that puts a greater demand on the system," said spokeswoman Erin Kennedy.
Transport Minister Marc Garneau said he got an earful about wait times during one of three roundtables he's held on proposed changes to the Canada Transportation Act.
"I think the system is working well. The only knock that I'm hearing is some people feel it takes too long to go through," he said in an interview.
"Being a traveller myself, I occasionally experience that."
The minister said it would be "premature" to comment on the 60 recommendations from former cabinet minister David Emerson's report or advice he's hearing from consultations, but said he plans to make specific proposals for change this fall. The public can participate in consultations on Facebook on June 15 in French and June 16 in English. 
Story continues below
Unique Airports In The World
The main airport on the Caribbean island of Saint Martin, this airport's runway is situated in close proximity to Maho beach.

The main international airport in Maldives, this airport is also known as Malé International Airport. It has been constructed at an elevation of 2 metres above mean sea level. Adjacent to the aiport is a waterdrome that has four water runways for seaplane operations.

This is reputed to be the most dangerous airport in the world with a sloped runway that is 527 m long, 20 m wide, and inclined at an amazing 12 degrees.

Spread over 45.9 acres, this is the only airport on the island that lies off India's west coast. It features one runway and its terminal can handle a maximum of 50 passengers at peak time.

A challenging airport to land in, flights are restricted to land/take off only during daylight hours.

The Kansai airport is Japan's second largest airport is built on an artificial island that cost 17 billion dollars to construct. It was built to relieve overcrowding at Osaka International Airport.

Build during World War II, the Gibraltar International Airport features an astounding view of the Rock Of Gibraltar, however is another difficult airport for pilots to manoeuvre around, because of the same reason.

Oddly enough, this airport features a railway line (Pamerston-North to Gisborne) that cuts rights across the main runway.

One of the highest airports in the world (3,256 metres above mean sea level), there is heavy level of this security at this airport: police and soldiers from the Indian army patrol the airport at all times.

Commonly known as DIA, this is the 5th busiest airport in the United States and the only airport (in that country, at least) to feature an ISO 14001-certified environmental management system.

Close to the McMurdo station, this runway (out of three) is the main runway for the US Antarctic Program. It is used until early December, after which the operations are shifted to Williams Field, another snow-ice runway.

This altiport features a short runway (537 m) in the French Alps, and has gained a reputation for being a dangerous landing area due to its mountainous terrain.
CATSA is funded from the Air Travellers Security Charge applied after the 2001 terrorist attacks to all flights. Originally created as a revenue-neutral way to fund airport security, the charge generates about $120 million a year more in revenues than is allocated to CATSA.
Relying entirely on passengers to fund airport security is a departure from other countries and other forms of transit, Air Canada wrote in a submission to Emerson's panel. In the United States, passengers pay only 30 per cent of security costs, with government funding 63 per cent.
"To ensure the aviation industry can reach its growth potential, the government should reinvest these funds into the industry, instead of directing the revenue elsewhere," the country's largest carrier wrote.
It called for Canadian fees to be lowered to match U.S. competitors, or at the very least ensure fees don't exceed the cost of providing the service.
The Montreal-based airline joined others in calling for mandated service levels.
"I think the system is working well. The only knock that I'm hearing is some people feel it takes too long to go through."

-- Transport Minister Marc Garneau
Large global airports like London Heathrow and Hong Kong are required to process 95 per cent of passengers within five minutes.
Emerson backed many industry proposals, urging the government to reduce the security charge and provide its own funds. He also called for wait time limits to be mandated, and for Canada to change its approach to screening by focusing on passengers that pose the biggest threat rather than treating everyone the same.
He said CATSA has been reluctant to adopt technology and highlighted the TSA's pre-check program in the U.S. that streamlines screening for trusted travellers.
Cutting wait times is required to ensure Canadian airports are competitive global gateways, said Robert Kokonis, president of airline consulting firm AirTrav Inc.
"If we have these tremendous lineups and inefficiencies in addition to the high cost structure in Canada, it makes it difficult for Canada to be perceived as a truly competitive international aviation market," he said in an interview.