'Real Housewives Of Toronto' To Air On Slice In 2017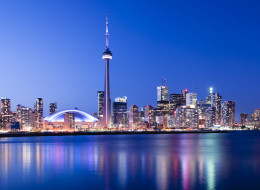 TORONTO - Get ready for big drama in the Big Smoke: the "Real Housewives" reality franchise is headed to Toronto.
Corus Entertainment says "Real Housewives of Toronto" will be part of its 2016/17 programming lineup.
The show will follow "the city's wealthiest women, from their extravagant day-to-day escapades in Toronto to grandiose getaways at their exclusive colossal cottages" in Muskoka, Ont., says a statement.
So, it's happening... The Real Housewives of Toronto on @slice_tv.

— shinan govani (@shinangovani) June 7, 2016

The CN tower in Toronto skyline is photographed from Lake Ontario. (Photo: Roberto Machado Noa/LightRocket via Getty Images)
Other new unscripted series in the lineup include the first-ever version of "The Bachelorette Canada," set to debut this fall on W Network.
Global will have the new scripted series "Bull," starring Michael Weatherly of "NCIS" fame, as well as a fourth instalment in the Chicago franchise, "Chicago Justice."
Global will also air four new comedies with big stars: Kevin James in "Kevin Can Wait," Matt LeBlanc in "Man With a Plan," Ted Danson and Kristen Bell in "The Good Place," and Joel McHale in "The Great Indoors."
Also on HuffPost:
Greatest Canadian TV Shows
Canadians got to know him on "This Hour Has 22 Minutes," but Mercer became a household name when he got his own show. His iconic rants have made him a sort of unofficial conscience for Canada, while his disarming and silly interviews have humanized some of Canada's most important people.

What started as a segment for "SCTV" quickly became a pop culture phenomenon. Bob and Doug McKenzie's "Great White North" inspired albums, movies and even a cartoon.

Created by Jim Henson and produced by Canadians in the early 1980s, "Fraggle Rock" was an international hit and shown in a dozen countries.

Airing on the CBC from 1967 to 1996 (and much longer in repeats), "Mr. Dressup" became an icon for generations of Canadian children.

If you think duct tape can fix anything ... well, you have "The Red Green Show" to blame for that.

Running from 1972 to 1990, "The Beachcombers" holds the distinction of being the longest-running dramatic series ever on English Canadian television.

Some people considered this CTV sitcom to be one of the worst ever created, but somehow it still managed to air 130 episodes.

This charming CBC comedy-drama starred Erin Karpluk as Erica Strange, a young woman in Toronto who somehow gains the ability to travel back to earlier parts of her life to fix her mistakes.

Airing for seven seasons and currently airing online (and back for another movie in 2014!), "Trailer Park Boys" chronicled the hilarious hijinks of the residents of a trailer park in small-town Nova Scotia.

One of the pillars of Canadian comedy, "This Hour Has 22 Minutes" has consistently been one of the funniest half-hours on Canadian TV.

A resourceful dog wanders across the country helping strangers along the way ... That's it. What more do you want?

This groundbreaking teen drama brought up issues faced by teens years before any other show would touch them. The show would go on to inspire numerous spin-offs, and yep, it's still on today!

This ambitious Canadian drama told the story of a fictional Shakespeare festival and gave many Canadian actors a chance to do some of their best work.

A beloved Canadian children's book got a faithful and great adaptation by the CBC -- and Megan Follows garnered a cult status/following after her turn as the titular Anne.

Airing in the late 1980s, "The Raccoons" was a beloved children's show. Bert, Ralph and Melissa (the three raccoons) often faced off against the vicious Cyril Sneer and his pushover son, Cedric.

This CBC crime drama told the story of a coroner working in Vancouver. The show's lead character was based on Larry Campbell, the city's actual coroner who would go on to be elected mayor in 2002.

A Canadian comedy pioneer, the "Wayne & Shuster Show" would be a template for the country's many, many comedy shows.

John Candy, Rick Moranis, Andrea Martin, Catherine O'Hara ... the list goes on. The show was probably the single greatest collection of comedy talent ever assembled for Canadian TV.

For more than 60 years, the CBC beamed hockey into the nation's living rooms. Few shows deserve to be described as iconic, but "HNIC" is one of them.

For more than five decades, "The Nature of Things" has been delivering some of the best scientific documentaries to Canadians. Suzuki teaches us about everything!

Another Canadian comedy institution, "Air Farce" have been active since the 1970s. From lambasting politicians to mocking the pop culture figures of the day, this show is the height of hilarity.

Ever-conscious of our environment, this Canadian drama, which took place in B.C., dealt with issues like deforestation and saving the ocean from pollution.

This Canadian sensation has a huge fan base, and is currently in its fourth season. It follows Bo, a bisexual succubus, as she tries to discover her past and true identity. Just don't question the magic.

This show for entrepreneurs showcases Canadian inventions, and their proposals to established businesspeople. Highly entertaining (especially when the inventions are terrible), the U.S. took the concept and started "Shark Tank."