Woodstock Suicides: Students Walk Out To Raise Awareness
WOODSTOCK, Ont. — Hundreds of students left their classrooms Tuesday morning in a mass walkout meant to show their frustration over how local schools have dealt with a number of suicides in their small southwestern Ontario city.
Students crowded Woodstock's town square for more than an hour Tuesday morning, scrawling positive messages on the sidewalk in chalk and singing.
Five people aged 19 and younger in the city of roughly 38,000 have killed themselves since the beginning of 2016, police have said, noting 36 more have expressed suicidal thoughts or attempted suicide in Oxford County, which includes Woodstock and seven neighbouring communities.
Mike McMahon, executive director of the Canadian Mental Health Association Oxford, said the city is experiencing "suicide contagion", the theory that one suicide can trigger other suicides in a community.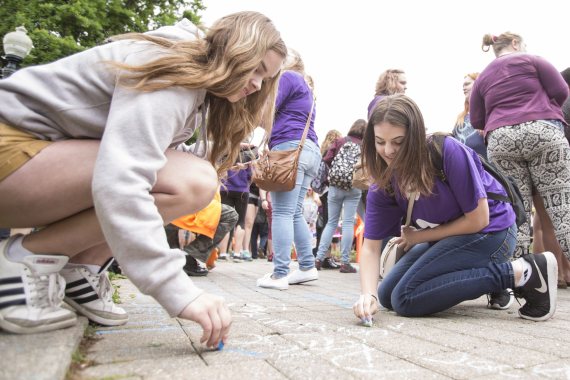 Avery Greenwood and Jordan McNeillie of College Avenue Secondary School write their names on the sidewalk, June 7, 2016. (Photo: Geoff Robins/CP)
Mental health professionals, school board officials and students seem to be at odds with how to handle the ongoing crisis.
Officials from Woodstock's school boards and the association agree that collaboration between their organizations is crucial. But some students have said their voices aren't being heard.
Sixteen-year-old Mackenzie Gall, who helped organize the walkout, said she doesn't think the school boards are doing enough.
"They've put up posters showing who our guidance counsellors are and who's able to be there for us," she said Monday. "And that's really the extent of it."
Gall said she thinks there should be more dedicated crisis workers in schools to help combat the so-called contagion.
The superintendent of education at one of Woodstock's three school boards said he wasn't sure how many crisis workers there are at the city's five high schools.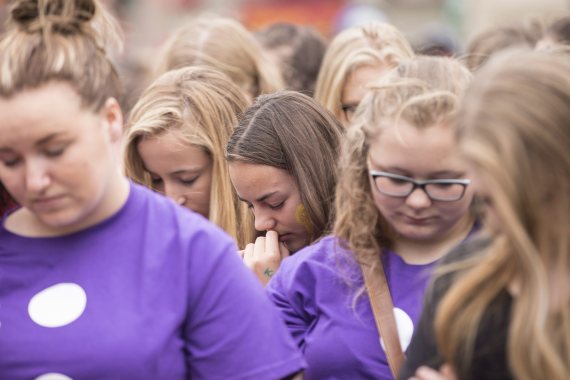 High school students bow their heads during rally in Woodstock, Ont., June 7, 2016. (Photo: Geoff Robins/CP)
"All I know is that there is a lot of clinical supports that are available within the community," said Paul Levac of the French-language board Conseil scolaire catholique Providence.
"Since we only have students in our care for a quarter of the day, we have to ensure there are other supports and services within the community," he said.
McMahon of CMHA Oxford said the association employs 38 trained clinicians who can help on a short-term basis, but he says that long-term solutions should be in place in schools.
"I really believe that where we take attendance is the most important place to train students about mental health and being resilient to suicide," he said.
Gall also said she hopes schools introduce mental health into the curriculum.
The controversial new sex-ed and health curriculum, which was introduced at the beginning of the 2015-2016 school year, covers mental health, but does not necessarily cover suicide or suicide prevention.
Asked about the suicides in the legislature Tuesday, Ontario's education minister Liz Sandals said the province will continue to work with school boards to "equip educators with the tools and knowledge that they need to address mental health."
Also on HuffPost:
Famous Personalities Who Dealt With Mental Health Depression
Possibly the first Indian actress to come out about her depression, Deepika Padukone recently launched her own NGO -- Live Laugh and Love Foundation -- to help those suffering from mental illnesses.

Pop star Britney Spears suffered from bipolar disorder. She said she felt isolated and thought she was not really made for the industry.

Princess Diana Little did people know that she suffered from Bulimia, a mental problem which later came to be known as the 'Diana Effect'.

Acting legend Parveen Babi slipped into depression at the peak of her career. She was diagnosed with Schizophrenia. Unfortunately she succumbed to the disease, and was found dead in her apartment in 2005.

This January, actor Anushka Sharma opened up about being treated for anxiety , describing the disease in a 'Vogue' interview as a biological illness that needed to be spoken about openly.

Ex-Spice girl Victoria Beckham admitted that she suffered from an eating disorder in her autobiography, 'Learning To Fly', and would eat only vegetables as a result of her obsession with size.

The winner of Nobel Prize for Economic Science, mathematician John Nash suffered from schizophrenia. In his thirties, he started experiencing delusional episodes, and ended up getting hospitalised several times. His life was portrayed in the 2001 drama film 'A Beautiful Mind'.

Actor Rajesh Khanna's career took a hit in the nineties, and the veteran actor, a stranger to failure, succumbed to depression. He never came out of it, and eventually died at the age of 69.

This comedian has many times made you fall from your chair laughing with his jokes, but that does not mean he was always the same in his personal life too. This comedian was diagnosed with depression and dealt with it for years.

Britain-born actress Jiah Khan made her debut in bollywood with Nishabd in 2007. But later, the young actress slipped into depression and committed suicide in 2013.

It is not easy to beleive, but this genius suffered from dyslexia, where people find it find to read and spell words.