Arthur Kent Wins 'Dud Scud' Defamation Case Against Postmedia
CALGARY — Former journalist Arthur Kent has won a lawsuit against Postmedia and one of its columnists over an unflattering article that called the one-time TV reporter a "Dud Scud.''
A judge has ruled that the media company and columnist Don Martin defamed Kent while he was running for a seat in the Alberta legislature in 2008.
"While the article did not accuse Mr. Kent of any illegal or immoral acts, it characterized him as an egotistical, politically naive, arrogant candidate whose campaign was in disarray,'' Justice Jo'Anne Strekaf said in a written decision Wednesday.
She awarded Kent a total of $200,000 from the defendants.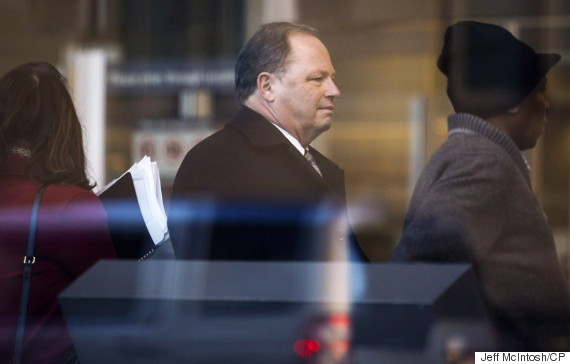 Former Postmedia columnist Don Martin, centre, arrives at the Calgary Courts Centre to take the stand in a lawsuit by former TV journalist Arthur Kent against Postmedia. (Photo: Jeff McIntosh/CP)
"I find that Mr. Kent is entitled to significantly more than nominal damages. He suffered substantial distress and damage as a result of the defamatory factual statements in the article,'' she said.
"The damage was also exacerbated by the exaggerations and sarcastic tone in the article, by aspects of Mr. Martin's conduct and by the unfairness to Mr. Kent from Mr. Martin's failure to provide him with an opportunity to respond prior to publication of the article.''
Martin declined to comment and referred calls to CTV, where Martin is now a host.
Kent, who got the nickname "Scud Stud'' while reporting for NBC during the Persian Gulf war, was a star candidate for the Progressive Conservatives.
But he was on the record as disagreeing with some of the party's policies.
"He suffered substantial distress and damage as a result of the defamatory factual statements in the article.'" —Justice Jo'Anne Strekaf
Martin's column, which used unnamed sources and ran in Postmedia's Calgary Herald, painted Kent as an out-of-control egomaniac who had alienated party staff.
The Tories went on to win a majority in the election, but Kent lost his race.
Kent's lawyer had argued at trial that the column used trumped-up language and did the bidding of Progressive Conservative party sources with an axe to grind.
"It was intended to mock and ridicule Arthur Kent by calling him a dud, a failure,'' Kent Jesse told the judge.
Lawyer argued columnist was expressing opinion
A lawyer for Postmedia argued that Martin, as a columnist, was allowed to express his point of view and didn't act maliciously in doing so.
"I didn't hear any evidence about an agenda to harm anybody and there's certainly no evidence Mr. Martin was a participant in any of it,'' said Scott Watson.
"Alberta Conservatives have bestowed problem candidate Arthur Kent with a less flattering designation as he noisily blusters his way through their reeling election campaign — the Dud Scud,'' Martin wrote.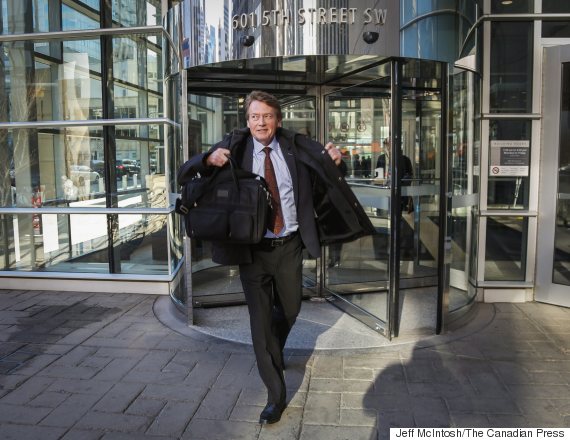 Arthur Kent leaves the Calgary courthouse. (Photo: Jeff McIntosh/CP)
Jesse argued that freedom of the press is a value Kent built his career on. "But with that freedom comes responsibility'' to report in a balanced and accurate manner, the lawyer said.
He suggested Kent was simply exercising his own freedom of speech by voicing concerns about the party's platform.
Watson replied that "not all individuals are treated the same'' when it comes to defamation law.
Politicians, Watson said, are subject to more public scrutiny and a candidate that goes against the party line during a campaign — as Kent did — is bound to attract even more attention.
Nickname came from just one source
The trial also heard from Martin's sources.
Lawyer Kristine Robidoux acknowledged that she sent Martin emails from Tory insiders complaining about Kent, but said she regretted doing that after seeing the article.
Party insider Alan Hallman testified he had no problem feeding Martin information, because he thought Kent had embarrassed the party.
Journalistic ethics experts testified for both sides. The two central figures also testified.
Kent called the article a bomb that cratered his campaign and has since prevented him from pursuing other political opportunities.
Martin testified that, while the article may have run on news pages, it was clearly an opinion piece based on extensive research.
Under cross-examination, Martin acknowledged that the line about Progressive Conservatives calling Kent the "Dud Scud'' had come from only one source, whose name he couldn't remember.
"I'd write it differently today,'' Martin said.
Also on HuffPost:
In 2004, a 60 Minutes II report alleged that George W. Bush failed to fulfill his service to the National Guard, relying on documents that were revealed to be forged. CBS News producer Mary Mapes got the infamous documents from a former U.S. Army National Guard officer who later admitted to lying about their source. The scandal resulted in Mapes's termination, the resignation of other news execs and, some speculate, anchor Dan Rather's retirement a year earlier than planned.

In 1980, Washington Post reporter Janet Cooke penned "Jimmy's World," about an 8-year old heroin addict, sparking an all-out police search for the boy that turned up nothing. Days after her article won the Pulitzer Prize, her editors confronted her about inconsistencies in her resume and she confessed that Jimmy didn't exist.

27-year-old Jayson Blair was an emerging force at the New York Times in 2003 when it was discovered that he had plagiarized and fabricated facts in at least 36 articles for the paper. An ensuing investigation revealed that Blair made up names, quotes and scenes for high-profile stories on Jessica Lynch, the families of other soldiers in Iraq and the 2002 sniper attacks. Then-executive editor Howell Raines and managing editor Gerald Boyd resigned in the fallout of the scandal, which the Times called "a low point in the 152-year history of the newspaper."

A rising star at the political magazine, Glass plunged the New Republic into scandal in 1998, when it was discovered that he'd made up entire stories, as well as quotes and sources, over a three year period.

Jack Kelley, a Pulitzer Prize-winning reporter for the paper, was found to have plagiarized and fabricated "substantial portions" of at least eight stories.

In 2004, the Boston Globe printed pictures from a porn website called "Sex in War" that it claimed depicted U.S. soldiers raping Iraqi women. Other news sources exposed the photos as fakes a week before the Boston Globe published them, and critics alleged that a simple Google search would've shown as much.

Weeks before the 2004 presidential election, Fox News political reporter Carl Cameron claimed in an article that candidate John Kerry received a pre-debate manicure and gloated about it. Cameron attributed fabricated quotes to Kerry, including "Didn't my nails and cuticles look great? What a good debate!" and "Women should like me! I do manicures." Fox retracted the piece and apologized, blaming its publication on "bad judgment and fatigue."

It seemed too good to be true -- secret diaries of Hitler's spanning 13 years? -- and it was. Multiple organizations, including Rupert Murdoch's Sunday Times, Newsweek, and German magazine Stern, wound up with egg on their face when the diaries proved to be fake.

Piers Morgan was editing the British tabloid when it ran pictures purportedly showing soldiers abusing Iraqi prisoners. It turned out that the pictures were fake. Morgan was fired.

New York Times reporter Miller got scoop after scoop about the alleged weapons of mass destruction in Iraq. Unfortunately, there weren't any weapons of mass destruction in Iraq, and Miller ultimately left the paper under a cloud. The Times took a serious hit to its reputation for publishing the stories.

Rupert Murdoch's papers got into a little bit of trouble for hacking into dead peoples' phones and spying on princes and things.

Zakaria apologized for plagiarizing from the New Yorker.

Lehrer admitted to lifting quotes, fabricating material and lying about it.

The tabloid got into trouble for running a picture of a man about to be killed by an oncoming train.

The network fired reporters and producers for a botched edit which distorted a tape of the Trayvon Martin shooter.

In this undated image released by The Public Theater, Mike Daisey is shown in a scene from "The Agony and The Ecstasy of Steve Jobs," in New York. Daisey, whose latest show has been being credited with sparking probes into how Apple's high-tech devices are made, is finding himself under fire for distorting the truth. The public radio show "This American Life" retracted a story Friday, March 16, 2012, that it broadcast in January about what Daisey said he saw while visiting a factory in China where iPads and iPhones are made. (AP Photo/The Public Theater, Stan Barouh)

A 2005 USA Today investigative report revealed that the Bush administration paid columnists hundreds of thousands of dollars in public funds to promote the administration's policies. Armstrong Williams, Maggie Gallagher and Michael McManus were among those who received money to support No Child Left Behind and Bush's marriage initiative in their pieces.

In 2003, CNN news chief Eason Jordan revealed that the network had known about Saddam Hussein's human rights abuses since 1990, but didn't report them to keep the Baghdad bureau open and protect the safety of its employees and sources.

The Oregonian failed to investigate evidence that Sen. Robert Packwood had sexually harassed several women, even though he had kissed one of the paper's own reporters after an interview. The Washington Post broke the story in 1992, creating a serious lack of trust that the Oregonian would take on the state's power brokers, which was only compounded in 2004 when the paper underreported former Gov. Neil Goldschmidt's statuatory rape of a 14-year old girl as an "affair."

A 1992 Dateline NBC segment showed a General Motors truck exploding after a low-speed crash with another car. GM later sued the network when the explosion was revealed to have been staged with remote-controlled devices, and NBC News President Michael Gartner was forced to resign.

Randy Michaels resigned as the Tribune Company's CEO in 2010 after allegations that his leadership transformed the company, which owns the Chicago Tribune and the Los Angeles Times, into "a frat house, complete with poker parties, juke boxes and pervasive sex talk." Michaels allegedly discussed the sexual suitability of co-workers, and told a waitress he would give her $100 to show him her breasts in front of his co-workers.

Top Hearst executive Scott Sassa resigned after a stripper released their sexting exchanges.