Ontario Climate Action Plan: Province To Spend Up To $8.3B, Offer Financial Incentives
TORONTO — Ontario's climate change action plan, which will provide billions of dollars in subsidies and incentives to businesses and homeowners, was greeted with cautious optimism Wednesday by environmentalists and businesses.
The province will spend up to $8.3 billion on a range of programs to encourage people and companies to switch to more energy-efficient heating systems, buy electric or hybrid cars, convert big trucks to natural gas, add more bio-fuel to gasoline, and help the agriculture and industrial sectors adopt low-carbon technologies.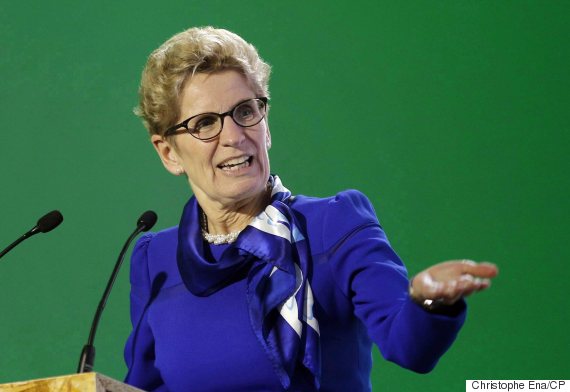 Ontario Premier Kathleen Wynne delivers her speech during a signing ceremony at the COP21, the United Nations Climate Change Conference Monday, Dec. 7, 2015 in Le Bourget, north of Paris. (Photo: The Canadian Press)

Most of the money will come from a cap-and-trade program for industrial polluters that the Liberal government expects will raise $1.9 billion a year. All of the cap-and-trade money will go into a dedicated fund for lowering Ontario's carbon footprint.
Two groups representing automakers said continued rebates of up to $14,000 for electric vehicles, free overnight charging for four years, and a "cash-for-clunkers" program to get older cars off the roads will help create consumer demand for EVs.
"The rebates, combined with looking at renewable fuels, is sort of a broad-based approach to reducing emissions overall from the transportation sector," said David Adams, president of Global Automakers of Canada.
Environmentalists, car makers applaud strategy
"Many of the initiatives announced today will help consumers understand that electric vehicles are part of the future, of their future," said Mark Nantis of the Canadian Vehicle Manufacturers Association.
However, the manufacturers want more details on the cap-and-trade plan, which takes effect in January when Ontario joins a carbon market with Quebec and California.
"In our industry, many of the investment decisions are upon us now, so there's many details that we have to work out in collaboration with the government," added Nantis.
The Ontario Home Builders' Association said getting to "net zero" carbon homes by 2030 will require extensive consultations with the industry, and called for a cost-benefit analysis for consumers.
"We need to make sure that the upgrades to the 2030 Building Code are worth it to the consumer," said the association's president, Joe Vaccaro.
'Grappling with the tough choices'
Greenpeace said Ontario is on the right track by trying to phase out fossil fuels and by recognizing that climate change is an opportunity as well as a threat.
"Lots of bad things will happen if we don't break our addiction to fossil fuels, but there are also a lot of good things — green jobs, cleaner air — that come with action on climate change," said Greenpeace Canada spokesman Keith Stewart.
The International Institute for Sustainable Development, a non-profit research group, strongly supports the plan to put cap-and-trade revenues back into actions that will help lower greenhouse gas emissions.
"We hope that these provincial strategies will bolster our federal leaders' efforts to develop a national action plan on climate change, including an ambitious cross-country price on carbon emissions," said Institute spokesman Amin Asadollahi.
The Pembina Institute, a clean energy think tank, said the government is "grappling with the tough choices" required to meet its emission reduction targets.
"We want people to avoid the carbon price in the future, and the way you do that, is to use very low or non-carbon emitting fuels and technologies in your homes and transportation systems."
— Environment Minister Glen Murray
"By providing both the ambition, and the required support to businesses and consumers, this is a good step towards our climate goals," said Pembina's Eli Angen.
Details on rebates for home retrofits will come later, but Environment and Climate Change Minister Glen Murray said no one will have to get rid of their natural gas furnace or old car until they're ready.
"We're not forcing anyone to do this," he said. "We want people to avoid the carbon price in the future, and the way you do that, is to use very low or non-carbon emitting fuels and technologies in your homes and transportation systems."
Premier Kathleen Wynne said the province will invest in projects that will "give families and businesses the ability to lower their carbon footprint, and their energy bills."
Tories unimpressed
The Progressive Conservatives called the plan "a laundry list of Liberal promises" based on money the government doesn't even have yet.
"I was very concerned today at the manner in which they continually dodged what this is really going to cost Ontarians," said PC environment critic Lisa Thompson.
Green Party of Ontario Leader Mike Schreiner said Ontario needed bold action on climate change 10 years ago, but he's concerned the Liberals' plan favours businesses, especially big polluters who will get exemptions early on in the cap and trade plan.
"One hundred of Ontario's largest polluters are getting a free pass on the cap-and-trade plan, and it looks like most of the financial benefits are going to business and not individuals," said Schreiner. "So is this fair to the people of Ontario?"
ALSO ON HUFFPOST:
Drone Images Highlight Climate Change
This windmill pair was shot in the early morning hours. The shallow fog had been around for days because of no wind, high humidity and cold temperatures.

The city of Paracatu was vanished by a river of mud, after a mining dam burst at Mariana, Minas Gerais. It was the biggest environmental accident in Brazil's history.

Palangkaraya – The most polluted place on earth! This photo was taken on October 4th, 2015 when my friends and I did a campaign called "Kalteng with Love" where we gave free masks, milk and vitamin for the people in the city of Palangkaraya, Central Kalimantan, Indonesia. Thick smoke was hovering over where we live. The particulate meter that day showed that the air was so poluted and reached over 2000 psi. The smoke was caused by the fires in Borneo peatlands that was started from the end of July. For almost three months the people in Borneo had to breathe such toxicating air. There are lots of people who suffered from respiratory problems. Schools off. Flights could not operate. Economic system became paralyzed. Borneo is known as the lungs of the world and the fifth largest greenhouse gas emitter in the world, and these fires are not helping. We were even labelled as the most polluted place on earth. Through this photo, I would like to raise the world's awareness that this matter is a huge problem for all of us. This challenge is addressed not only to people in Borneo and Indonesia, but also to the entire world. Could you imagine if all of the forests in Borneo disappear and there is limitied source of oxygen left for over 7 billion people?

Wind power from approx. 120m height.

Energy ACTIVE office building, about 1100m² floorspace : produce yearly more energy then it consumes ( better then passive house results !). Heating & cooling by deep geothermal heatpump with electric compensation of full integrated PV-solarpanels (BIPV) in 45°-roof. Owner : www.stebo.be Building designed by www.burob.be & www.geertdebruyn.be , construction : www.i3.be BIPV solar roof : http://solar.golden-glass.com/c465.html Drone : Yuneec Typhoon Q500 4K

Taken in between two banks of fog in a 2 minute window. Showing the tanks and stacks of Fawley Refinery.

The tiny island in the lake of Galvė looks like a continent and shows us how small our world really is. One tree cut on this island, one nest pulled apart or another kind of intervention will change it beyond our recognition. It is up to us all to make our planet clean and green

This is a picture of the king high tide crashing against this restaurant on the sand in la jolla shores. the king tide was at the peak in this photo at +7feet . is this a result of higher tides due to global warning.Today many coastal communities are seeing more frequent flooding during high tides. As sea level rises higher over the next 15 to 30 years, tidal flooding is expected to occur more often, cause more disruption, and even render some areas unusable .

A playing field I grew up playing football on… It\'s now acquired by the real estate company and they are killed the green of the field, trees providing shadow and building the grey houses on it. It\'s a typical depiction of the impact of growing real estate companies in Bangladesh.

After a mining dam bursts, it took almost 3 hours for the mud to reach Paracatu. Fortunately, it gave time for people to abandon their houses and run. The cemitery of Paracatu stays on a small hill, and it was there where many people rushed to protect themselves. And it was from there, that they saw their city being destroyed. There were no fatal victims in the city but the city itself.