Alberta Health Services Hopes To Slow Spike In STI Cases With New Ad Campaign
CALGARY — Alberta Health Services hopes a provocative marketing campaign will reduce an alarming increase in sexually transmitted infections in the province.
The $250,000 ad campaign aims to educate young people about safe sex and to promote STI testing.
Health officials say cases of gonorrhea last year in Alberta were up 80 per cent from 2014 and are the highest since the late 1980s.
The number of cases of infectious syphilis in the province doubled over the same time period.
Increase blamed on online dating
The government has blamed the increase on Internet dating sites that make it easy for people to meet for sex.
The campaign features ads on dating sites and social media with messages such as "Get some without catching some'' and "Give her the Big O, not the Oh-No.''
The messaging is intended to get young people to click on the ads, which redirect to a government website called "Sexgerms'' that has information on sexually transmitted infections.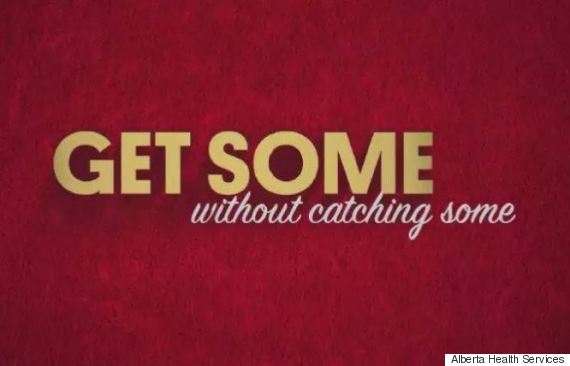 One of the messages from Alberta Health Services' campaign against STIs. (Photo: Alberta Health Services)
Alberta reported 3,400 gonorrhea cases in 2015, with the female rate almost doubling from the previous year. Almost half of the female case were indigenous women.
There were 350 cases of infectious syphilis in Alberta in 2015, with most of the cases involving men who have sex with men.
One quarter of the men in these cases were also infected with HIV. (CTV Calgary, The Canadian Press)
Also on HuffPost:
How To Green Your Birth Control: IUDs, Vegan Condoms, The Pill and Five Other Pregnancy Prevention Choices
Hailed as the greenest birth control method, Intrauterine Devices produce the least waste and boast a 99 percent pregnancy prevention rate. IUDs are hormone-free and made of copper, an abundant metal. The device is placed in a woman's uterus by a physician, releasing copper, which creates an inhospitable environment for the uterus and serves as a spermicide. IUDs can be used for up to ten years. ParaGard is durable for ten years and Mirena, which releases progestin, lasts up to five years. IUDs are one of the least used forms of contraception: less than 2 percent of women who use birth control in the United States rely on IUDs.

Did you know that 60 to 100 million condoms are improperly discarded in the United Kingdom ever year? Or that in 2008 in the United States, 437 million condoms were sold? Annual American waste weighs 152 million tons. While vegan condoms are made from tree derivatives, many latex condoms are infused with casein, a dairy derivative- a fact that many people are unaware of. Glyde condoms are an excellent vegan condom option. Whatever you do, don't flush! Not only does this waste water, the condom will become solid sewage along the way.

For Fair Trade biodegradable condoms, try French Letter Condoms and Sir Richard's Condom Company. Both companies strive to reduce environmental harm. French Letter Condoms and Sir Richard's Condom Company use latex rubber that is harvested under Fair Trade conditions. French Letter Condoms pays Fair Trade premium for the rubber and the company's rubber producers are given workers benefits and fair wages. Sir Richard's Condom Company donates one condom to a country in need for every condom sold. More: To make an eco-statement to your partner and protest the oil spill's damage at once, try Practice Safe Policy's oil spill condoms. The condoms boast a "drill without the spill" slogan.

The Vaginal Ring, often called the NuvaRing, is reusable and as effective as the Pill and the Patch. Each vaginal ring lasts three weeks and uses less plastic waste than most other birth control methods, such as the Pill.

Many women choose to use a diaphragm or silicone cervical cap as their birth control. These reusable barrier cups are praised as impressively green birth control options as one cup can last for up to two years, reducing landfill waste.

Quite possibly the number one environmental culprit on this list, the Pill, which celebrated its 50th birthday this past May, has come under great scrutiny for its environmental damage. Worldwide, over 100 million women rely on the Pill as their main form of birth control. This birth control method harms the world's water, causes dangerous hormonal imbalances in wildlife, impacts fish populations through the secretion of hormones into the waterways where it enters fish systems making male winnows feminized, and creates a surplus of waste in landfills due to excess packaging.

The Patch, known as Ortho Evra, is the world's first transdermal contraceptive, secreting progestin and estrogen through the skin into the body for pregnancy prevention. Each patch lasts for one week and can be placed on four areas of the body. The Patch produces a moderate amount of packaging waste and filters hormones into the world's water as it functions like the Pill.

The Fertility Awareness Method is a rubber and chemical free birth control option. According to Planned Parenthood, FAM is considered to be as effective as condoms. Grist's Umbra describes the concept as remaining sperm-free during ones most fertile period of the month. Many abstain from sex during this period or use barrier methods (condoms, cervical caps, and diaphragms) for pregnancy protection. This method requires great familiarity with ones ovulation schedule.