Liz Phillips, Toronto Mom, Removes Anti-Abortion Flyers From Neighbours' Mailboxes
TORONTO — A Toronto mom who removed graphic anti-abortion flyers from neighbourhood mailboxes says she would handle the situation differently if it arose again.
Liz Phillips says she grew concerned about the flyers prepared by the Canadian Centre for Bioethical Reform, which show vivid images of fetuses in utero and post abortion.
She says she knew of people whose children were traumatized by the images, so she took it upon herself to remove the flyers from mailboxes on her block in her downtown neighbourhood.
In their place she left a note explaining her actions and saying she had the flyers at her home if anyone wanted to read them.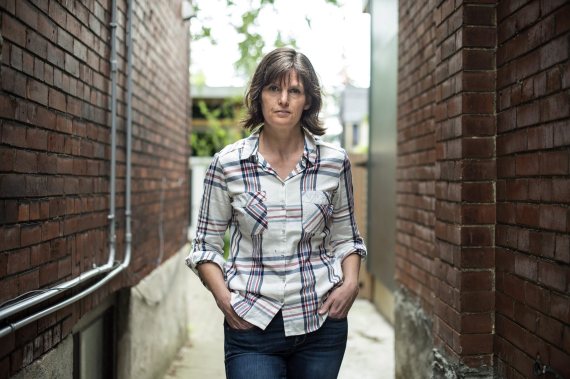 Liz Phillips poses outside of her home in Toronto, June 9. (Photo: Eduardo Lima/The Canadian Press)
Phillips says the neighbourhood reaction has been "overwhelmingly positive," but conversations with a couple of upset neighbours have prompted her to rethink her approach.
She says next time she would circulate a note advising people that the flyers may appear in the mail, cautioning parents that the images may be too much for children, and offering to remove the flyers if they wanted.
The Canadian Centre for Bioethical Reform did not respond to a request for comment.
"These are really graphic images. Most of us as adults don't want to look at it."
Phillips acknowledged that she does not share the views imparted in the flyers, but said it was concern for the impact on children that prompted her to take action.
"These are really graphic images. Most of us as adults don't want to look at it," Phillips said in a telephone interview. "I can imagine if my kids actually saw (the images), they would last."
Phillips said she was first made aware of the flyers on a neighbourhood Facebook group in which anxious moms started posting about the strong reactions the flyers were eliciting from their kids. At least two women said their children had nightmares for days after seeing the pictures, she said.
Phillips said this gave her time to plan her strategy, which she put into action on Wednesday when the flyer surfaced in her mailbox.
'Freedom of expression is important to me'
The mother of two young boys walked around her block removing the literature, leaving a note explaining the reason for her actions.
"Freedom of expression is important to me," she said. "I didn't want to be taking these out and not letting people know that I'd done it."
Phillips said she encountered some parents on her route who approved of her actions and spoke to several later on who applauded her initiative.
Others expressed a more nuanced position.
"They don't agree with the material itself, but they don't want somebody else to make the decision of whether they want to see it," she said. "They would rather get it, and even if their children saw it, they would rather have that conversation with their children because it came up."
Phillips said the incident has triggered a wider conversation among the neighbourhood, some of which directly challenges the message communicated in the flyers.
She said one woman took it upon herself to set up a website as a resource for parents looking for guidance on how to discuss the flyer and even the topic of abortion with their children.
Removing pamphlets not theft: police
Phillips' actions are perfectly legal in the eyes of the police.
Const. David Hopkinson said general material that has not been processed by Canada Post and does not contain personal identifying information can be handled without consequence.
Taking properly addressed post is a different matter.
"If mail is delivered to you, delivered by Canada Post containing your name, that is theft of mail, and it is a federal offence," he said. "In the case of a pamphlet, it's not considered mail."
Hopkinson said people could buy some protection by putting up a sign barring people from tampering with their mailbox. If someone does so despite the sign, they could be subject to a "minor fine," he said.
Phillips said one neighbour was quite angry about her actions, prompting her to reconsider her approach.
"She was very upset that I'd gone into her mailbox at all, and I totally understand that which is why I kind of thought about what I'd do if this were to happen again to make sure that those concerns were heard."
Also on HuffPost:
10 Myths About Abortion That Need To Be Busted
REALITY: Over 99.75 percent of abortions do not cause major medical problems. Less than one-quarter of 1 percent of abortions performed in the United States lead to major health complications, according to a 2014 study from the University of California, San Francisco, that tracked 55,000 women for six weeks after their abortions. The researchers note that this makes an abortion statistically about as risky as a colonoscopy. If that fact seems surprising, consider how American pop culture misrepresents the risks of abortion: Nine percent of film and television characters who have abortions die as a direct result of the procedure, according to another 2014 study from UCSF.

REALITY: About one in five abortions are medical abortions. The Centers for Disease Control and Prevention found that 19 percent of abortions in 2011 were medical abortions and that 28.5 percent of those took place in the first nine weeks of pregnancy. The Guttmacher Institute also found that medical abortions increased substantially from 2008 to 2011, meaning more women have ended their pregnancies with this alternative to surgery.

REALITY: Most women will not regret their decision, and are no more likely to experience mental health problems than women who carry an unplanned pregnancy to term. While many women experience mixed emotions after an abortion, 95 percent of women who have abortions ultimately feel they have made the right decision, according to an August 2013 study from UCSF. "Experiencing negative emotions postabortion is different from believing that abortion was not the right decision," the researchers explained. Furthermore, while unplanned pregnancies often cause emotional stress, there is no evidence to suggest that women who choose to terminate their pregnancies will be more likely to suffer from mental health issues, according to a 2008 report from the American Psychological Association that investigated all relevant medical studies published since 1989. The APA found that past studies claiming abortion causes depression and other mental health problems consistently failed to account for other risk factors, particularly a woman's medical history. The APA accounted for these factors and found that, among women who have an unplanned pregnancy, those who have abortions are no more likely to experience mental health problems than those who carry the pregnancy to term.

REALITY: Fetuses cannot feel pain until at least the 24th week of pregnancy. Experts ranging from Britain's Royal College of Obstetricians and Gynaecologists to the American Congress of Obstetricians and Gynecologists agree with that timeline. In fact, research from UCSF found that fetuses can't perceive pain before 29 or 30 weeks of development. Then why have so many states banned abortions after 20 weeks of pregnancy? Perhaps misrepresentation of research is partly to blame: Many of the researchers most frequently cited by pro-life politicians told The New York Times that their research does not prove anything about fetal pain.

REALITY: Most Americans support a woman's right to choose. According to a Gallup poll from 2014, 78 percent of Americans think abortion should be legal in some or all circumstances. (Fifty percent said "some circumstances," while 28 percent said all.) What's more, in 2012, Gallup found that 61 percent of Americans think abortions that take place during the first trimester of pregnancy should be legal. (Nine out of 10 abortions in the U.S. do take place during that time period, according to Guttmacher.)

REALITY: The abortion rate in the United States is the lowest it's been since 1973. The abortion rate has been on the decline for years, and hit its lowest level in 2011, according to the latest data available from the Guttmacher Institute. The study's author partially credited the decline to better contraceptive use and more long-term contraceptive options, such as the IUD.

REALITY: Women face a growing number of barriers to accessing abortions. More than 57 percent of American women live in states that are hostile or extremely hostile to abortion rights, according to the Guttmacher Institute. That represents a marked increase from 2000, when 31 percent of American women lived in such states. In 2011, 89 percent of counties in America had no abortion clinics. This is no accident: Across the U.S., lawmakers have enacted 231 new abortion restrictions over the past four years, according to a Guttmacher analysis from January 2015. As a result, many women have to travel great distances to reach an abortion clinic, where they may face 24-hour wait periods. These barriers particularly affect women living in rural areas and low-income women, who often can't afford to take time off work and pay for gas and a hotel room. Other laws force women to go through potentially distressing procedures, such as viewing their own ultrasound photos, in order to move forward with an abortion.

REALITY: Women rarely cite pressure from family or partners as leading to their decision to abort. A 2005 study from the Guttmacher Institute found that less than 1 percent of women surveyed cited such pressure among their main reasons for having an abortion. A 2013 study from UCSF reached a similar conclusion, and found that while women rarely cited partner coercion as a reason they sought an abortion, many did cite the desire to escape a bad relationship or domestic violence.

REALITY: Most women who have abortions are already mothers. Sixty-one percent of women who had abortions in 2008 were mothers, and 34 percent had two or more children, according to the Guttmacher Institute. That number only increased after the 2009 financial downturn. The National Abortion Federation told Slate that between 2008 and 2011, 72 percent of women seeking abortions were already mothers. A study from Guttmacher found that mothers typically have abortions to protect the children they already have; they simply cannot afford to raise another child.

REALITY: Requiring abortion clinics to meet these standards does little to improve patient safety and forces many to shut down. Currently, 22 states require abortion clinics to meet a set of restrictive and often arbitrary standards, dictating that they be close to hospitals and that their hallways and closets meet certain measurements. Clinics often need to undergo expensive renovations in order to comply, and leading doctors' groups say the laws do little to improve patient safety. What's more, 11 states now require that doctors at abortion clinics obtain admitting privileges at a nearby hospital, but many hospitals flat-out refuse to grant these privileges. As a result, hospitals essentially have the power to shut down nearby clinics.