Toronto Missing Capybaras: One High Park Zoo Rodent Found, One Still On The Loose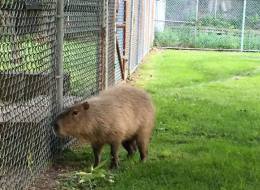 TORONTO — One of two large rodents that escaped a Toronto zoo has been rounded up.
According to social media posts by Toronto City Coun. Sarah Doucette and local media reports, one of the capybaras was recaptured on Sunday.
Doucette posted on Facebook Sunday night that the capybara, which resemble a tailless beaver with short legs, is resting.
The two creatures, one male and one female, escaped from the High Park Zoo about two weeks ago.
The six month old capybaras, dubbed Bonnie and Clyde by zoo staff, took off while they were being introduced to their enclosure for the first time as part of an exchange with another zoo.
Toronto TV station CP24 reported that zoo staff weren't saying exactly how and where the animal was found.
Also on HuffPost:
An African stork and a capybara are seen at Schonbrunn zoo in Vienna on June 10, 2009. Schonbrunn zoo presents an ecological project, called 'Trouble in Paradise,' which run until October 2009. AFP PHOTO/JOE KLAMAR (Photo credit should read JOE KLAMAR/AFP/Getty Images)

Cub of South American tapir which was born 27th of September 2012 is seen with capybara in zoo in Brno, Czech Republic.

american wood stork mycteria...

snowy egret egretta thula ...