Alex Radita's Father Allegedly Threatened Social Worker To Keep Sniper-Range Distance From Home
The father of a Calgary teen who died of starvation and untreated diabetes warned a social worker to not come within sniper range of his home, a welfare official testified Monday.
"He said he'd been a former member of the Romanian special forces and I was waging psychological warfare," B.C. social worker Richard Gage testified at the Court of Queen's Bench, the Calgary Sun reported.
Emil Radita, 59, and his wife Rodica, 53, are on trial for first-degree murder in the death of their 15-year-old son Alexandru.
"He said he'd been a former member of the Romanian special forces and I was waging psychological warfare."
When Alexandru was in kindergarten, he was briefly placed in B.C. foster care after he was hospitalized for starvation and being denied diabetic care at home, the court heard last week.
After Alexandru was returned to his parents, he was monitored by social workers for a few years before his family fled to Alberta in 2009.
For the next four years, he would not see a social worker or a doctor until he died in 2013. At the time of his death, a few months after his 15th birthday, he was found covered in ulcers and weighed 37 pounds.
On the day of Alexandru's death, his parents told members of their church their son had died and been resurrected by God, according to CBC News.
Churchgoers came to the Radita home to pray, where, after seeing the boy's emaciated and body, told his parents to call 911.
"When I saw him I know it's a big problem… I knew he was not alive anymore," pastor Nicolai Brancu told Global News. "I told Emil you have to call the ambulance."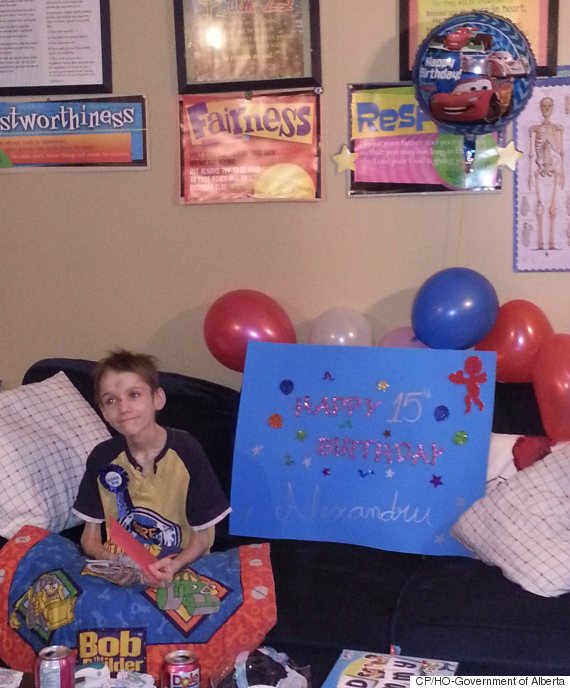 Alexandru Radita, pictured at his 15th birthday party just months before his death. (Photo: CP/HO-Government of Alberta)
B.C.'s child advocate Mary Ellen Turpel-Lafond says it's not uncommon for parents like the Raditas to evade child welfare by switching provinces.
"We have people who are just on the lam," she told The Canadian Press. "They flee child welfare in one province and then go to another province to make a fresh start. Frequently the child-welfare system in the province that loses them just closes the file, which is what happened with the young boy here."
With files from The Canadian Press
Like Us On Facebook
Follow Us On Twitter
Also on HuffPost:
Commonly referred to as Juvenile Diabetes, because it's often diagnosed in childhood. However, it can also be diagnosed in adults. Type 1 diabetics have a pancreas that produces little or no insulin, which requires insulin management through medication that is usually injected.

Type 2 diabetes is a chronic condition that almost always develops in adulthood — which is why it's sometimes referred to as adult-onset diabetes. "About 90 per cent of diabetics are Type 2, meaning that their ability to produce adequate levels of insulin is highly compromised and they have significant levels of insulin resistance," says Dr. Barry Sears, president of the Inflammation Research Foundation. "The combination leads to significant increases in a variety of additional disorders — in particular heart disease and Alzheimer's — in addition to the standard problems of loss of vision, increased amputation, and kidney failure."

Insulin is a hormone. It's produced by the islet cells of the pancreas, and its role is to regulate glucose levels in the blood. The pancreas secretes insulin into the bloodstream, where it works to allow sugar to enter the cells and lowers the level of sugar in your bloodstream. As blood sugar drops, the secretion of insulin from the pancreas does too. While both types of diabetes involve insulin and the functioning of the pancreas, there are key differences in their causes and treatments.

Symptoms of type 1 diabetes include the emergence of bedwetting in children, frequent thirst, frequent urination, unintended weight loss, extreme hunger, blurred vision, and fatigue.

With type 2 diabetes, the condition can exist for years before diagnosis. But many of the symptoms are the same as with type 1: blurred vision, unexplained weight loss, excess thirst and urination, fatigue. Also watch for sores or infections that are slow to heal, as type 2 diabetes can affect your ability to heal and fight infection. As well, areas of darkened skin (acanthosis nigrican) in creased areas like the armpits and neck are a sign of insulin resistance.

A variety of factors may contribute to the development of type 1 diabetes, according to the Mayo Clinic, including possible genetics and exposure to certain viruses. Risk factors for the disease include family history and young age, with peaks in outset occurring between ages 4 and 7 and ages 10 and 14.

With type 2 diabetes, the risk factors include having excess fatty tissue, carrying fat around the abdomen, having a family history of diabetes, being inactive, having polycystic ovary syndrome, and getting older. As well, people of black, Asian, Hispanic, and Aboriginal backgrounds are at higher risk of developing type 2 diabetes, though it's not known why.

Interestingly, the incidence of type 1 diabetes increases as you travel away from the equator, according to the Mayo Clinic, leading some researchers to think it could develop more readily in winter than summer. The highest incidences of type 1 diabetes are found in Finland and Sardinia, for example, where rates are about double or triple those in the U.S. and 400 times those in Venezuela.

It's unknown exactly what causes type 1 diabetes, but in those with the condition, the immune system attacks the insulin-producing cells of the pancreas. In type 2 diabetes, the islet cells are still functioning as they should, to release insulin — the problem instead is that the pancreas doesn't produce enough insulin, the body becomes resistant to the insulin, or both. But while we know about some contributing factors, it's also not known exactly what causes type 2 diabetes.

Type 1 and type 2 diabetes can both have serious effects on your health if not managed. Diabetes can affect your eyes, heart, blood vessels, nerves, and kidneys, though keeping your blood sugar levels well managed does a lot to mitigate these effects. Nerve damage can manifest in loss of feeling or pain, usually beginning in the feet or hands. It could cause gastrointestinal problems or erectile dysfunction. Damage to the blood vessels in the kidneys can lead to kidney failure or kidney disease. Eye problems are also seen in some diabetics, and problems in pregnancy are also a risk.

Prevention of type 2 diabetes can be done in part through dietary choices, and making sure you get enough magnesium may be one of them. "Magnesium plays a pivotal role in the secretion and function of insulin," Dean says. "Without it, Type 2 diabetes is inevitable." Measurable magnesium deficiencies is common with the condition, she says, and related to many of the related complications.

Managing stress and anxiety can also help to keep your overall health steady, including possibly staving off type 2 diabetes. "The connection between stress, obesity and diabetes cannot be overlooked," Dean says. "The stress chemical cortisol signals a metabolic shutdown that makes losing weight almost impossible. Magnesium can neutralize the effects of stress and is known as the anti-stress mineral." And of course, if you do have diabetes, it's easier to manage your condition if you aren't overwhelmed.

There is no cure for type 1 diabetes, though the disease is manageable and treatment has advanced considerably in recent decades. Those with type 1 diabetes must take insulin for the duration of their lives; the physician works with the patient to find the best insulin and dose for blood sugar maintenance. Other medications may be required for related conditions. Not all type 2 diabetics require insulin therapy, but some do. For both types, regular exercise and a healthy diet, along with weight control, can also help keep glucose levels consistent.

For some type 2 diabetics, bariatric surgery may be an option to lose weight and control the disease. However, the surgery does involve serious risks that should be discussed with your physician.

If you suspect you or a family member has type 1 or type 2 diabetes, it's important to seek medical help as soon as possible. It may be helpful to keep track of your symptoms leading up to the appointment, and go in with a list of your medications and general information about your diet and exercise routines.