'Border Security' Reality Show Cancelled After It Violated Deportee's Privacy
OTTAWA — Canada's border agency is pulling the plug on the controversial reality TV program "Border Security'' after the federal privacy commissioner found the agency violated the rights of a construction worker filmed during a raid in Vancouver.
Privacy commissioner Daniel Therrien recently informed the British Columbia Civil Liberties Association, which spearheaded a complaint on behalf of Oscar Mata Duran, that the Canada Border Services Agency breached the Privacy Act by allowing production company Force Four to film the agency's examination of the migrant labourer.
"As a matter of principle, it is our view that federal government institutions cannot contract out of their obligations under the Act,'' says the commissioner's 26-page report of findings.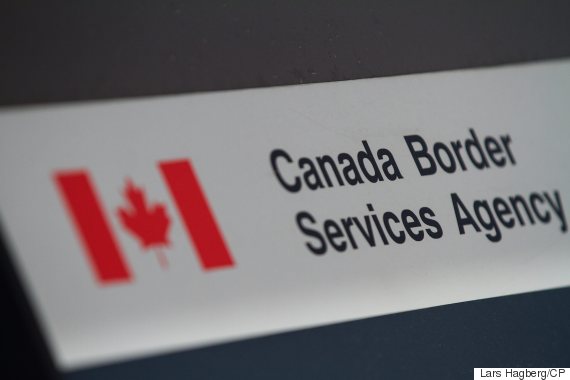 In light of the well-founded complaint, Therrien's office recommended the border agency end its participation in the television program, which the agency agreed to do.
Agency spokeswoman Esme Bailey confirmed that `"Border Security: Canada's Front Line'' would not return for a fourth season.
The commissioner also urged the agency to carry out a formal privacy impact assessment before embarking on any significant future initiative involving the use of personal information.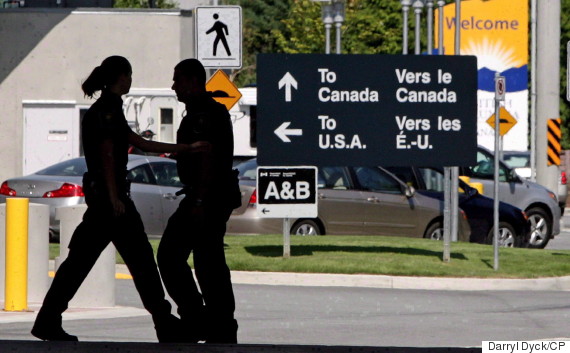 Canadian border guards are silhouetted as they replace each other at an inspection booth at the Douglas border crossing on the Canada-USA border in Surrey, B.C., on Aug. 20, 2009. (Photo: Darryl Dyck/CP)
"Border Security'' began airing on the National Geographic Channel in 2012, chronicling encounters between border officers and the public. The unscripted series was seen by millions of Canadians and has aired in dozens of other countries.
The border agency saw the show as a means of informing Canadians and international audiences about its activities.
Opponents who considered the program crass and exploitative had long pushed for its demise.
The show amounted to a "reckless public-relations stunt,'' said Laura Track, counsel for the civil liberties association.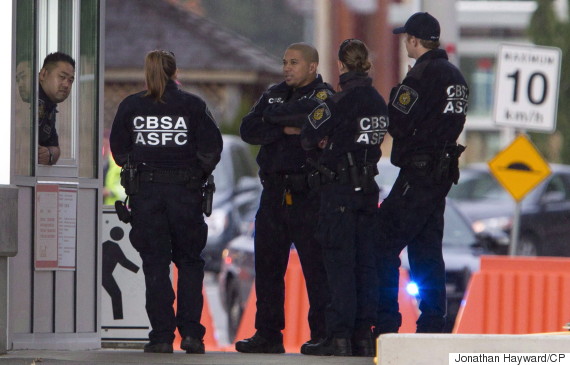 Members of the Canadian Border Services Agency gather at the Canadian border crossing in Surrey, B.C., on Oct. 16, 2012. (Photo: Jonathan Hayward/CP)
The association hopes the privacy ruling sounds the death-knell for similar reality TV shows featuring law-enforcement agencies, she said in an interview. "Filming people in such vulnerable situations is dehumanizing, and showing it as for-profit entertainment is despicable. And what the privacy commissioner decided this week is that it's also illegal.''
The border agency told the commissioner the TV program was strictly based on voluntary participation, adding the show would not identify anyone who had not directly agreed to participate.
During the agency raid of March 13, 2013, Mata Duran hid inside a building on the construction site but he was found and questioned by an officer about his identity, immigration status and employment. The Mexican man was later brought to an immigration detention facility, where he says he was presented with a consent form that he did not read but signed out of confusion and fear.
"... reckless public-relations stunt."
Upon viewing the raw footage taken by the film crew, the privacy commissioner's office concluded the entire interaction between the border officer and Mata Duran was captured on video before he was advised of the purpose of the filming, let alone asked for his permission.
Ultimately, the commissioner was not satisfied that the border agency obtained Mata Duran's "valid consent'' for the filming.
In general, the office concluded that due to the "coercive nature'' of being detained by the border agency, those held "may not have a clear frame of mind to provide truly voluntary consent.''
Mata Duran's case raises the overarching question of whether "there is a public interest to be served by a government institution televising its operational activities,'' the commissioner's report adds.
After the raid, Mata Duran was deported to Mexico, where he remains.
Track lauded him as "a real hero'' for lodging the privacy complaint when there was no prospect of personal gain, other than an acknowledgment "that what happened to him was wrong.''
Also on HuffPost:
Cross-Border Shopping: What You Need To Know
The biggest change to cross-border shopping is the increased allowances to duty-free purchases. Canadian travellers outside the country for more than 24 hours can now bring in up to $200 in goods. The previous limit was capped at $50. Photo courtesy of: Flickr/ blmurch

As of June 1, Canadians who find themselves outside of the border for 48 hours or longer will have their allowance double from $400 to $800. The limit for travellers outside of the country for more than seven days has also changed. Their limit has increased by $50 from $750 to $800.

For those looking to capitalize on the new duty-free rules, here's some advice: plan accordingly as the new rules are still time sensitive. For example, Canadians can't claim duty-free status on any goods if their trip less than 24 hours. Also, the date you left Canada doesn't count towards your trip length, but the day you return can.

The duty-free status still only applies if your purchases are for personal use. That means it can be for your house, a souvenir, or anything else for your own personal enjoyment. However, if it's anything for commercial use, expect to pay full duties. Also, while you can bring back gifts for other people under your duty-free allowance, that allowance can't be shared with other people.

The rules regarding alcohol purchases outside of Canada still hold true, despite the increased in allowance. For example, you can only claim duty-free status if your trip is 48 hours or longer in length. Also worth noting is that only one of the following items can count towards your allowance: 1.14 L (40 oz.) of liquor; OR 1.5 L of wine; OR 24 X 355 ml (12 oz.) containers of beer.

Shoppers can expect to rake in many goods across the border with Canada's new rules, but certain items are still off limits. For example, certain fruits, meats and vegetables are prohibited from entering Canada as are weapons such as guns, mace, and pepper spray -- something worth noting if you find yourself at the local gun show.

Much like alcohol, the rules to tobacco are still in effect. Canadians need to be outside of the country for at least 48 hours but can bring in any of the following as part of their duty-free purchase: 200 cigarettes; 50 cigars or cigarillos; 200 tobacco sticks; and 200 g (7 oz.) of manufactured tobacco.

Now that the purchases have been made, all that's left is to get them back into Canada and that's where receipts come into play. Canadian Border Services Agency workers may ask for proof of any purchase and having them on hand may be the difference maker between a five-minute process and a five-hour delay. Receipts can also help verify how long your trip was based on the date of your purchases.

Canadians can now make more purchases over the border but they still need to be sure that they can bring everything back. That's because the CBSA still limits the duty-free status to goods on your possession when returning. There is one exception to this rule though: travellers gone longer than seven days can have the duty-free status apply to their goods delivered to them via mail, courier, or by a delivery agency.