Reese Witherspoon Kids: Actress Celebrates Her Son's Graduation
Reese Witherspoon's second child, Deacon, has reached a major milestone: he's graduating from elementary school!
On Saturday, the 40-year-old actress shared a sweet snap with her growing boy on Instagram. She captioned the photo: "Off to Jr. High! Yay, Deacon! #proudmom."
Twelve-year-old Deacon is the youngest child of Witherspoon and ex Ryan Phillippe. The former couple had two kid during their famed marriage in the 2000s. Their eldest, Ava, is now 16 years old and gained media attention thanks to her uncanny resemblance to her famous mom.
Deacon, on the other hand, has managed to stay out of the limelight. However, thanks to Witherspoon's recent photo with her son, we can see that he inherited the perfect mix of genes from both parents. Just take a look below.
Here's a shot of Witherspoon and Phillippe in 2006 at the 78th Annual Academy Awards.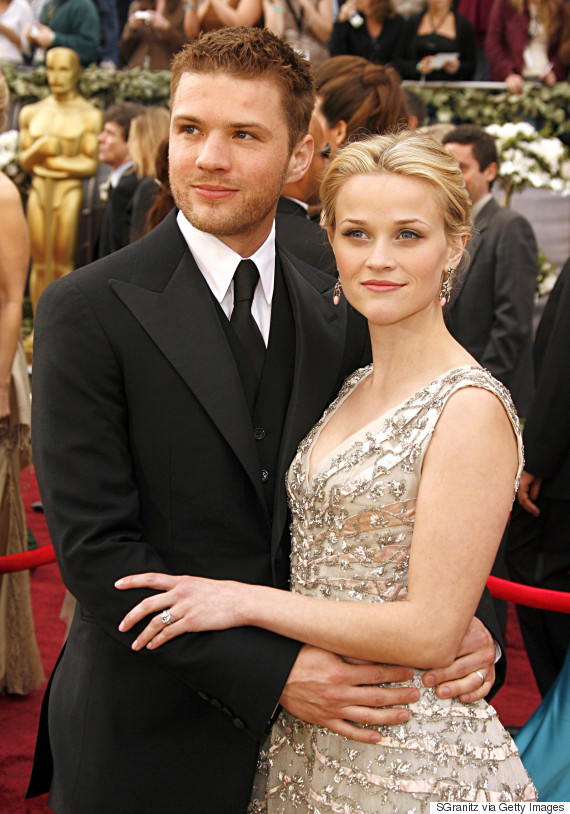 And here's a snap of Deacon with Witherspoon's third child, three-year-old Tennessee, who she had with husband Jim Toth.
See the resemblance?
Since Witherspoon and Phillippe split in 2007, they have remained on good terms and continue to raise their two kids together.
In 2015, the "Hot Pursuit" star opened up to Southern Living magazine about being a working mom. "No one's really doing it perfectly," she said. "I think you love your kids with your whole heart, and you do the best you possibly can."
ALSO ON HUFFPOST:
Most Surprising Celebrity Divorces
m. 2005-2010 Right after Sandra Bullock won the Oscar for Best Actress in "Blind Side," she was hit with a huge scandal regarding her marriage to Jesse James. After 5 years, it seemed the motorcycle customizer had been cheating on the actress with multiple women. Many of these women spoke to the press about the affairs, which is how the incident came to light. At the time, Bullock and James were in the process of adopting their son Louis. However, after the scandal, the couple divorced and Bullock continued her son's adoption alone. Today, Louis is 5 years old and his mom is doing better than ever.

m. 1999-2013 Courteney Cox and David Arquette finalized their divorce in 2013 after 12 years of marriage. The couple originally announced their separation in 2010 and filed for a divorce two years later. Both Cox and Arquette have joint legal and physical custody of their 11-year-old daughter Coco. Amazingly, the two are still good friends. Coco is Cox's only child. Arquette, on the other hand, also has a 1-year-old son named Charlie, who he had with second wife Christina McLarty.

m. 2005-2015 In June 2015, fans were devastated to learn that one of Hollywood's most beloved couples was splitting up. After 10 years of marriage, Jennifer Garner and Ben Affleck announced their divorce. The couple has three kids: Violet, 9, Seraphina, 6, and Samuel, 3. According to TMZ, the couple is splitting up on good terms and will share joint custody of their children after their divorce is finalized.

m. 2006-2012 How could anyone forget Tom Cruise and Katie Holmes after their whirlwind romance in the public eye? The two met in 2005, quickly fell in love and became engaged. They then married in 2006, and in that same year welcomed their daughter Suri. Unfortunately, their marriage only lasted 5 years before they decided to call it quits. Suri is now 9 years old and looks exactly like her mother. Suri is Holmes's only child, while Cruise is also a father to Connor and Isabella, who he had with Nicole Kidman.

m. 1990-2001 Speaking of Nicole Kidman, the Oscar-winning actress was famously married to Tom Cruise for 11 years. In 2001, the couple filed for a divorce citing irreconcilable differences. They have two adopted kids together, Isabella and Connor, who are now young adults. While Cruise is still single after his divorce from Katie Holmes, Kidman remarried. The 48-year-old actress tied the knot with country singer Keith Urban in 2006. They then went on to have two kids, Sunday and Faith, via surrogate.

m. 2003-2014 After 11 years of marriage, Gwyneth Paltrow and Chris Martin surprised the world by announcing that they would be "consciously uncoupling." In other words, the couple decided to separate. A statement on Paltrow's website Goop read, "We have been working hard for well over a year, some of it together, some of it separated, to see what might have been possible between us, and we have come to the conclusion that while we love each other very much we will remain separate." Paltrow and Martin are parents to two kids: Apple, 11, and Moses, 9.

m. 2004-2014 Amazingly, Jennifer Lopez and Marc Anthony were married for 7 years! However, just one month after celebrating the milestone in 2011, the couple announced their intentions to end their marriage. No exact reason was given for their decision and their divorce was finalized a few years later in 2014. Lopez and Anthony married in 2004 and welcomed twins Emme and Max four years later. The twins are now 7 years old.

m. 2002-2015 After 13 years of marriage Gwen Stefani and Gavin Rossdale announced their divorcing. The couple has three kids together: Kingston, 9, Zuma, who is almost 7, and Apollo, 17 months. But despite the split, the couple says they "remain partners in parenthood and are committed to jointly raising our three sons in a happy and healthy environment." Rossdale also has a 26-year-old daughter named Daisy Lowe, who he had with his ex Pearl Lowe.

m. 2010-2013 In October 2013, Orlando Bloom and Miranda Kerr announced that they were separating. This came as a shock to many, as the couple were not thought to have been experiencing difficulties. The couple began dating back in 2007 and became engaged in 2010. After their marriage, they announced that year that they were expecting. Then in January 2011, their son Flynn was born. He is now 4 years old.

m. 2005-2012 In 2012, Heidi Klum and Seal surprised everyone when they announced their separation. By that time, the couple had been together for seven years and had three children together: Henry, Johan, and Lou. The couple were also parents to a daughter named Leni, who Klum had in a brief relationship with Flavio Briatore. Klum met Seal during her pregnancy with Leni and as a result, Seal became Leni's de facto father.

m. 1987-2000 Bruce Willis and Demi Moore were one hot celebrity power couple. The two were married for just over a decade when they announced they would be separating. Then in 2000, they officially divorced. No exact reason was given to the public. However, regarding his divorce, Willis commented, "I felt I had failed as a father and a husband by not being able to make it work." During their marriage, Willis and Moore had three daughters: Rumer, Scout, and Tallulah. After their divorce, Willis went on to marry model Emma Heming and have two more kids, Mabel and Evelyn. Moore also remarried. She tied the knot with Ashton Kutcher in 2005, but the couple sadly divorced in 2013.

m. 2008-2014 After six years of marriage, Mariah Carey and Nick Cannon decided to call it quits. According to reports from August 2014, the couple had been living apart for months. In December of that year, Cannon officially filed for divorce. During their marriage, the couple had twins Monroe and Moroccan. They are now 4 years old and cute as ever!

m. 1999-2007 These two met in their early twenties and married soon after. Reese Witherspoon was only 23 and Ryan Phillippe was 25. The couple then went on to have two kids, Ava and Deacon, before divorcing in 2007. Witherspoon went on to marry Jim Toth in 2011. The 39-year-old and Toth have one child together named Tennessee. Phillippe has yet to remarry, but he has been steadily dating Paulina Slagter since 2011.

m. 2010-2014 In January 2014, Hilary Duff and Mike Comrie announced that they would be parting ways. Duff's rep told People Magazine, "[They] have mutually decided [upon] an amicable separation. They remain best friends and will continue to be in each other's lives. They are dedicated to loving and parenting their amazing son, and ask for privacy at this time." Duff, 27, and Comrie, 34, are parents to 3-year-old Luca.

m. 2003-2014 After ten years together, Idina Menzel and Taye Diggs called it quits. A rep confirmed to People Magazine in December 2013 that the couple was separating. But despite the sad news for their marriage, the duo declared that their primary focus was on their son, Walker, who is 5 years old.

m. 2004-2007 You may or may not have been surprised by Britney Spears and Kevin Federline's split in 2007. After all, they were so young when they married! Spears was only 22 and Federline was 26. During their marriage, the couple had Irish twins Sean and Jayden, who were born almost exactly one year apart. The boys are now 9 and 8 years old and are Spears' only children. Federline, on the other hand, is also a father to four other kids, who he had with various women.

m. 2003-2012 The comedy world mourned when this hilarious couple called it quits. RadarOnline reported that the reason for the couple's split was because their romance "fizzled out." Poehler and Arnett were married for 9 years and have two sons, Abel and Archibald.

m. 2008-2011 Ashlee Simpson filed for a divorce from Pete Wentz in 2011, citing irreconcilable differences. This was after the couple had been together for three years. During their marriage, Simpson and Wentz had one child together, a son named Bronx. Simpson is now married to Diana Ross's son Evan and the couple recently welcomed a baby girl named Jagger Snow. Wentz also went on to have another child. He had his second son Saint Lazslo with model girlfriend Meagan Camper.

m. 2002-2006 Denise Richards and Charlie Sheen have a pretty sticky relationship. When Richards was pregnant with their second daughter in 2005, she filed a divorce from Sheen. While they reconciled shortly after, Richards' rep then announced a year later that the actress would be continuing with the divorce. Richards and Sheen have two daughters together: Sam and Lola. Richards then, on her own, adopted her third daughter, Eloise, as a single parent. As for Sheen, he also has three other children: Cassandra, Max, and Bob.

m. 1996-2014 Melanie Griffith and Antonio Banderas filed for divorce in June 2014, citing irreconcilable differences. The two were married for 18 years and had one child together named Stella. This is Griffith's fourth divorce (remember she married Don Johnson not once, but twice?) and Banderas' second marital split. Griffith is also a mom to Dakota and Alexander.

m. 1986-2011 Shockingly, in 2011, Arnold Schwarzenegger and his wife of 25 years, Maria Shriver, separated. After their announcement, the public learned of Schwarzenegger's affair with the family's housekeeper, which resulted in his fifth child. The 68-year-old actor-turned-politician is a father to Patrick, Christina, Katherine, and Christopher, who he had with Shiver. His fifth child, Joseph Baena, was born to him and his family housekeeper.

m. 2005-2014 Robin Thicke and Paula Patton have known each other a long time. The two met in Los Angeles when Patton was 15 and Thicke was 14. Then, more than a decade later, the two married and welcomed a son named Julian, who is now 5 years old. Unfortunately, things didn't work out for the couple and they announced in February 2014 that they would be separating. "We will always love each other and be best friends, however, we have mutually decided to separate at this time," their statement said.