NDP Considers New Rules For Choosing Its Next Leader
OTTAWA — The New Democrats are thinking about adopting a completely different process for choosing a new leader, forgoing a traditional leadership convention in favour of a series of smaller-scale events over the course of a month.
The NDP executive is recommending a new leader be chosen sometime between Oct. 1 and Oct. 31 of next year, with rounds of voting through a preferential, ranked ballot taking place about once a week until a candidate reaches the threshold of 50 per cent of the vote plus one required to be declared the winner.
The proposed rules — still subject to change as they have not yet been debated or adopted by the NDP's federal council — would be a marked departure from the way the NDP chose Tom Mulcair to succeed Jack Layton in 2012.
Then came the 2015 electoral result, when the NDP dropped to 44 seats from the 95 they held going into an election campaign that early polls suggested was theirs to lose.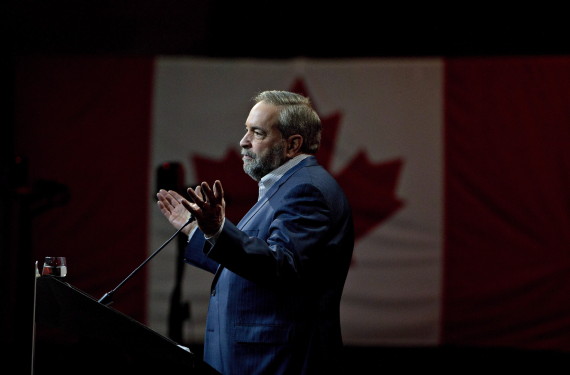 Thomas Mulcair makes a speech during the 2016 NDP Federal Convention in Edmonton, April 10. (Photo: Jason Franson/The Canadian Press)
At the party convention in Edmonton this April, Mulcair lost a vote to remain on as leader for the 2019 election, although caucus decided to keep him on as interim leader until a successor can be chosen.
The grassroots membership had sent a clear signal they were looking to try something different for upcoming leadership race, said one party source, and the proposed rules released Tuesday are an attempt to answer that demand.
It is also a way to move away from the artificial suspense at a leadership convention that uses a one-member, one-vote system, engage more grassroots party members across the country and keep costs down.
How it would work:
Anyone who is a member in good standing of the NDP as of Aug. 17, 2017, can cast a vote.
The NDP would organize a "candidates showcase" event before the voting period begins, where each candidate would get to make a speech that members who cannot attend would get to watch simultaneously online.
The polls for the first ballot would open Sept. 18, 2017, with members having until Oct. 1 to make their choice.
Those results would be announced at another party-organized event, in a different part of the country.
If there is no winner on the first ballot, the polls for the second ballot would open Oct 2, 2017, and so on once a week until a new leader has decided.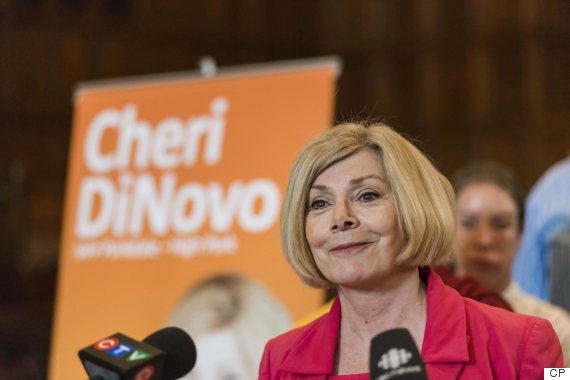 Ontario New Democrat MPP Cheri DiNovo announced her candidacy for leadership of the federal NDP on June 7. (Photo: Christopher Katsarov/CP)
The final ballot polls, should things go that far, would close Oct. 29, 2017.
The proposal, which NDP president Marit Stiles emailed to members of the federal council this week, also suggests parameters for other aspects of the race.
The federal council decided in May that each candidate would be able to spend up to $1.5 million on their leadership campaign.
That limit does not include expenses related to fundraising, travel, child care or replacement salary, or the registration fee and the 25-per-cent administration fee the party will be taking from all donations to leadership campaigns.
Those seeking to throw their hat into the ring would have to shell out $30,000 — also set in May — and register by July 3, 2017.
500 signatures from across Canada
They would also need 500 signatures from registered party members in different regions of Canada.
At least half of them must be from "female-identified members," the proposed rules say, and at least 100 signatures must also come from "other equity-seeking groups," including Aboriginal Peoples, visible minorities, people with disabilities and members of the LGBTQ community.
The proposal also recommends at least two official debates — one in English and the other in French — as well as at least one more bilingual debate dedicated to youth issues.
Only one candidate — Cheri DiNovo, an NDP member of the Ontario legislature — has so far declared her intention to run, but has done so as an "unofficial" candidate because she is refusing to pay the $30,000 entrance fee.
Also on HuffPost:
NDP Leadership Race 2017: Candidates
The Ontario MPP and former deputy leader of the Ontario NDP joined the race in May 2017. A bilingual Sikh known for his social media prowess and fashion sense, Singh is seen as a top contender.

The veteran Ontario MP, first elected in 2004, joined the race in February 2017. He has long been an advocate for indigenous children and has spoken out passionately on behalf of the Attawapiskat First Nation.

The Manitoba MP, first elected in 2008, ran for the federal NDP leadership in 2012 but was eliminated after the first ballot. A strong performer in the House of Commons, she has served in several key critic roles for her party, including indigenous affairs, status of women, and jobs.

The veteran B.C. MP, first elected in 2004, was the first to enter the race. He's fluently bilingual and previously served as the NDP House leader.

An economist by training, Caron was first elected in 2011 and served as his party's finance critic. He joined the race shortly after Julian and Angus.

Who's Almost In?

Stogran is the former veterans ombudsman and a retired Canadian Armed Forces colonel.

El-Khoury, the founder of a Montreal consulting firm, is also registered to run.

UP NEXT: Key NDP MPs defeated in 2015

In the 2015 federal election, Thomas Mulcair's New Democrats fell from 95 seats to 44. And several high-profile incumbents from across the country were defeated, usually to Liberal candidates. Here are a few key names that will not be returning to Ottawa...

First elected: 2006 Riding: Ottawa Centre Shadow cabinet role: Foreign affairs Dewar also ran for the leadership of the party in 2012.

First elected: 2008 Riding: Halifax Shadow cabinet role: Deputy leader, environment

First elected: 1997 Riding: Sackville—Eastern Shore (N.S.) Shadow cabinet role: Veterans affairs Stoffer was named Maclean's magazines Parliamentarian of the year in 2013 and frequently won the most congenial MP award.

First elected: 2008 Riding: St. John's East Shadow cabinet role: National defence Harris was also the longtime leader of the Newfoundland and Labrador New Democratic Party.

First elected: 2011 Riding: Hull—Aylmer Shadow cabinet role: Opposition whip Turmel served as interim NDP leader after Jack Layton stepped down to battle cancer. She was leader of the Official Opposition from August, 2011, to March, 2012.

First elected: 2012 Riding: Toronto Danforth Shadow cabinet role: Democratic and parliamentary reform Scott represented the Toronto riding held by former leader Jack Layton.

First elected: 2008 Riding: Welland Shadow cabinet role: Agriculture and Agri-Food

First elected: 2011 (though she served from 2004-2006 as a Liberal MP) Riding: Gatineau Shadow cabinet role: Justice

First elected: 2011 Riding: Halifax Atlantic Shadow cabinet role: Fisheries, deputy employment insurance Chisholm served as leader of the Nova Scotia New Democratic Party and ran for the federal leadership in 2012.

First elected: 2011 Riding: St. John's South—Mount Pearl Shadow cabinet role: Atlantic Canada Opportunities Agency

First elected: 2011 Riding: Newton—North Delta Shadow cabinet role: Employment and Social Development

First elected: 1997 Riding: Winnipeg Centre Shadow cabinet role: Public Works and Government Services Martin is perhaps the most quotable politician in Canada.

UP NEXT: Defeated Harper cabinet ministers

Though Stephen Harper was re-elected in his Calgary riding in the 2015 federal election, many members of his cabinet went down in defeat. Here are some key figures from Harper's inner circle who will not be returning to Ottawa...

Cabinet position: Minister of citizenship and immigration Riding: Ajax First elected: 2011

Cabinet position: Minister of finance Riding: Eglinton-Lawrence (Toronto) First elected: 2011 Oliver also previously served as minister of natural resources

Cabinet position: Minister of aboriginal affairs Riding: Madawaska—Restigouche (N.B.) First elected: 2011 (though he was a Progressive Conservative MP from 1984 to 1993).

Cabinet position: Associate defence minister Riding: Vaughan First elected: 2010 Fantino is probably better remembered for his controversial tenure as minister of veterans affairs.

Cabinet position: Minister of the environment Riding: Nunavut First elected: 2008 Aglukkaq previously served as minister of health, and was the first Inuk in Canadian history named to federal cabinet.

Cabinet position: Minister of natural resources Riding: Kenora First elected: 2008 Rickford previously served as minister of state for science and technology.

Cabinet position: Minister of fisheries and oceans Riding: Egmont (P.E.I.) First elected: 2008

Cabinet position: Minister of state for multiculturalism Riding: Edmonton—Sherwood Park First elected: 2008 Uppal also previously served as minister of state for democratic reform.

Cabinet position: Minister of state for science and technology Riding: London West First elected: 2008

Cabinet position: Chief government whip Riding: Vancouver Island North First elected: 2008 (though he also served as an MP from 1993 to 2006). Duncan previously served as minister of aboriginal affairs.