Christine Moore And Her Daughter Have Made Parliament A Better Place For Families
OTTAWA — MPs can now call on Mrs. Doubtfire and Mary Poppins types to take care of their young ones. The House of Commons launched a new child-care service Monday, ahead of a much-anticipated report on making Parliament more inclusive and family-friendly.

The Short-Term Child Care Program is being offered by Andrew Fleck Child Care Services and is available for children from age three months to 12 years while MPs are working in Ottawa. Any MP who uses the service must pay the $14.44/hour out of their own pocket.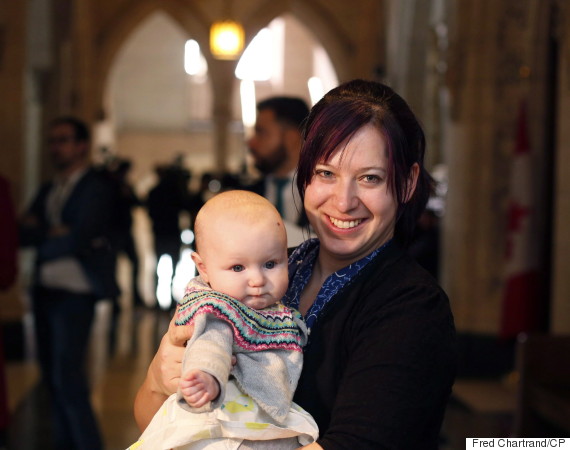 NDP MP Christine Moore holds her daughter Daphnee just outside the House of Commons,on Parliament Hill in Ottawa, Tuesday, March 8, 2016. (Photo: Fred Chartrand/CP)
NDP MP Christine Moore, the poster child for working mothers on Parliament Hill, told The Huffington Post Canada Monday she had used the service for about a week as a test case and was incredibly happy with it.
Her nine-month-old daughter, Daphnée, is usually a fixture by her side in the halls of Parliament, either in a stroller or in Moore's arms. Sometimes you can hear Daphnée's soft wailing in the Commons.

Monday afternoon, however, Moore was baby-free. Looking relaxed, she explained she had just left Daphnée in her office with a caregiver who would be there from 1 p.m. to 5 p.m. while Moore attended question period and went about her parliamentary duties without worrying about her child or having her arms full.

"She takes care of my daughter, she plays with her. I'm able to work … and I can be in question period without any stress," she said, smiling.
"If you just learn in the morning that you will sit until midnight, it's those times that you get screwed."
— NDP MP Christine Moore

Moore pressed for the short-term, on-call service because of the unpredictability of her working hours, she said.
"If you just learn in the morning that you will sit until midnight, it's those times that you get screwed," she said.

"For me, it's not the price, it's just to make sure that I don't have to worry. If I have to pay, I will pay, it's a reasonable price for a nanny. It's a market price and it's tax deductible. It's fine."

Before Monday, there were no services on the Hill that could help, she said. The Children on the Hill daycare, located in one of the Parliamentary buildings, doesn't have extended hours and only takes children older than 18 months.
Now, the Commons takes care of security clearances and finds her a nanny with just one phone call. "I don't need to search, I just say I need these hours and it's really easy for me."

Unlike some of her former colleagues in the NDP who gave birth during the last Parliament, Moore said her partner isn't able to take parental leave and join her in Ottawa because his school-aged daughter needs to remain her Abitibi-Témiscamingue riding. So every week, Moore makes the six-plus-hour drive alone, not including breastfeeding breaks, each way. Sometimes she sleeps en route as she did on Sunday night, stopping in Maniwaki, Que.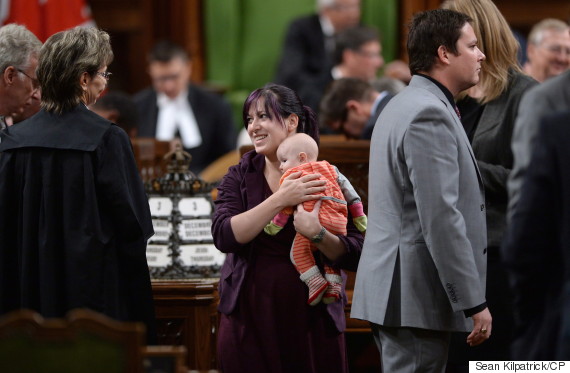 NDP MP Christine Moore holds Daphnee as she votes for the new speaker of the House of Commons on Thursday, Dec. 3, 2015. (Photo: Sean Kilpatrick/CP)
"I was the only one for a long time who lives far away from Parliament, couldn't have access to her husband, so it is really different. Maybe it makes the people realize that we have to organize services to make sure that we can continue to do our work. I think it is why there is a big difference right now.

"But when you don't work with a little baby, there are thousands of stuff you don't notice," she said.

A change counter in the women's washroom is situated right next to an electrical plug, she notes as an example.

"If you've never been with a baby to the cafeteria, you will never notice that the high chairs are not there or not appropriate," she added.

Moore pushed for many changes with the help of her party's whip, Marjolaine Boutin-Sweet, and Commons Speaker Geoff Regan.
Other changes on the Hill

In March, reserved parking spots were set aside for pregnant MPs and those with babies. A new family room with a crib, small bridge, bottle warmer, change table, diaper disposal unit, high chair, reclining chair, work area, microwave and skink was established for MPs, their spouses and young children.
There could be bigger changes coming when the Commons' procedure and House affairs committee tables its report on making Parliament more efficient, inclusive and family-friendly, as early as Wednesday.
MPs have discussed using a second chamber to use for debates in order to speed up the House business, implementing electronic voting to reduce hours spent in the chamber, and getting rid of Friday sittings to help parents spend more time in their ridings with their children.
'I'm the one who really pushed for it'
But Moore isn't convinced the committee's report will change the way the Commons functions — for now.
"The committee's scope was really large so I think the report will discuss areas in which the committee can move forward," she said.
What she hopes to see is action on sick leave, parental leave, and adoption leave, that allows MPs to recuperate or spend time in their riding while still fulfilling many of their parliamentary duties, such as voting.

But for the moment, Moore is just pleased to have the nanny service.
"I'm the first one who tried it because I'm the one who really pushed for it. But I figure in the fall, much more people will use it," she said.
Also on HuffPost:
Liberal Women Appointed To Cabinet
Minister of Justice and Attorney General of Canada Wilson-Raybould is a former Crown prosecutor and regional chief of the B.C. Assembly of First Nations.

Minister of Indigenous and Northern Affairs A family physician who has been an MP since 1997, Bennett was Canada's first minister of state for public health and oversaw the 2003 response to the SARS epidemic. In recent years, Bennett has served as the party's vocal critic on aboriginal affairs.

Government House Leader and Minister of Small Business and Tourism Chagger, 36, worked for the Kitchener-Waterloo Multicultural Centre. She also worked on Trudeau's leadership campaign.

Minister of Public Services and Procurement An MP since 2008, and the party whip, Foote previously held several cabinet portfolios in Brian Tobin's provincial government.

Minister of International Trade An MP since 2013, Freeland was courted by Trudeau's team when she was a senior editor at Thomson Reuters in New York City.A Rhodes scholar, she is a well-known author and journalist. She was part of Trudeau's team of economic advisers.

Minister of Health Philpott is a family physician, associate professor at the University of Toronto, and former chief of the department of family medicine at Markham Stouffville Hospital.

Minister of International Development and La Francophonie Bibeau worked for the Canadian International Development Agency (CIDA) in Ottawa, Montréal, Morocco and Benin, Africa, before settling and launching her own business in her riding.

Minister of Canadian Heritage Joly, 36, made a name for herself by finishing second to ex-Liberal cabinet minister Denis Coderre in the Montreal mayoral race in 2013. She's a lawyer and communications expert.

Minister of National Revenue A small business owner who has been an elected warden for the Regional County Municipality of Rocher Percé since 2010, Lebouthillier won a seat in Gaspé that the Liberals haven't held in more than a decade.

Minister of the Environment and Climate Change McKenna, a human rights lawer, was a former legal adviser for the United Nations peacekeeping mission in East Timor and founded Canadian Lawyers Abroad (now known as Level), a charity focused on global justice issues.

Minister of Employment, Workforce Development, and Labour Mihychuk was an NDP MLA in Manitoba from 1995 to 2004, serving as minister of industry, trade, and mines, and later minister of intergovernmental affairs. She ran an unsuccessful Winnipeg mayoral campaign in 2004.

Minister of Democratic Institutions Monsef, a community organizer, was born in Afghanistan. She fled the Taliban and came to Canada as a refugee with her widowed mother and sisters in 1996.

Minister of Sport and Persons with Disabilities Qualtrough is a lawyer and former Paralympian. Legally blind, she won three Paralympic and four World Championship medals for Canada in swimming and was president of the Canadian Paralympic Committee.

Minister of Science Elected in 2008, Duncan taught meteorology, climatology, climate change, and medical geography at the university level.

Minister of Status of Women Hajdu was executive director of Thunder Bay's largest homeless shelter.