Canadian Blood Donation Deferral Period Could Be Shortened For Gay Men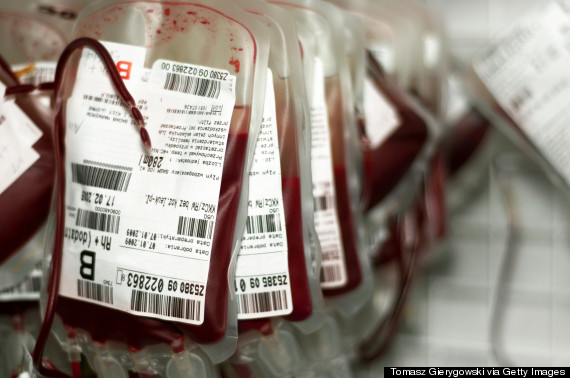 OTTAWA — Health Canada will soon decide whether to ease the restriction on gay men to donate blood — but it likely won't go as far as the Liberals' campaign promise to end the ban completely, The Huffington Post Canada has learned.
The Canadian Blood Services (CBS) and Héma-Québec submitted proposals earlier this spring to reduce the number of years men have abstained from having sex with other men in order to give blood. The agencies recommended dropping the blood donation deferral period from five years to one year.
"We thought that moving to a one-year deferral period would be a reasonable next step," based on scientific information and international practice, said Dr. Mindy Goldman, medical director of donor and clinical services at CBS.
In the U.S., men who have sex with men are prohibited from donating blood within a year of their last sexual encounter.
Strict licensing
A regulatory decision based on those submissions is expected over the summer, Health Canada confirmed.
"Canada has one of the safest blood systems in the world due to its strict licensing, inspection and surveillance requirements," wrote Health Canada media relations advisor Rebecca Gilman in an email to HuffPost.
"Under Canada's blood safety regulations, Canadian Blood Services and Héma-Québec are required to make submissions to Health Canada for any proposed operational changes.
"To be authorized by Health Canada, the data must demonstrate that the proposed change will not compromise the safety of the blood system," Gilman wrote.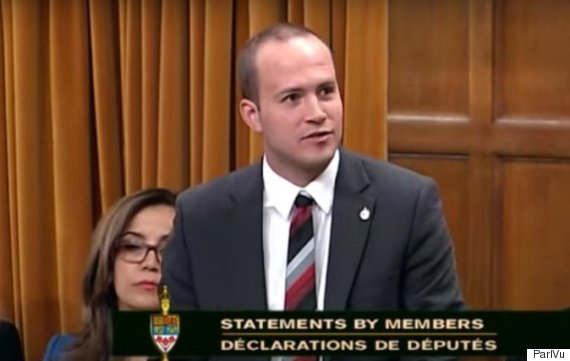 MP Nathaniel Erskine-Smith is seen in the House of Commons earlier this month.
In the House of Commons Tuesday, Toronto Liberal backbencher Nathaniel Erskine-Smith stood to mark World Blood Donor Day, noting that more than 200 of his neighbours had signed up to give blood at a local United church.
"Unfortunately, I am unable to thank the thousands of would-be donors across our country because of our continued policy effectively banning donations from gay and bisexual men regardless of whether they are in a long-lasting monogamous relationship," Erskine-Smith said.
"I am proud of the Young Liberals of Canada for raising attention to this issue and of my government for including a commitment in our election platform to end the ban based on science.
"Other countries, Portugal, Italy, Poland, Mexico, Argentina and Chile, base donor eligibility on a combination of risk factors, not sexual orientation alone, and Canada should do the same," he said.
Tainted blood scandal

In the early 1980s, some 30,000 Canadians became infected with the hepatitis C virus and approximately 2,000 more contracted HIV from contaminated blood products, in what became known as the tainted blood scandal.
The finger was later pointed at the Canadian Red Cross Society for, among other things, inadequately screening at-risk groups and not doing enough to notify recipients of potentially contaminated blood.
Health Canada was also blamed for failing to recognize the threat and taking a passive approach to blood regulation.
As a result, the Canadian Red Cross Society banned men who had sexual contact with other men even once since 1977 from giving blood, considering them "high risk" to spread HIV. That changed in 2013 when Health Canada dropped the ineligibility period to five years.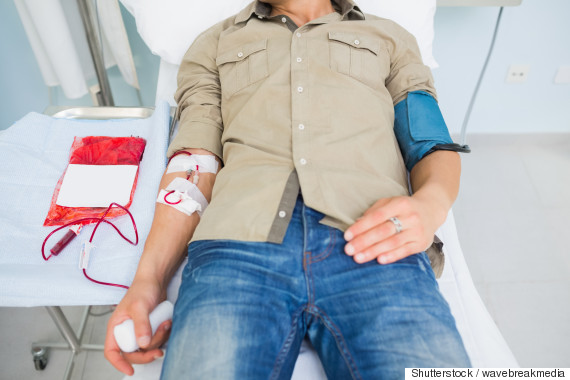 During the 2015 election campaign, the Liberals' promised to end the gay blood donation ban.
"It's a ban that ignores scientific evidence, and it needs to end," according to the Liberal party platform, which pointed out that the current five-year ban on sexually active gay men ignores safe and monogamous relationships.
On Tuesday, the offices of Health Minister Jane Philpott and Prime Minister Justin Trudeau declined to comment.
Trudeau has courted support from the LGBT community. Earlier this month, he raised the Pride flag, which flew for the first time, on Parliament Hill. He is also expected to become the first sitting prime minister to walk in Toronto's Pride parade on July 3.
With files from The Canadian Press
Related on HuffPost:
When Dean Willis' father-in-law needed blood after getting heart-bypass surgery in 1975, he unhesitatingly stepped in to help, News4ajax.com reports. Since then, the coveted O-positive blood donor has given 100 gallons of blood and saved 2,000 lives. "I guess it's a cliché, but you know, it makes me feel good," Willis told the news outlet.

Paul Olsen, 79, donated his 400th pint of blood in August, according to Mainlinemedianews.com. The Pennsylvania native donates platelets, which is key to helping cancer patients, and gives twice a month. "I really feel good [about giving] because it helps other people," Olsen told the news outlet. He hopes to ultimately hit his 500-pint goal.

Honored with the "Golden Heart Award" from the Heartland Blood Centers for having donated blood 200 times, Warren Krup continues to give, despite a disability. "I get to sit and take a break, and it saves a life," the 52-year-old Illinois native told the Courier News. "Why wouldn't you want to do that?"

About 40 percent of dogs are universal donors, making Sparkle, a California-based rescue Greyhound, a critical lifesaver for pooches in need. "For every unit of blood that she gives, she will help at least two other dogs," Mary Beth Bartel, Sparkle's owner, told ABC. Sparkle donates once a month and her name is included on a 24-hour emergency call list.

When Ralph "Rocco" Russo hit his 300th donation at the Dana-Farber Cancer Institute, nurses honored him with a cake, the Boston Channel reports. But, the true reward for Russo is knowing that he's helped save hundreds of lives, including Nicole Sorensen, who battled -- and overcame -- cancer when she was 14. "People will give once. People will give twice," Sorensen told the news outlet. "But to give 300 times every other week religiously is incredibly moving."

Barbara Brinkmann has been donating blood since she was 16-years old, KENS5 reports . "I do it on a regular basis and I enjoy doing it," Brinkmann told the news source. "It's a wonderful way to give back to the community." For her generosity, the San Antonio, Texas resident was rewarded with a brand new 2012 Toyota Tundra pickup truck. Naturally, it's bright red.