Gender-Neutral Washroom In Manitoba Legislature Could Become Reality: Premier
WINNIPEG — Manitoba Premier Brian Pallister, a Progressive Conservative long accused by his NDP opponents of being homophobic, said Tuesday he is considering a request to have a gender-neutral public washroom in the legislature.
Pallister said he received the request while attending Winnipeg's annual Pride rally outside the historic building earlier this month. He is only the second Manitoba premier to have attended the event.
"There's lots of space in this beautiful legislature, and if that's an important issue, then it should be addressed," Pallister said.
"If we can do a better job of accommodating individual needs within the construct of what we have here, we should take a look at it."
While the number of gender-neutral public washrooms is growing at universities and other public buildings, many legislatures across the country have not adopted them, including those in Ontario and Quebec.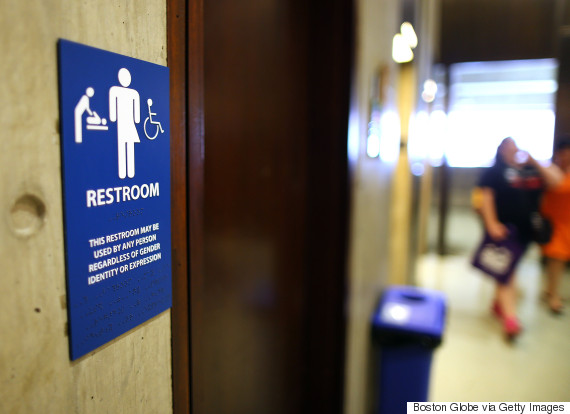 The sign for the gender-neutral bathrooms on the 5th floor of Boston City Hall across from the reception area for the Mayor's office, May 15, 2016. (Photo: John Tlumacki/The Boston Globe via Getty Images)
The New Democrats said Tuesday they were looking for Pallister to follow through on this and other statements he has made since being elected April 19.
"One's words should be substantiated by actions," interim NDP leader Flor Marcelino said.
Pallister has faced accusations of being opposed to gay and lesbian rights since he took over the Tory leadership in 2012, focusing mainly on his time as a member of Parliament for the Canadian Alliance and the Conservatives.
In a 2005 House of Commons debate on same-sex marriage, Pallister called the idea a social experiment that would abolish the "societal norm" of children being loved by a mother and father. He also said it was good that gays and lesbians were coming out of the closet — a term for going public — because Christians would need the closets.
"The beauty of politics is over the years you get more in touch with what your values are because you have to deal with a myriad number of issues."
During this year's election campaign, then NDP leader Greg Selinger accused Pallister of being "homophobic." Another New Democrat accused Pallister in 2014 of having an "anti-women, anti-gay" agenda, partly because the Conservatives had nominated a candidate who had been a director of a lobby group opposed to abortion and same-sex marriage.
Pallister has said his position on same-sex marriage evolved over the years. On Tuesday, he said while he is a fiscal conservative, he is not ideological on most matters.
"The beauty of politics is over the years you get more in touch with what your values are because you have to deal with a myriad number of issues," he said.
"Ideologies don't really work for me. I tend to be an outcomes person."
The New Democrats introduced a petition in the legislature calling for at least one gender-neutral bathroom in all government buildings. Pallister said that idea would need more study, given the variety of buildings the government operates.
Also on HuffPost:
Not Equal celebrates "genderless form" with one of their standout pieces being the Box Jumpsuit. We can really see this piece being worn on anyone fashion forward, male or female. Get it here.

Canadian native, Rad Hourani, has made a name for himself internationally as one of the few exclusively unisex designers. His collections are clean, minimalistic and tailored to flatter both the male and female form. We especially like these Loose Crepe Shorts. Get it here.

If you pay much attention to fashion, you've probably already heard of Public School NYC. Although the rising label has a distinct "men's" and "women's" sections, the clothing is intended to be gender-bending. With steeper price points, you might want to share the purchase with your significant other. Get it here.

You'll notice that Toronto-based online boutique, Parloque doesn't separate their clothing into women's or men's sections. Instead, they prefer a genderless approach to fashion. Everything available on their website can easily be worn by both men and women, like these comfy jogger pants by West Coast brand, Publish. Get it here.

This Vancouver-based brand focuses on uncomplicated design, which makes it a perfect gender-neutral brand to get hooked on. While some designs are distinctly feminine, the majority of the available pieces could be worn by either gender, including this boxy minimalistic top with mesh details. Get it here.

Pieces from OAK NYC's collection are featured in both the men's and women's sections on the brand's e-commerce site. The Classic Shirt in this fun tropical print is perfect for summer, whether it's paired with a skirt or pants. Get it here.

The minimalistic designs of footwear label, FEIT makes it hard to distinguish between those intended for men or women and the brand's founders, Tull & Josh Price like it that way. Despite the tabs for "women" and "men" on FEIT's website, the same shoe designs can be found in both sections. Get it here.

American Apparel's take on the classic denim jacket accommodates both men and women because of its neutral, slightly boxy silhouette. Not convinced? You can even choose to view the jacket on a male and female model. Get it here.

New Zealand-based Kowtow is another brand that does gender-neutral well. Their Identity Pant is a favourite and features a cropped hem and a curved silhouette that's flattering on both men or women. Get it here.

At first glance, the most recent collection from Nicola Formichetti's label, Nicopanda, screams femininity but it's actually meant to be unisex. Formichetti was inspired by Japanese street style, which explains the out there pieces, but the Patchwork Shirt is one we think any guy or gal could get behind. Get it here.