Trudeau, Liberal MPs Vote Against Tory Motion Declaring ISIS Atrocities As Genocide
Prime Minister Justin Trudeau rose in the House of Commons Tuesday to vote against a Conservative motion declaring that the atrocities of the so-called Islamic State constitute genocide.
His decision appeared to back up what Trudeau told the House minutes earlier: that partisan politicians shouldn't determine what is or isn't genocide.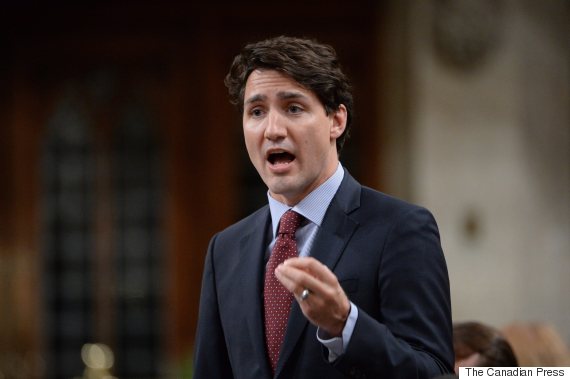 Prime Minister Justin Trudeau speaks in the House of Commons on Tuesday, June 14, 2016. (Photo: The Canadian Press)
The Opposition motion — tabled by interim Tory leader Rona Ambrose — won the support of New Democrats, Bloc MPs, and four Liberal backbenchers: Nathaniel Erskine-Smith, Anthony Housefather, Borys Wrzesnewskyj, and Karen Ludwig.
It was defeated by the Grit majority in a vote of 166 to 139, sparking shouts of "Shame!" from some Tories.
In a heated question period shortly before the vote, Ambrose hammered Trudeau for hiding behind "weasel words" and lacking "moral clarity" when it comes to the terror group.
She said that while allies in the U.S. House of Representatives and European Union state the obvious — that "ISIS' crimes against religious minorities, women and children, gays and lesbians" are genocide — the Liberal government refuses do the same.
"If all our allies can find the moral resolve why can't our prime minister?" she asked.
'Objective' determination needed: Trudeau

Trudeau responded that Liberals "strongly condemn" the actions of the terror group and have "formally requested" the United Nations Security Council make a determination if they constitute genocide.
"We don't feel that politicians should be weighing in on this first and foremost," he said. "Determinations of genocide need to be made in an objective, responsible way."
Ambrose called that position a "low-point" for the Liberal party and a "dark spot" on Canada's human rights record.
When he was pressed again on the case of thousands of Yazidi girls being murdered or turned into sex slaves, the prime minister was resolute that determinations of genocide must be done objectively on the international stage.
"We will not trivialize the importance of the word genocide by not respecting formal engagements around that word," he said.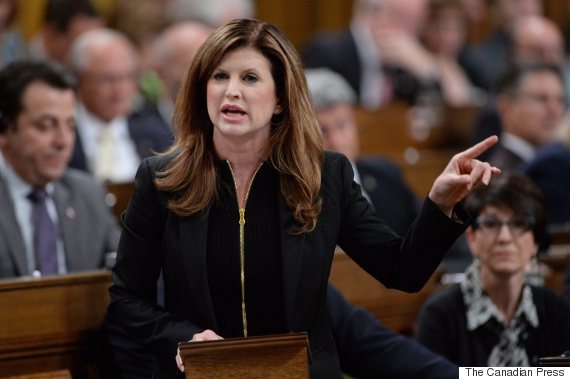 Rona Ambrose is shown challenging Liberals in the House of Commons on Tuesday, June 14. (Photo: The Canadian Press)
But Trudeau also added a dig at the Tories who have long argued he is soft on this issue.
"I will take no lessons in playing politics from … a former government that used footage of ISIL executions in an attack ad against me," he said, referencing a wildly controversial 2015 video that appears to have since been scrubbed online.
"Mr. Speaker, this isn't actually about him," Ambrose shot back.
"If all our allies can find the moral resolve why can't our prime minister?"
— Rona Ambrose
The interim Tory leader wondered aloud how far ISIS would need to go before the prime minister would recognize what's happening is genocide. Trudeau warned against playing petty politics with atrocities.
Perhaps the most heated exchange came when Ambrose reiterated that the federal government should ensure Yazidi girls are placed in Canada's joint sponsorship program, following Germany's example of providing "safe haven" for 1,000 girls.
Trudeau said his government has "re-opened" this country after 10 years of cuts to immigration and refugee programs from the Tory government. He noted, by way of example, the 25,000 Syrian refugees welcomed to these shores.
A Kurd Yazidi holds a sign in northern Germany in 2014 during a rally in solidarity with Kurds trapped in Syria. (Photo: Ingo Wagner/AFP/Getty Images)
"The prime minister doesn't get it," Ambrose shot back. "These girls are not refugees. They are not considered refugees. They're languishing in camps as displaced people but we have a special program that he has power to use to bring these girls to Canada.
"So I ask him again, when is he going to take direction and help these girls?" she shouted. The remark sparked applause from the Tory benches.
Trudeau, again, responded that while the last government "did a lot to diminish our capacity to welcome people from around the world," his was restoring Canada as a country that welcomes the vulnerable.
He did not respond directly to the plight of Yazidi girls.
The full text of Ambrose's defeated motion:
That the House agree that ISIS is responsible for: (a) crimes against humanity aimed at groups such as Christians, Yezidis, and Shia Muslims, as well as other religious and ethnic minorities in Syria and Iraq; (b) utilizing rape and sexual violence as a weapon of war and enslaving women and girls; and (c) targeting gays and lesbians who have been tortured and murdered; and, as a consequence, that the House strongly condemn these atrocities and declare that these crimes constitute genocide.
ALSO ON HUFFPOST:
Canada's ISIS Mission: Then & Now
Her'es a look at some of what's been said — recently and otherwise — about Canada's evolving role in the U.S.-led mission against the Islamic State of Iraq and the Levant, which was officially retooled by the new Liberal government. (Information from The Canadian Press)

"Our efforts should better reflect what Canada is all about; defending our interests and freedoms alongside our allies and working constructively with local partners to build real solutions for the longer term." — Trudeau, announcing a larger training and development mission and the withdrawal of CF-18 fighter-bombers.

"ISIL would like us to see them as a credible threat to our way of life and to our civilization. We know Canada is stronger — much stronger than the threat posed by a murderous gang of thugs who are terrorizing some of the most vulnerable people on earth." — Trudeau.

"Left unchecked, this terrorist threat can only grow, and grow quickly. As a government, we know our ultimate responsibility is to protect Canadians and to defend our citizens from those who would do harm to us or our families." — Former prime minister Stephen Harper on Oct. 3, 2014, as he announced in the House of Commons a plan to send Canadian aircraft to fight in Iraq.

"Canadians did not invent the threat of jihadi terrorism and we certainly did not invite it; nor, as this global threat becomes ever more serious, can we protect ourselves, our communities, by choosing to ignore it. That is why a strong majority of Canadians have supported our government's mission against ISIL. Canadians understand that it is not merely in the wider interests of the international community, but specifically in Canada's national interest." — Harper on March 24, 2015, telling the Commons of a plan to extend and expand the mission.

"It is important to understand that while airstrike operations can be very useful to achieve short-term military and territorial gains, they do not, on their own, achieve long-term stability for local communities. Canadians learned this lesson first-hand during a very difficult decade in Afghanistan where our forces became expert military trainers renowned around the world." — Trudeau on Monday.

"Along with our allies and through the auspices of the United Nations, Canada should provide more help through a well-funded and well-planned humanitarian aid effort. The refugee crisis alone threatens the region's security, overwhelming countries from Lebanon to Turkey, from Syria itself to Jordan. Here at home, we should significantly expand our refugee targets and give more victims of war the opportunity to start a new life in Canada." — Trudeau as Liberal opposition leader in the Commons, March 2015.

"Our allies want us in the fight against ISIS, that is clear. This is a despicable terrorist group. And Canadians want us in the fight against ISIS because it is our fight and that is clear. When our friends and our allies are attacked, it is our fight and when our values are threatened and our country is threatened and our friends are threatened, it is our fight. And when human rights are trampled and human dignity is trampled, then it is our fight." — Interim Conservative leader Rona Ambrose.

"The prime minister likes to say he cares about diversity, but there is nothing that threatens diversity more than ISIS — whether it is the rights of women, cultural and religious freedoms, or the rights of gays and lesbians." — Ambrose.

"The Canadian announcement is the kind of response the secretary has been looking for from coalition members as the United States and our coalition partners push to accelerate the campaign against ISIL ... the United States is willing to lead the coalition in the fight against ISIL, but the barbaric group poses a threat to every nation, so every nation should join this fight. If countries are unwilling or unable to contribute militarily, then they should consider the important non-military ways they can contribute to this effort." — Pentagon press secretary Peter Cook during Monday's Department of Defense briefing.

"We are concerned that the Liberal government has chosen to place Canadian Forces personnel deeper into an open-ended combat military mission in Iraq — a mission that fails to even define what success would look like. And while we welcome the government's announcement today of increased humanitarian assistance to the region, we are concerned that this aid is being linked to the military mission." — NDP MP Helene Laverdiere.

"I commend Prime Minister Justin Trudeau for committing to increase humanitarian and military aid for the nearly 4.6-million Syrian refugees who have been displaced by five years of brutal war in the region." — Green party Leader Elizabeth May.

"As a founding member of the coalition, Canada has been a valued and willing partner in the mission to degrade and destroy (ISIL) and has played an important role across all lines of effort." — Bruce Heyman, the U.S. ambassador to Canada.

"We're pleased Canada is continuing to invest and play a leadership role in educating and protecting children affected by crises in Syria and Iraq." — David Morley, president and CEO of UNICEF Canada.