Toronto's The Beaver Bar Adopts Pulse Nightclub Logo In Orlando Shooting Tribute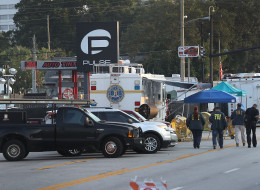 TORONTO — A Toronto bar is paying tribute to victims of the Orlando gay nightclub shooting by featuring a replica of the venue's logo in its window.
The idea came from Rob Shostak, a Toronto-based designer who works for an architectural firm.
The 34-year-old is regular at The Beaver on Queen Street West in Toronto.
Shostak posted a photo of the exterior of the venue on his Instagram page on Wednesday. The replica of the Pulse nightclub logo is visible in the front window.
The caption accompanying Shostak's photo reads: "This is Pulse. Every queer space is Pulse. When one of our safe spaces is attacked, all of our safe spaces are attacked."
One safe space is attacked: all are attacked.@BeaverToronto @PulseOrlando#Orlando #PrideTOhttps://t.co/2UtswuDyi8 pic.twitter.com/4AAvTl2mC9

— Rob Shostak (@Robonto) June 15, 2016
Shostak said he messaged The Beaver's manager about the idea of putting up the sign and his suggestion was well received.
"He just told me to go for it and make it happen," the Montreal-born Shostak said in a phone interview on Wednesday.
"The Beaver is my local bar. It is the local queer space on Queen West. I've been going there for 10 years ever since I moved here, and it's a space where I feel at home. It's a space where friends of mine gather.
"In the end, every queer space is a Pulse. Someone feels like that is their safe space, and that was taken away from us with the attack. Or, more specifically, we became more aware of our spaces as a result of the attack."
Shostak said he would like to see other queer establishments temporarily put a banner of their names with the Pulse logo "to show a bit of solidarity."
Tributes continue to pour in for the 49 people killed in Sunday's shooting rampage during Latin Night at Pulse, where dozens were also injured.
Also on HuffPost:
Vigils In Canada For Orlando Shooting Victims
The Toronto sign in front of city hall is lit up in honour of the victims of the Orlando attack.

People in Toronto gathered in Barbara Hall Park to honour the more than 50 victims of a shooting at a queer nightclub in Orlando, Fla.

The park on Church Street is also where many events were planned for Pride month.

(Photo courtesy Gary Simpson)

(Photo courtesy Gary Simpson)

People gathered at the Vancouver Art Gallery to pay their respects to the Orlando shooting victims.