Maher Arar Torture Case: RCMP Watchdog Reviews If Mounties Have Learned Lessons
OTTAWA — The RCMP watchdog's review of how well the Mounties learned the lessons of the Maher Arar torture affair could be hampered by ongoing lawsuits and difficulties in getting information from other agencies, warns an intelligence expert.  <
The Civilian Review and Complaints Commission for the RCMP will examine issues ranging from the sharing of sensitive information with foreign governments to the detention of Canadians in overseas prisons.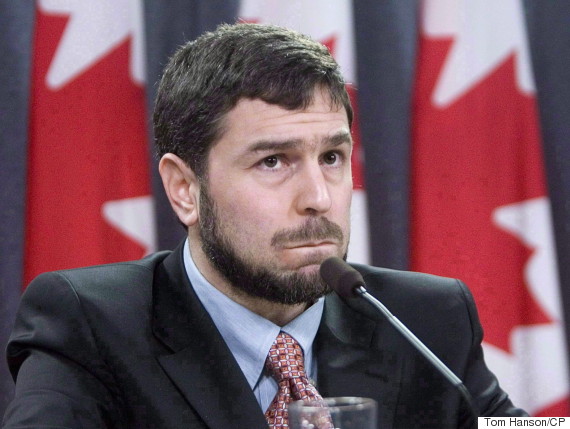 Maher Arar listens to a question at a press conference in Ottawa on Dec. 12, 2006.
It marks the review commission's first known foray into the RCMP's national security operations since legislative changes gave it the muscle to probe Mountie intelligence efforts.
Arar, a Syrian-born Canadian, was detained in New York in September 2002 and soon after deported by U.S. authorities — winding up in a grave-like cell in Damascus.
Under torture, the Ottawa telecommunications engineer gave false confessions to Syrian military intelligence officers about supposed collaboration with Osama bin Laden's al-Qaida network.
Faulty information likely led to ordeal
A federal inquiry led by Justice Dennis O'Connor concluded that faulty information the RCMP passed to the United States very likely led to Arar's year-long ordeal.
O'Connor's initial report made 23 recommendations — including many aimed at the RCMP — on training, oversight and information sharing. The Mounties have since spelled out various steps taken to address the recommendations.
The review commission will look at the RCMP's centralization and co-ordination of national security operations, national security training, domestic and foreign information sharing, border lookout flags and the detention of Canadians abroad.
It wants to ensure RCMP activities follow legislation, regulations and ministerial direction.
Received apology, $10.5M in 2007
Arar received an apology and $10.5 million from the federal government in 2007.
Three other Arab-Canadian men, all of whom deny involvement in terrorism, were abused in Syrian prison cells in similar cases.
In October 2008, former Supreme Court justice Frank Iacobucci found that Canadian officials were likely partly to blame for the torture of Ahmad El Maati, Abdullah Almalki and Muayyed Nureddin by sharing information — including unfounded accounts of extremism — with foreign agencies.
Ongoing lawsuits the men are pursuing against the federal government could make it challenging for the RCMP watchdog to fully explore the topic of Canadians held abroad, said Wesley Wark, a historian and intelligence expert who teaches at the University of Ottawa.
"How far they'll be able to go into those kinds of issues, given the lawsuits, is a question."
Lawsuits pose problem
Wark said reviewers may also encounter a "follow-the-thread problem" in looking at subjects such as domestic information sharing, as that would involve the national police force's relations with the Canadian Security Intelligence Service and other agencies beyond the RCMP watchdog's purview.
"One of the good things about the study is the whole question about how well the RCMP has adapted in the post-Arar commission era has kind of gone underground, and we don't really know," Wark said.
"This is an area where the review commission can really, I think, do some good work and do it ultimately in public."
The review comes as the Liberal government prepares a sweeping examination of national security policy that will scrutinize laws passed by the previous Conservative government and evaluate the current array of security watchdogs.
Public Safety Minister Ralph Goodale has already said the review will study controversial directives enacted by the Harper government that allow for the sharing of information even when it might lead to torture — directives critics say fly in the face of O'Connor's recommendations.