B.C. Transit Projects Injected With $470 Million From Feds
VANCOUVER - The federal government has taken a major step in its ambitious infrastructure program by signing a funding agreement with British Columbia to move the first block of cash in its multibillion-dollar plan.
Prime Minister Justin Trudeau said Ottawa will spend $470 million in British Columbia to help pay for upgrades to existing transit infrastructure including renovations to aging transit stations and building new bus lanes.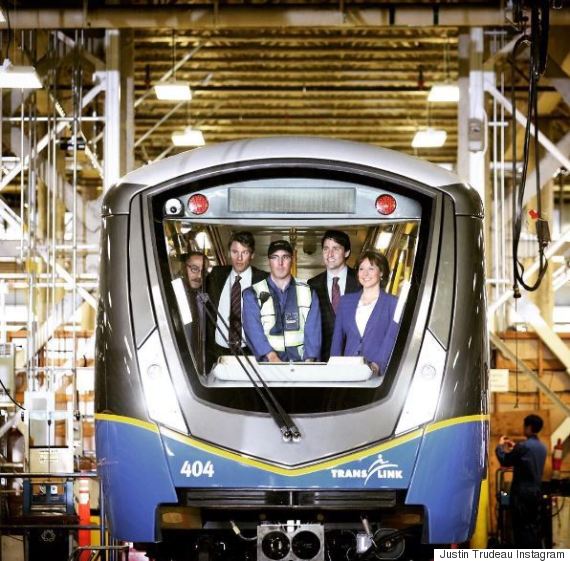 Politicians including Vancouver Mayor Gregor Robertson, Prime Minister Justin Trudeau and B.C. Premier Christy Clark were part of the announcement on Thursday. (Photo: Justin Trudeau Instagram)
Trudeau said $370 million of that money has been earmarked for transit projects in Metro Vancouver.
"With the province's and municipalities' contributions, a total of $934 million will be invested in public transit across the province," he said Thursday at the SkyTrain operations centre in Burnaby.
"This is just phase one," Trudeau said. "We are now meeting with provinces and municipalities to develop the second phase of public transit investments to fund major new transit projects that Canadian communities need."
Premier Christy Clark said the new funding will help fight climate change in the region.
The announcement came a day after a Senate committee warned that none of the $6.8 billion in infrastructure money promised to cities and provinces for transit, green and social infrastructure had flowed because of a lack of funding agreements.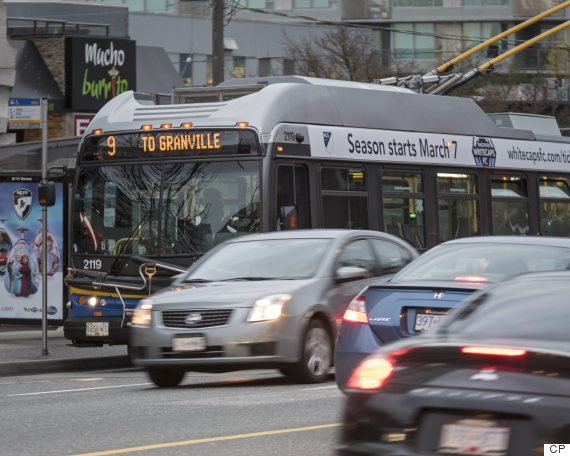 Work is scheduled to start on a subway line on busy West Broadway in Vancouver. (Photo: Bayne Stanley/Canadian Press)
Vancouver Mayor Gregor Robertson said Ottawa's investment "makes sense when we contribute about half of our tax dollars to the federal government."
"Of course, we're proud to be the first region in Canada to land that investment from the federal and provincial combination," he said, adding a number of projects have been identified for the first two to three years of a 10-year plan.
He said the Broadway subway line in Vancouver and a rapid transit project in Surrey are expected to break ground within 18 months.
Metro Vancouver has a long wish list of transit projects, but residents voted down a proposed sales tax last year to pay for a 10-year, $7.5 billion transit plan for the region.
Highlights of the federal-provincial agreement:

Metro Vancouver

Additional SkyTrain vehicles for the Expo, Millennium, and Canada Lines
A new West Coast Express locomotive
A new SeaBus
Upgrades to SkyTrain stations
Design and planning for rapid transit South of Fraser and the Millennium Line extension along Broadway

Province-wide

Investments in new bus depots, maintenance yards and operations facilities, as well as in new CNG fueling stations
New and more efficient buses, including cleaner burning CNG-fueled buses, and new buses for handyDART service expansion.
New technologies to make the fleet safer for drivers and passengers.
Also on HuffPost:
The 10 People You Don't Want To Meet On Public Transit
Transit is often packed, and even if it isn't, most people are usually looking to sit down. That's why it's really irritating when you sit on the outside seat and won't move over to let another person sit down. It's awkward to have to squeeze by your legs to sit down, and much of the time we don't bother and stand up instead. It makes it look like you have the right to both the seats. Who's sitting there? Your imaginary friend?

Whether underground or on a bus, there isn't a ton of oxygen to go around, and your Old Spice or Anais Anais is all we can smell. The prevailing wisdom when it comes to fragrance is to wear just enough that a person standing close to you notices — something to keep in mind since you'll be spending plenty of time getting up close and personal with dozens of strangers.

This happens. Just.. no.

Though some public transit companies allow pets on leashes to ride with you, we feel like they meant tiny lap dogs, not your German Shepherd that sheds and tries to lick everyone that passes. Maybe times are changing, but not everyone wants to ride next to your massive pet.

Answering to tell the person you'll call them right back is just fine, as is having a quick, quiet conversation. But no one wants to hear you moan to your girlfriend about whatever drama you're currently experiencing. This is even worse when your phone's volume is turned up loud enough that we can hear the person on the other end. Can't it wait?

The last time we checked, transit systems are expensive to operate and part of the reason the bus runs as often as it does is because we all pay into it. So don't try and sneak onto the bus with your expired transfer or feed a piddly number of nickels into the machine and then challenge the driver when he or she brings it up. It's their job to make sure people are paying the proper fare and it's an insult to the rest of us that shell out for pricey passes.

The seat is warm, you're exhausted and you have about 58 stops ahead of you. Maybe this is the only time in your day you get to sit down. But if you know you'll have to interact with another passenger, please be sure you're awake. We feel like bad people when we shake your shoulder to wake you up so we can get off.

The general rule on public transit is not to talk to strangers, but is it really too much to say, 'sorry, I need to get up'? We're all in our own worlds, texting, reading or playing a game, and no one is reading your body language to notice when you start standing up.

Rush hour is potentially the worst time of day. Actually, no, it is the worst. We all feel like sheep in the back of a transport truck, our limbs squished in strange positions as we breathe on each other. So don't make it worse by launching yourself into the mass. No one likes missing the train or bus because it's too full, but unless you live in a small, rural area with sporadic service (in which case, we're sorry), there WILL be another vehicle coming soon. Your boss will understand.

Dealing with tired, hungry, agitated people all day certainly wears on one's patience. We get it. But you're not helping matters when you yell at customers, complain to us about your jobs, or act exasperated when we ask you questions. You're the face of public transit, and your behavior reflects the organization as a whole. We'll try to be better passengers if you'll try to be a better service provider.