Canadian Space Agency Launches Search For Two New Astronauts
OTTAWA — Calling all aspiring Canadian astronauts: here comes your chance to shine.
Canada is recruiting candidates to fill two potential new spots in its space program — and the more sterotypically Canadian they are, the better, suggests current astronaut-in-training Jeremy Hansen.
It goes without saying that would-be space cowboys and cowgirls are expected to be super smart, ultra-fit and undaunted by claustrophobic living conditions. But good manners are also likely to be an asset for the longer assignments.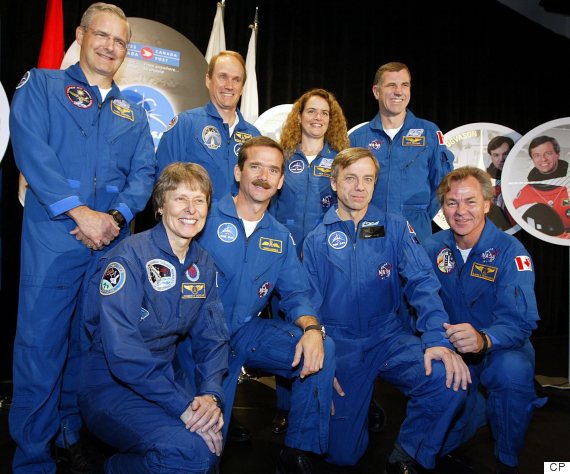 <Astronauts Roberta Bondar, (first row, left to right) Chris Hadfield, Robert Thirsk, Bjarni Tryggvason Marc Garneau, (second row, left to right) Steve Maclean, Julie Payette and Dave Williams pose for a photo at the John H. Chapman Space Centre in St. Hubert, Que. on Sept. 26, 2003.(Photo: Andre Pichette/The Canadian Press)
"If you trap people in a tin can for six months — or two years going to Mars — how they treat one another, respecting some of our fundamental Canadian values, it's really important," Hansen said Friday as a new $3-million recruitment campaign was launched.
Not that successful recruits are guaranteed a one-way ticket to the red planet. In fact, there's no guarantee that new recruits will even get a chance to slip the surly bonds of Earth's atmosphere.
Indeed, said Hansen, the program offers the potential for so much more than just space flight.
"We're not going to be asking candidates if they're prepared to go to Mars," he said. "But we're recruiting explorers, and that's exciting."
Working with NASA to broaden horizons for astronauts
Still, the federal government does have its sights set beyond the International Space Station (ISS), which is currently orbiting Earth at nearly eight kilometres per second, said Innovation and Science Minister Navdeep Bains.
"It's not simply about the International Space Station, but about deep space exploration," said Bains.
"And we're working very closely with NASA and our other allies to really look at additional opportunities for our astronauts."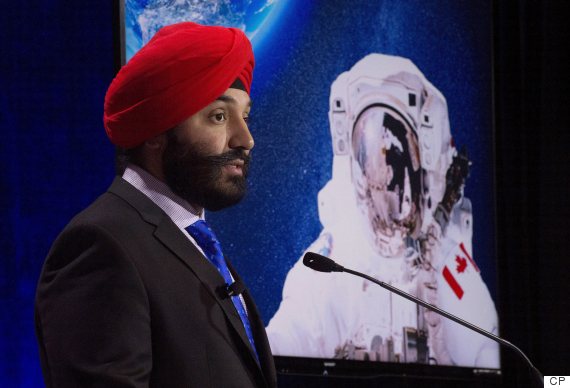 Innovation, Science and Economic Development Minister Navdeep Singh Bains announces the Canadian Space Agency will recruit new astronauts during an event at the Museum of Aviation on June 17, 2016 in Ottawa. (Photo: Adrian Wyld/The Canadian Press)
Canada has been sending people into space since before the Canadian Space Agency was established in 1989.
Marc Garneau, now a Liberal member of Parliament, became the first Canadian in space when he took part in a NASA space shuttle mission in 1984.
Since then, 11 Canadians have flown aboard NASA shuttles and Russian Soyuz rockets in 15 missions.
Chris Hadfield gained international fame in 2013 not so much for being the station's first Canadian commander, but for a must-follow Twitter feed and his now-famous recorded-in-space rendition of David Bowie's classic, "Space Oddity."
Applications for the new positions are being accepted on the Canadian Space Agency website until Aug. 15.
Candidates must have "an academic background in science or technology, excellent health, and a wide range of outstanding qualities and skills," the agency said.
Those qualified for the first selection round will take part in a "rigorous selection process" lasting almost a year that involves several interviews, written exams and a range of physical and mental fitness tests.
"They bring you to your knees."
— David Saint-Jacques, Canadian astronaut
David Saint-Jacques, who last month became the latest Canadian to enter the NASA space program, said it won't be easy.
"They bring you to your knees," Saint-Jacques told a news conference Friday at the Canadian Aviation and Space Museum in Ottawa.
"Every test is an ultimate challenge of what you can give. And then once you've had enough, and you're exhausted, then the test begins."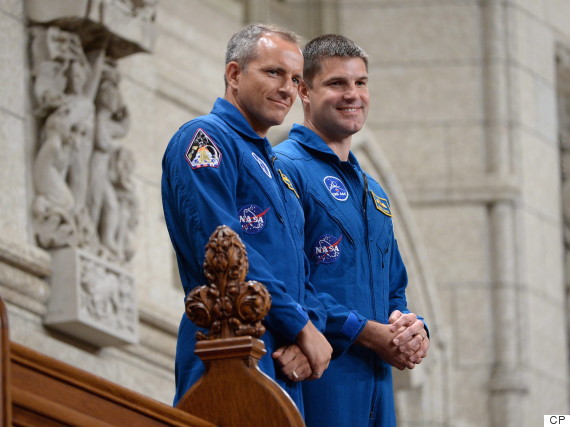 Canadian astronauts Jeremy Hansen (right) and David Saint-Jacques stand in the visitors gallery after being recognized in the House of Commons in Ottawa on June 2, 2015. (Photo: Sean Kilpatrick/The Canadian Press)
Hansen said he always wanted to be an astronaut but never expected he'd be picked. But after hearing about the Canadian Space Agency's last recruitment drive, he applied.
"I thought statistically, realistically there's no way they're going to pick me."
Follow @tpedwell on Twitter
Also on HuffPost:
Chris Hadfield's Stunning Space Photography
Detroit, Michigan (on right), and Windsor, Ontario (on left) represent two countries that are separated by this one river.

Much of the densely built-up waterfront around San Francisco sits on landfill, often a blend of rubble and sediment dragged up from the bay. In a major earthquake, landfill is more prone to liquefaction than bedrock: it behaves like a liquid, shaking far more severely, and is more likely to give way altogether.

On a clear day, astronauts aboard the ISS can see forever -- or at least from Havana to Washington, D.C.

Manhattan awake at 9:23 a.m. local time, and Manhattan at rest at 3:45 a.m. local time. No wonder it's called the city that never sleeps.

The city of Venice in northeastern Italy on a group of small islands separated by canals and linked by bridges.

The area around Perereira Barreto in Brazil, about 400 miles north of São Paolo, was originally settled in the 1920s by Japanese immigrants who worked on coffee and sugar plantations along the Rio Tietê. But in the 1990s, the river was dammed to create a hydroelectric power plant, flooding and permanently submerging many farms and even a suspension bridge across the Tietê. Now there's a new bridge, and from this angle, the body of water looks like a millipede.

The Richat Structure in Mauritania, also known as the Eye of the Sahara, is a landmark for astronauts. It's hard to know where you are, especially if you're over a vast 3,600,000-square-mile desert, but this bull's-eye orients you, instantly. Oddly, it appears not to be the scar of a meteorite but a deeply eroded dome, with a rainbow-inspired color scheme.

The Himalayan mountain range in South Asia, which is home to the planet's highest peaks, including Mount Everest.

Salt from evaporation ponds in Great Salt Lake, Utah, is used to produce a lot of the world's magnesium metal. The largest saline lake in the western hemisphere attracts pastel-colored algae, brine shrimp and the birds that love them.

This twist of cloud near Arica, Chile is actually seen frequently in this part of the world because the Pacific Ocean is cold, the land is warm, and the currents and winds combine to form a cloudy vortex.

The Nile River drains out into the Mediterranean Sea, as the bright lights of Cairo announce the opening of the north-flowing river's delta, with Jerusalem's high beams to the northeast.